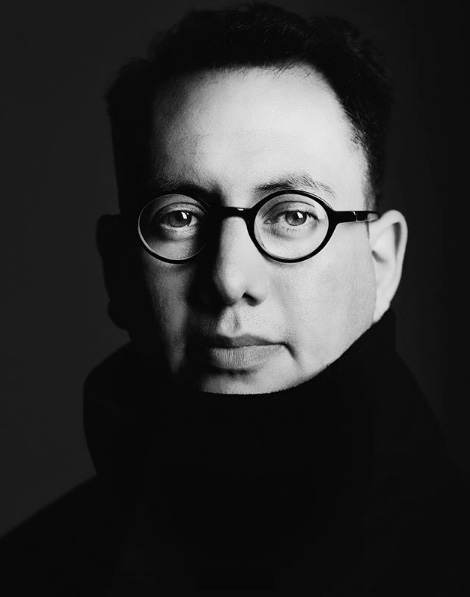 Refik Anadol (b. 1985, Istanbul, Turkey) is an internationally renowned media artist, director, and pioneer in the aesthetics of machine intelligence. He currently resides in Los Angeles, California, where he owns and operates Refik Anadol Studio and RAS LAB, the Studio's research practice centered around discovering and developing trailblazing approaches to data narratives. Anadol is also teaching at UCLA's Department of Design Media Arts from which he obtained his Master of Fine Arts.
Anadol's body of work addresses the challenges, and the possibilities, that ubiquitous computing has imposed on humanity, and what it means to be a human in the age of AI. He explores how the perception and experience of time and space are radically changing now that machines dominate our everyday lives. Anadol is intrigued by the ways in which the digital age and machine intelligence allow for a new aesthetic technique to create enriched immersive environments that offer a dynamic perception of space.
By proposing the possibility of "post-digital architecture," Anadol invites his audience to imagine alternative realities by redefining the functionalities of both interior and exterior architectural elements. He tackles this by moving beyond the integration of media into built forms and translating the logic of a new media technology into art and design.
Residing at the crossroads of art, science, and technology, Anadol's site-specific three-dimensional data sculptures and paintings, live audio/visual performances, and immersive installations take varied virtual and physical forms. Entire buildings come to life, floors, walls, and ceilings disappear into infinity, breathtaking aesthetics take shape from large swaths of data, and what was once invisible to the human eye becomes visible, offering the audience a new perspective on, and narrative of their worlds.
The primary thread that runs throughout Anadol's groundbreaking visualizations of the unseen world is data. For Unsupervised at the Museum of Modern Art, New York, Anadol posed an alternate understanding of modern art by transforming the metadata of MoMA's vast collection into a work that continuously generates new forms in real-time. For Quantum Memories at the National Gallery of Victoria, 200 million photos of Earth and its landscapes, oceans and atmosphere were used to visualize an alternate reality of nature. For Sense of Space at the 17th International Architecture Exhibition – La Biennale di Venezia – approximately 70 terabytes of multimodal MRI data, including structural, diffusion (DTI) and functional (fMRI) scans of people ranging from birth to nonagenarians was used to design the human brain-inspired artwork. Archival photographic data of our universe from the archives of NASA/JPL was the driving force behind Machine Memoirs: Space, Istanbul's most visited exhibition ever. Machine Hallucination: NYC harnessed 113 million publicly available images of New York City to envision the near future of a storied city. For WDCH Dreams, 100 years of the Los Angeles Philharmonic's digital archives were tapped to inspire the visuals projected onto Frank Gehry's iconic building. Oakland's Sense of Place used real-time environmental data such as wind, temperature, and humidity as well as invisible communication signals from Bluetooth, Wifi and LTE to inform the work. At Berlin's Latent Being, the visitors interacted with the artwork and themselves provided real-time data for the artificial thinking process. Charlotte Airport's Interconnected, Anadol transformed real-time airport statistics such as arrivals/departures, baggage handling systems and ground shuttle transportation into an ever-changing suite of abstract form, color, and simulated texture.
Refik Anadol 's global projects have received a number of awards and prizes including the Lorenzo il Magnifico Lifetime Achievement Award for New Media Art, Microsoft Research's Best Vision Award, iF Gold Award, D&AD Pencil Award, German Design Award, UCLA Art+Architecture Moss Award, Columbia University's Breakthrough in Storytelling Award, University of California Institute for Research in the Arts Award, SEGD Global Design Award, and Google's Artists and Machine Intelligence Artist Residency Award.
Anadol's site-specific audio/visual performances have been featured at iconic landmarks, museums and festivals worldwide, such as the 17th International Architecture Exhibition – La Biennale di Venezia, The Museum of Modern Art (New York), The Centre Pompidou, Pinakothek der Moderne, EMMA Museum, Art Basel, Haus der elektronischen, Kunsthalle Praha, Palazzo Strozzi, Casa Batlló, National Gallery of Victoria, Walt Disney Concert Hall, Hammer Museum, Dongdaemun Design Plaza, Artechouse, The Portland Building, Daejeon Museum of Art, Florence Biennale, Art Basel, OFFF Festival, International Digital Arts Biennial Montreal, Ars Electronica Festival , l'Usine | Genève, Arc De Triomf, Zollverein | SANAA's School of Design Building, santralistanbul Contemporary Art Center, Outdoor Vision Festival, Istanbul Design Biennial, Sydney City Art, and Lichtrouten, among many others.
Refik Anadol Studio, an early adopter of blockchain technology, has utilized NFT sales to raise over $5 million U.S. dollars for charitable organizations including St. Jude Children's Research Hospital, The Alzheimer's Foundation and UNICEF. Machine Hallucinations — Space: Metaverse, a physical exhibition in Hong Kong and correlating NFT collection, brought together the studio's richly diverse works to the Metaverse. Presented in collaboration with Sotheby's, the NFT collection contained yet another groundbreaking approach to media arts by presenting the first immersive NFT. Living Architecture: Casa Batlló, inspired by Antoni Gaudi's building in Barcelona, Spain, became the first artwork from the studio to be auctioned by Christie's. The piece was displayed on a giant media screen in New York's iconic Rockefeller Plaza with a simultaneous live projection mapping performance on the actual facade of Casa Batlló which was viewed by an enormous crowd of nearly 50,000 people. As the only NFT offered during Christie's 21st Century Evening Sale which also included physical works by Banksy, Gerhard Richter, and Jeff Koons, among others, Living Architecture: Casa Batlló set records for the next generation of young artists.
Refik Anadol Studio comprises designers, architects, data scientists, and researchers from diverse professional and personal backgrounds, embracing principles of inclusion and equity throughout every stage of production. Studio members originate from 10 different countries and are collectively fluent in 15 languages. The Studio's internship program also demonstrates a strong commitment to mentoring young people from a variety of personal experiences, values, and world views.
A pioneer in his field, and the first to use artificial intelligence in a public artwork, Anadol has partnered with teams at Google, Microsoft, NVIDIA, NASA/JPL, Intel, IBM, Siemens, Epson, MIT, UCLA, Harvard University, Imperial College, Stanford University, and UCSF, to apply the latest, cutting-edge science, research and technologies to his work.
2023 —
Machine Hallucinations : Sphere, The Sphere, Las Vegas, USA
Unsupervised – MoMA, Museum of Modern Art, New York City, NY, USA
Machine Hallucinations – Nature Dreams, SFMoMA, Google Cloud Next, San Francisco, USA
Dvorak Dreams, Rudolfinum, Prague, Czech Republic
Sense of Healing : AI Data Sculpture, Seoul, Korea
Machine Hallucinations – Nature Dreams, Google Camp, Sicily, Italy
Winds of Yawanawa : AI Data Sculpture, Mykonos, Greece
Bosphorus – AI Data Sculpture, Istanbul Modern, Istanbul, Turkey
Unseen Intelligence, Midtown Tokyo, Tokyo, Japan
Neural Paintings, Jeffrey Deitch Gallery, Art Basel, Basel, Switzerland
Mumbai Dreams, JIO World Center, Mumbai, India
Glacier Dreams, Art Basel, Basel, Switzerland
Ipotesi Metaverso, Palazzo Cipolla, Rome, Italy
Machine Hallucinations – Nature Dreams, ARKEN Museum of Modern Art, Copenhagen, Denmark
The Nature Series, Moco Museum, Barcelona, Spain
Artificial Realities : Coral, World Economic Forum, Davos, Switzerland
Glacier Dreams, ArtScience Museum, Singapore
Metamorphosis – Immersive AI Data Sculpture, New York City, NY, USA
Living Paintings, Jeffrey Deitch Gallery, Los Angeles, CA, USA
Glacier Dreams, Art Dubai, Dubai, UAE
Machine Dreams – Riyadh, JAX, Riyadh, Saudi Arabia
Metamorphosis, Thyssen-Bornemisza National Museum Madrid, Spain
2022 —
Unsupervised – MoMA, Museum of Modern Art, New York City, NY,USA
Machine Hallucinations Nature Dreams – AI Data Sculpture, EMMA Museum of Modern Art, Espoo, Finland
Alcazar Dreams – Immersive AI Data Sculpture, HOPE Alkazar, Istanbul, Turkey
Tree of Life – Realtime AI AV Performance, Zorlu PSM, Istanbul, Turkey
Serpenti Metamorphisis – Immersive AI Data Sculpture, Saatchi Gallery, London, UK
Unfinished – Dreams / Stable Diffusion, The Shed, New York City, NY,USA
Pinakothek Dreams – AI Data Sculpture, Pinakothek der Moderne, Munich, Germany
Gagosian and Jeffrey Deitch – 100 Years Exhibition, Miami, Florida, USA
Sense of Healing – AI Data Sculpture, UNICEF Gala, Capri, Italy
Quantum Memories – Haus der elektronischen Künste – HEK, Basel, Switzerland
Sense of Healing – AI Data Sculpture, AURORA, St. Tropez, France
Architecting The Metaverse – Zaha Hadid Architects – DDP, Seoul, Korea
Living Architecture – Casa Batlló, Barcelona, Spain
Rumi Dreams – AI Data Sculpture, Ataturk Culture Center, Istanbul, Turkey
Machine Hallucinations – Renaissance Dreams, Palazzo Strozzi, Florence, Italy
Quantum Memories, SOMA Onassis Exhibition, Athens, Greece
Bosphorus – AI Data Sculpture, Brixen Light Festival, Germany
Infinity Room, Kinetismus: 100 Years of Electricity at Kunsthalle – Praha. Prague, Czech Republic
Beethoven – Missa Solemnis – Philadelphia Orchestra, Philadelphia, PA, USA
Machine Memoirs : Space, Eternal Artspace (MUTEK) – Tokyo, Japan
Ligeti – Paradigms, San Francisco Symphony, San Francisco, CA, USA
Machine Memoirs : Space, Coventry, UK
Industrial Dreams – Futur21, Henrichshütte Hattingen, Hattingen, Germany
2021 —
Unsupervised – Machine Hallucinations – MoMA, NFT Exhibition on FeralFile
Machine Hallucinations – Space Dreams, World Conference on Creative Economy, Dubai, UAE
Machine Hallucinations – Coral Dreams, Art Basel Miami, Faena Beach, Florida, US
Black Sea : Data Sculpture- Hyper Perspective: Technology + Art Exhibition, Qingdao, China
Space : Data Tunnel, Art for the Future Biennale, Multimedia Art Museum, Moscow, Russia
Serpenti – Metamorphosis – Milan, Italy
Quantum Memories – SemiPermanent – Abu Dhabi, UAE
Black Sea : Data Sculpture, Hyper Perspective: Technology + Art Exhibition, Qingdao, China
Renaissance Dreams – 180 The Strand, London, UK
Machine Hallucinations – NYC – Unfinished, Project Liberty, New York, USA
Sense of Space Connectome + Molecular Architecture – Venice Architecture Biennale, Venice, Italy
Seeing the Invisible – AR Exhibition, Global
Pioneer Tower Dreams – Public Art for Fort Worth, Texas, USA
In the Mind of Gaudí – Casa Batlló, Barcelona, Spain
Quantum – bitforms Gallery, New York City, New York, USA
Sense of Heritage – Hennessy HQ, Cognac, France
ISS Dreams – Resonant Media – Possibilities of 8K Visualization – Ars Electronica + NHK, Tokyo, Japan
Renaissance Dreams – M.E.E.T, Milano, Italy
Machine Memoirs : Space, Pilevneli Gallery, Istanbul, Turkey
Machine Hallucinations : NVIDIA GTC AI Art Gallery, NVIDIA GTC 2021, Virtual
Seoul Haemong II, DDP Building, Seoul, Korea
2020 —
Quantum Memories – National Gallery of Victoria 2020 Triennial, Melbourne, Australia
Metamorphosis Returns – Machine Hallucinations, Seoul, Korea
Distant Arcades – Machine Hallucinations – Nature Dreams, MUTEK, Montreal, Canada
Melting Memories – Engram, Images Vevey Art Festival, Switzerland
Machine Hallucinations : NVIDIA GTC AI Art Gallery, NVIDIA GTC 2020, Virtual
Melting Memories – Engram, Taipei Digital Art Festival,Taipei, Taiwan
Machine Hallucinations – Nature Dreams, Beyond Film Festival, Karlsruhe, Germany
Digital Dreams, Kurhaus, Baden-Baden, Germany
NEAR + FUTURES + QUASI + WORLDS, STATE Studio, Berlin, Germany
Melting Memories – Engram, Sørlandets Kunstmuseum, Norway
Melting Memories – Engram, Neurones, Centre Pompidou, Paris, France
Infinite Space, Artechouse, Miami, FL, USA
2019 —
Machine Hallucinations – Earth ISS, SIGGRAPH Asia 2019, Brisbane, Australia
Winds of Shenzhen, 40 Years of Humanizing Technology – Ars Electronica, Shenzhen, China
Machine Hallucinations – Earth ISS, IEEE Visap 2019, Vancouver, Canada
Bosphorus, les Garages Numériques, Brussels, Belgium
Melting Memories, Open Codes, Azkuna Zentroa, Spain
Infinity Room, Daejeon Museum of Arts, Daejeon, South Korea
Machine Hallucinations – Mars, AS-Helix, National Museum of China, Beijing, China
Archive Dreaming, AS-Helix, National Museum of China, Beijing, China
Neuro Space, Society of Neuroscience, Chicago, IL, USA
Bopshorus, Les Garages Numeriques, Brussels, Belgium
Melting Memories, Volvo Art Session, Zürich, Switzerland
Infinity Room, Volvo Art Session, Zürich, Switzerland
Melting Memories, Florence Biennale, Florence, Italy
Infinite Space, Artechouse, Miami, FL, USA
Machine Hallucination, Artechouse, New York City, NY, USA
Latent History, Fotografiska, Stockholm, Sweden
Infinite Space, Artechouse, Washington, DC, USA
Macau Currents: Data Paintings, Art Macao: International Art Exhibition, Macao
Archive Dreaming, Symbiosis – Asia Digital Art Exhibition, Beijing, China
Machine Hallucination – Study II, Hermitage Museum, Moscow, RUS
Memoirs from Latent Space, New Human Agenda, Akbank Sanat, Istanbul, Turkey
Melting Memories – Engram – LEV Festival, Gijón, Spain
Machine Hallucination – Study I, Bitforms Gallery, Los Angeles, CA, USA
Infinity Room – Dataland, ZKM, Karlsruhe, Germany
Bosphorus, Pilevneli Gallery, Istanbul, Turkey
Infinity Room – Dataland, Wood Street Gallery, Pittsburgh, PA, USA
2018 —
Melting Memories, Species and Beyond, Kikk Festival, Belgium
WDCH Dreams, Walt Disney Concert Hall, Los Angeles, CA, USA
Melting Memories, Open Codes, ZKM, Karlsruhe, Germany
Melting Memories, Pilevneli Gallery, Istanbul, Turkey
Infinity Room / New Edition, New Zealand Festival, Wellington, New Zealand
Virtual Archive, SALT Galata, Istanbul, Turkey
Liminality V1.0, International Art Projects, Hildesheim, Germany
Infinity Room / New Edition, Kaneko Museum, Omaha, Nebraska
The Invisible Body : Data Paintings, Sven-Harrys Museum, Stockholm, Sweden
Data Sculpture Series, Art Center Nabi, Seoul, South Korea
1-2-3 Data Exhibition, Paris, EDF, France
Infinity Room, Scottsdale Museum of Contemporary Art, Arizona, USA
Infinity Room, Exploratorium, San Francisco, CA, USA
2017 —
Infinity Room / New Edition, MeConvention, Frankfurt, Germany
Archive Dreaming, Ars Electronica, Linz, Austria
Wind of Linz, Ars Electronica, Linz, Austria
Infinity Room / New Edition, Beijing, China
Archive Dreaming, SALT Galata, Istanbul, Turkey
Infinity Room / New Edition, Athens, Greece
Heterotopia, Istanbul, Turkey
Infinity Room / New Edition, SXSW, Austin, TX
2016 —
Warhol X Anadol, Young Projects, Los Angeles, USA
Radical Atoms, Ars Electronica – Computer Animation Festival, Linz, Austria
Infinity Room, The Conference, Malmö, Sweden
Infinity Room, TAG Festival, Mexico City, Mexico
MultipliCITY – Victor Vasarely, Fondation Vasarely, Paris, France
Cavity InfoComm, Las Vegas, Nevada, USA
Infinity Room Mapping Festival, Geneva, Switzerland
Infinity Room VIA Festival, Paris, France
Infinity Room EXIT Festival, Paris, France
2015 —
Infinity Room Day For Night, Houston, Texas, USA
Cavity Monochrome, Akbank Sanat, Istanbul, Turkey
Liminal Room Istanbul Light Festival, Istanbul, Turkey
SIGGRAPH ASIA 2015 Art Gallery, Kobe, Japan
Expected Port City Talks / Istanbul-Antwerp, Europalia, Antwerp, Belgium
Wavelengths Digital Turkey Exhibition, Europalia, Antwerp, Belgium
Infinity Room Artnivo, Istanbul Biennial, Istanbul, Turkey
SIGGRAPH 2015 : Electronic Theatre, Los Angeles, USA
Ars Electronica – Computer Animation Festival, Linz, Austria
The New Creativity: Man and Machines, MAK, Los Angeles, USA
Digital Couture / Epson, Industria SuperStudio, New York, USA
Waves, Blok Art Space, Istanbul, Turkey
2014 —
Cavity, RH Contemporary Art Gallery, New York, USA
Algo-Rhythms, Sonos-Studio, Los Angeles, USA
Adobe Creative Cloud Mosaic Project, New York, USA
UCLA DMA Media Arts MFA Exhibition, New Wight Gallery, Los Angeles, USA
Presentism: Light as Material, Young Projects, Los Angeles, USA
VitrA Contemporary Architecture Series: Dreams to Reaalities Istanbul Modern, Istanbul
2013 —
Parallel Threads, Ekavart Gallery, Istanbul, Turkey
Prefix, Media Arts MFA Exhibition, New Wight Gallery, Los Angeles, USA
Incidence, UCLA DMA MFA Group Show, Design Matters Gallery, Los Angeles, USA
The Active Apparatus and Liminal Landscapes, Young Projects, Los Angeles, USA
2012 —
Istanbul Design Biennial, istanbulmodern, Istanbul, Turkey
Sceptical Interventions, Pilevneli Projects, Istanbul, Turkey
Istanbul Summer Exhibition, Antrepo 5, Sanat Limani, Istanbul
2011 —
Minus Feld, American Hospital, "Operation Room", Istanbul
2010 —
Human Landscapes, Goethe Institut&Contretype, Brussels, Belgium
Spagat, Marta Herford Museum, Herford, Germany
Untitled II, ULG, Liége, Belgium
Track 09, ÇSM – santralistanbul, Istanbul
2009 —
Untitled, Galeri 1 – santralistanbul, Istanbul
Academy Meets Photokina, Photokina, Köln, Germany
2008 —
Track 08, Contemporary Art Center – santralistanbul, Istanbul, Turkey
2023 —
Living Architecture – Casa Batlló, Barcelona, Spain
Glacier Dreams – Art Basel, Basel, Switzerland
Living Paintings, Jeffrey Deitch Gallery, Los Angeles, CA, USA
In the Mind of Gaudí – Casa Batlló, Barcelona, Spain
2022 —
Living Architecture – Casa Batlló, Barcelona, Spain
Tree of Life – Realtime AI AV Performance, Zorlu PSM, Istanbul, Turkey
Beethoven – Missa Solemnis – Philadelphia Orchestra, Philadelphia, PA, USA
Ligeti – Paradigms, San Francisco Symphony, San Francisco, CA, USA
Machine Memoirs : Space, Coventry, UK
2021 —
Sense of Space – Venice Architecture Biennale, Venice, Italy
In the Mind of Gaudí – Casa Batlló, Barcelona, Spain
Pioneer Tower Dreams – Public Art for Fort Worth, Texas, USA
Sense of Heritage – Hennessy HQ, Cognac, France
Machine Memoirs : Space, Pilevneli Gallery, Istanbul, Turkey
2020 —
Machine Hallucinations – Nature Dreams, Beyond Film Festival, Karlsruhe, Germany
2019 —
Seoul Haemong, DDP, Seoul, Korea
Latent Being, Kraftwerk, Berlin Germany
Machine Hallucination, Artechouse NYC, New York City, USA
2018 —
WDCH Dreams, Walt Disney Concert Hall, Los Angeles, CA, USA
Schumann's Das Paradies und Peri, Walt Disney Concert Hall, Los Angeles, CA, USA
Melting Memories, Pilevneli Gallery, Istanbul, Turkey
2017 —
Infinity Room / New Edition, MeConvention, Frankfurt, Germany
Archive Dreaming, Ars Electronica, Linz, Austria
Infinity Room / New Edition, Beijing, China
E/Space, Santa Monica, CA, USA
2016 —
Data Cloth Broad Art Center, Los Angeles, USA
Cavity InfoComm 2016, Las Vegas, Nevada, USA
2015 —
Infinity Room Day For Night, Houston, Texas, USA
Liminal Eoom Istanbul Light Festival, Istanbul, Turkey
Erik Satie's Vexations UCLA Ostin Rehearsal Room, Los Angeles, USA
Infinity Room Artnivo, Istanbul, Turkey
2014 —
Visions of America: Amériques LA Phil, Walt Disney Concert Hall, LA, USA
Tree of Life, Hammer Museum, Los Angeles, USA
Algo-Rhythms, Sonos-Studio, Los Angeles, USA
The Aether Project, IDEAS, Los Angeles, USA
2013 —
Semaphore, LichtRouten, Lüdenscheid, Germany
Liminality, Temporary Immersive Environments, Los Angeles, USA
2012 —
Peripheral, Temporary Immersive Environments, Los Angeles, USA
Highlights, Urban Prototyping:SF, San Francisco, USA
Augmented Structures v2.0, Istanbul Design Biennial, Istanbul, Turkey
Epiphaneia, Montreal Design Biennial, Montreal, Canada
Legorreta Alive, SantaFe Art and Design Universty, New Mexico, USA
2011 —
Augmented Structures v1.0, Yapı Kredi Kültür ve Sanat Merkezi, Istanbul, Turkey
Arc de Triomf, Barcelona, Spain
Cerha Momentum, Ars Electronica Festival, Linz, Austria
2010 —
MRO, Tabakfabrik – Ars Electronica Festival, Linz, Austria
Quadrangle, Zollverein – Ruhr
European Capital of Culture, Essen, Germany
2009 —
Quadrature, Contemporary Art Center – santralistanbul, Istanbul, Turkey
2023 —
2022 —
2021 —
Space In the Mind of a Machine Guest Lecture at Hamburg University of Applied Sciences // aiXdesign, 2021 Virtual
Sense of SpaceAI, Neuroscience and Architecture, NVIDIA GTC 2021, Virtual
Human-AI Co-Creation with Generative Models, IBM, Virtual
Space In the Mind of a Machine, Fowler Museum Online Studio Tour, Los Angeles, CA
Nature Dreams, Beyond Film Festival – Online – Lecture, Karlsruhe, Germany
2020 —
Art In the Age of Machine Intelligence", Architectural Association School of Architecture, London, UK
Space In the Mind of a Machine, TED Talk 2020, Virtual Main Stage
Closing the Gap – Dutch Design Week 2020, Amsterdam, Netherland
World Intellectual Property Organization (WIPO) – AI Lab, Geneva, Switzerland
Synesthetic Architecture, Ars Electronica Festival – STARTS, Linz, Austria
Space In the Mind of a Machine, Architecture, Technology, Innovation Symposium,Turkey
Space In the Mind of a Machine, Fowler Museum Online Studio Tour, Los Angeles, CA
Nature Dreams, Beyond Film Festival – Online – Lecture, Karlsruhe, Germany
Space In the Mind of a Machine, MIT Media Lab City Science, Online – Lecture
2019 —
Machine Hallucinations – Earth ISS, SIGGRAPH Asia 2019, Brisbane, Australia
Machine Hallucinations – Earth ISS, IEEE Visap 2019, Vancouver, Canada
Space In The Mind of a Machine – UC Berkeley – Keynote
EYEO Festival – Space In The Mind of a Machine – Minneapolis – Keynote
Innovation Week Turkey 2019 – Turkey – Keynote
OFFF Festival – Barcelona, Spain – Lecture
Melbourne Design Week – The Minds Eye – NGV – Melbourne – Lecture
Multi-sensory Science, Art & Technology, UCLA Neuroscience Department – Los Angeles – Lecture
Brutally Early Breakfast – Hans Ulrich Orbist & Klaus Biesenbach – MOCA – Los Angeles – Talk
Art and AI – FriezeLA – Los Angeles – Lecture
2018 —
GeorgiaTech – Digital Building Lab Symposium – Lecture
American Alliance of Museums – Museum AI –Lecture
The Poetics of Data – Charlotte ASC – Lecture
Knowledge Capital, Osaka – Lecture
AIA Virginia – Speaker
Microsoft Research – Speaker
Emergent Visions / Nanyang Technology University – Lecture
Harvard School of Graduate Design – Lecture
2017 —
Digi.logue Future Tellers – Speaker
Ars Electronica / AI Panel – Lecture
Google AMI – Speaker
USC – Praxis – Speaker
Microsoft Research – Speaker
G-Tech – Speaker
INST-INT, Speaker
2016 —
CalARTS Visiting Lecture Series, Lecture
CalARTS Visiting Lecture Series, Lecture
SEGD X Lab NYC, Lecture
The Conference Generative Design, Lecture
Microsoft Windows Design Group, Lecture
Strelka Institute, Lecture
Digital Hollywood Music 2020, Lecture
Digi.logue Discovery and Innovations in New Media and Art, Lecture
Resonate, Lecture
Perspectives: The Design Fusion of Art and Architecture, Panel
Art and Machine Learning Symposium, Gray Area / Google, Talk
Microsoft Research, Social Computing Symposium, NYU / ITP, Talk
2015 —
BEYOND MUSIC: Composition and Performance in the Age of Augmented Reality, Lecture
USC Interactive Media Forum, Lecture
Resonate, Lecture
NODE15, Talk + Lecture
Loyola Marymount University, Talk + Lecture
2014 —
Microsoft Research Social Computing Symposium, Talk + Lecture
UCLA IDEAS, Talk + Lecture
2013 —
Microsoft Research, Design Summit, Talk
2012 —
UCLA Design Media Arts, Talk
2010 —
2023 —
2022 —
2021 —
2020 —
2019 —
2018 —
2017 —
Quotation Magazine JP – Review
LA Times – Review
Creators Project CH – Review
Creative Applications, Review
Creators Project, Review
Daily Sabah, Review
Dezeen, Review
Designboom, Review
Engadget, Review
Forecast Public Art, Review
WIRED, Review
Creative Applications, Review
Creators Project, Review
2016 —
LA Times, Review
Wired, Review
Metropolis Mag, Interview
The Atlantic, City Lab, Interview
Co.Exist, Interview
KCET, Art Bound, Interview
Fubiz, Feature
Artfulliving, Interview
Design Milk, Review
FastCo.Design, Review
Frame Magazine, Revie
NTV MSNBC, Review
2015 —
Creative Applications, Feature
Fubiz, Feature
Creators Project / Vica, Feature
Archinect, Feature
HiFructose, Feature
TwistedSifter, Feature
Fubiz, Feature
Saatchi Online, Feature
Juxtapoz, Feature
Arch Atlas, Feature