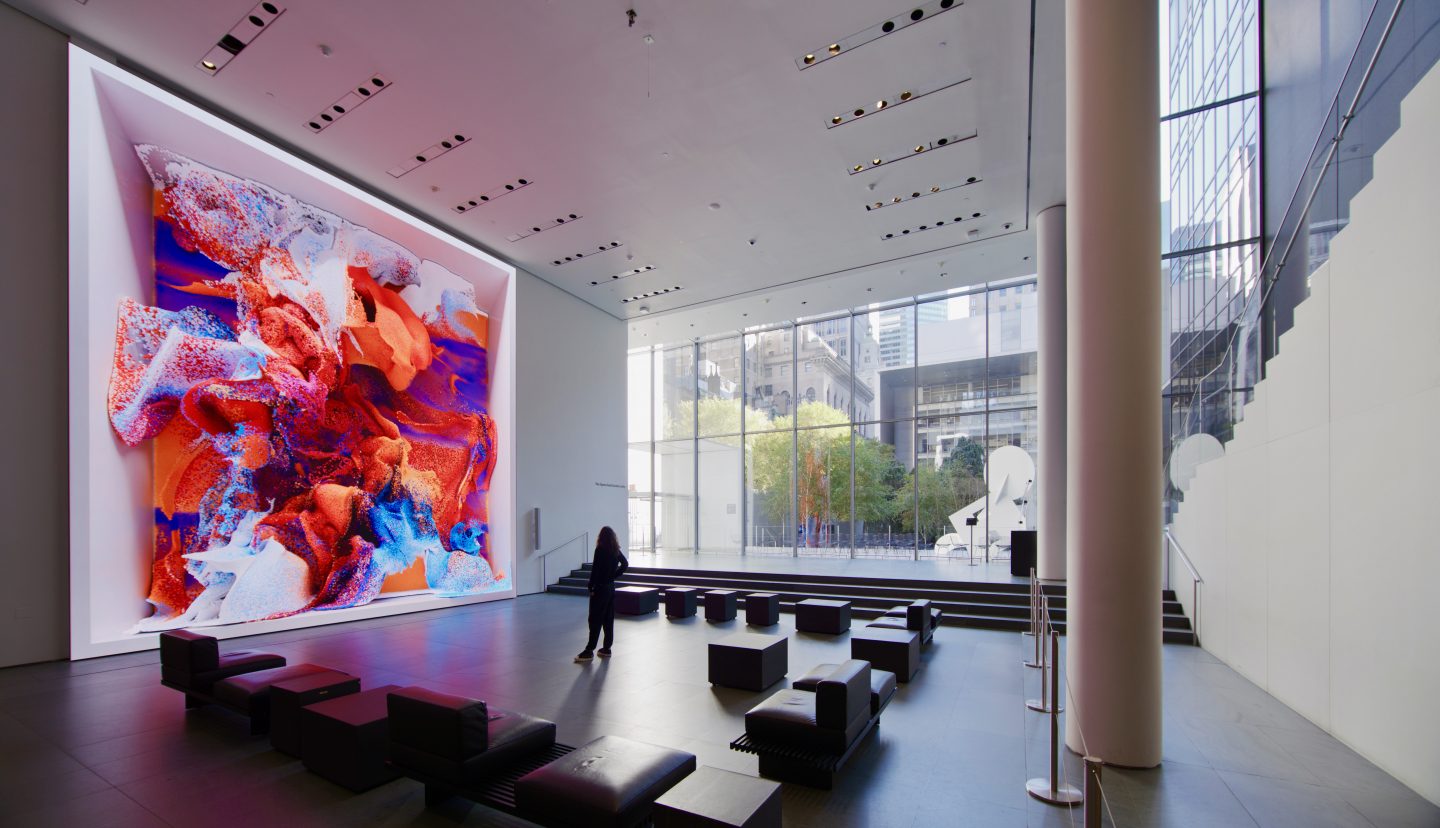 Exhibition
MoMA – UNSUPERVISED
MoMA
New York City , USA
November 19, 2022 - April 15, 2023
November 19, 2022 - April 15, 2023
OPEN ADDRESS
11 W 53rd St, New York, NY 10019, United States
DATES
November 19, 2022 - April 15, 2023
What would a machine dream about after seeing the collection of The Museum of Modern Art? For Unsupervised, artist Refik Anadol (b. 1985) uses artificial intelligence to interpret and transform more than 200 years of art at MoMA. Known for his groundbreaking media works and public installations, Anadol has created digital artworks that unfold in real time, continuously generating new and otherworldly forms that envelop viewers in a large-scale installation. Unsupervised is a meditation on technology, creativity, and modern art. Anadol trained a sophisticated machine-learning model to interpret the publicly available data of MoMA's collection. As the model "walks" through its conception of this vast range of works, it reimagines the history of modern art and dreams about what might have been—and what might be to come. In turn, Anadol incorporates site-specific input from the environment of the Museum's Gund Lobby—changes in light, movement, acoustics, and the weather outside—to affect the continuously shifting imagery and sound. AI is often used to classify, process, and generate realistic representations of the world. In contrast, Unsupervised is visionary: it explores fantasy, hallucination, and irrationality, creating an alternate understanding of art-making itself. The installation is based on works that are encoded on the blockchain, a distributed digital ledger, which stands as a public record of Anadol's art. "I am trying to find ways to connect memories with the future," the artist has said, "and to make the invisible visible." Organized by Michelle Kuo, The Marlene Hess Curator of Painting and Sculpture, and Paola Antonelli, Senior Curator of Architecture and Design and Director of Research and Development, with Lydia Mullin, Curatorial Assistant, Department of Painting and Sculpture.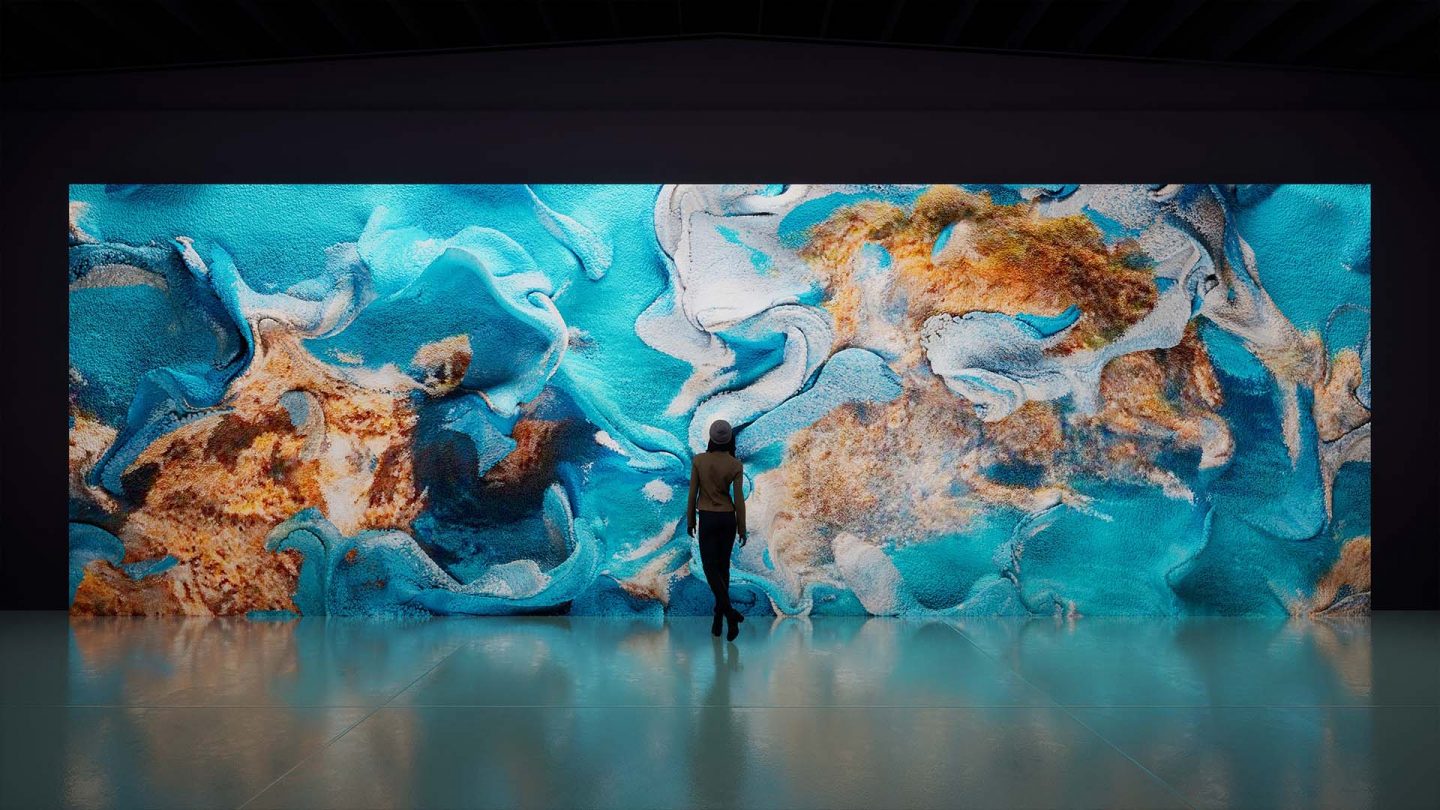 Exhibition
LIVING PAINTINGS
Jeffrey Deitch LA
Los Angeles , United States
February 14, 2023 - April 29, 2023
February 14, 2023 - April 29, 2023
OPEN ADDRESS
925 N Orange Dr, Los Angeles, CA 90038
DATES
February 14, 2023 - April 29, 2023
Living Paintings, Refik Anadol's first major solo exhibition in Los Angeles, opened at Jeffrey Deitch on February 14, 2023. The exhibition showcases the complete series of Anadol's major artworks, including his latest AI Data Paintings that are based on California-related datasets. Merging collective memories of urban life and nature with groundbreaking machine learning and visualization technologies, Living Paintings invites a poetic and futuristic contemplation of purposeful human-machine collaborations.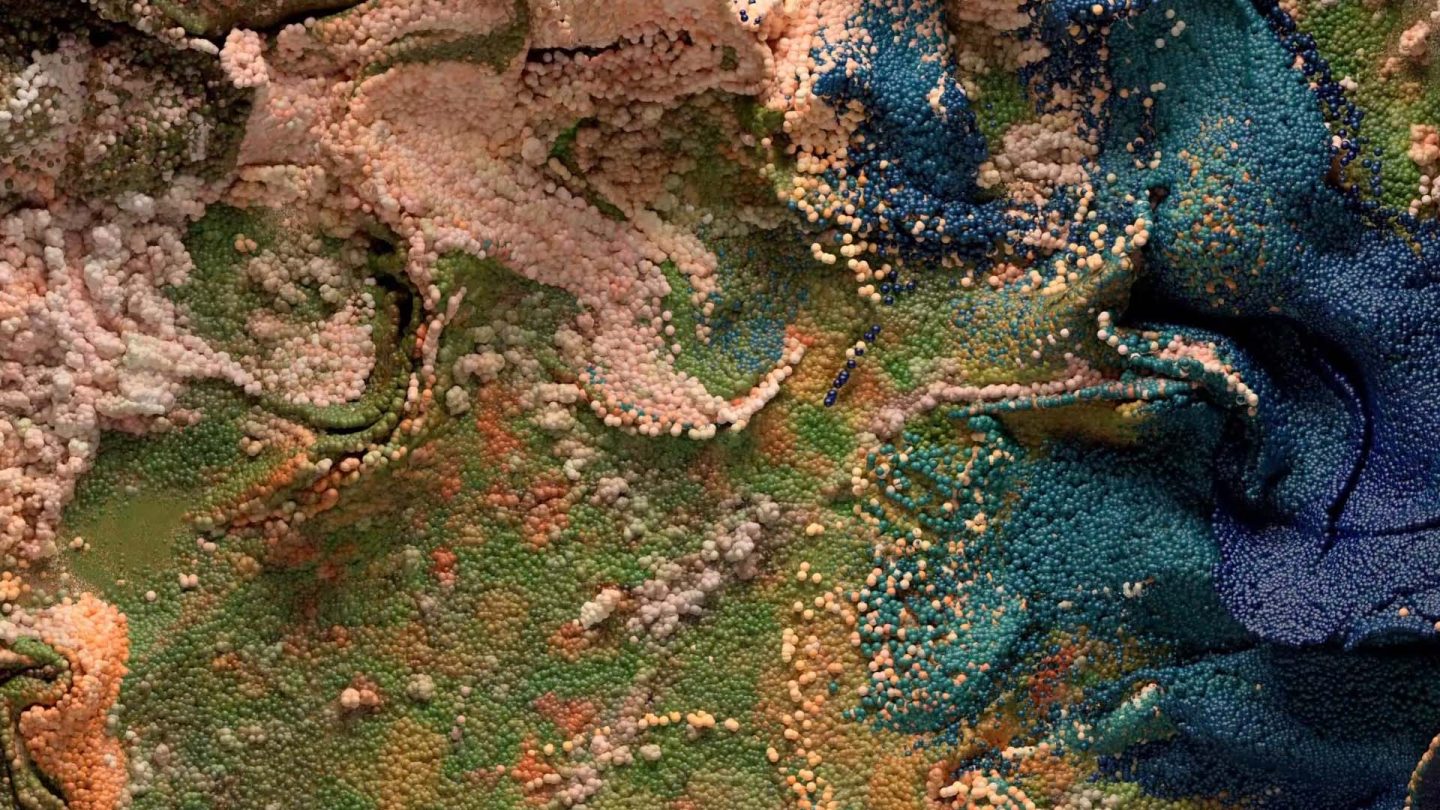 Exhibition
MACHINE HALLUCINATIONS
Kunstpalast Düsseldorf
Düsseldorf , Germany
March 7, 2023 - April 30, 2023
March 7, 2023 - April 30, 2023
OPEN ADDRESS
Ehrenhof 4-5, 40479 Düsseldorf, Germany
DATES
March 7, 2023 - April 30, 2023
Several artworks from Refik Anadol Studio's most comprehensive AI-based art research project to date, Machine Hallucinations, will be on display at the Kunstpalast Düsseldorf this spring. The exhibition will include Satellite Simulations on a 4m x 6m LED wall, an AI Data Painting utilizing over 2 million images that were captured and recorded by the ISS, Hubble, and MRO telescopes and other sensors and satellites – the largest space-related dataset ever used to train a generative adversarial network (GAN) for an artwork.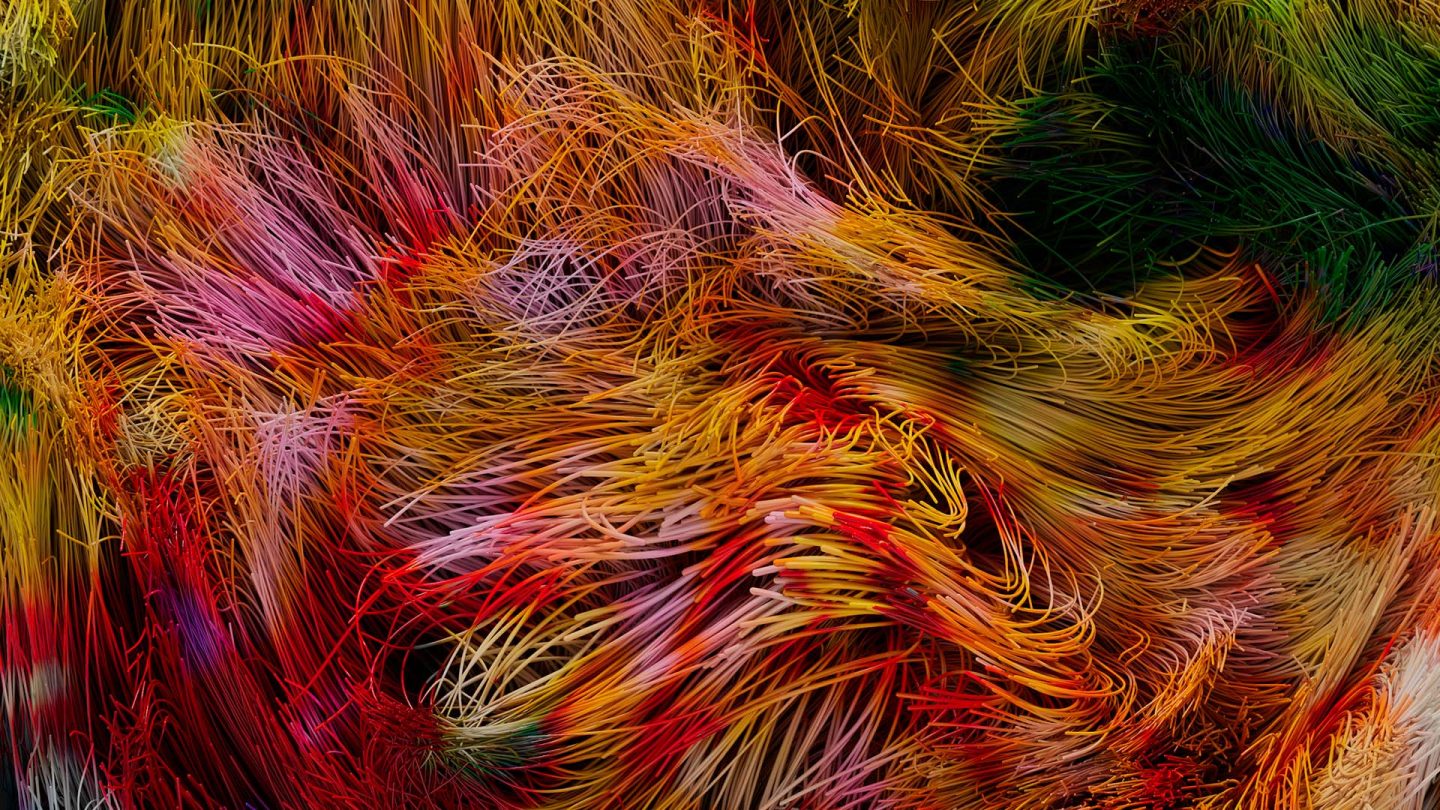 Arken Museum of Modern Art
Ishøj , Denmark
February 9, 2023 - August 28, 2023
February 9, 2023 - August 28, 2023
DATES
February 9, 2023 - August 28, 2023
From February to August 2023, Refik Anadol Studio's Nature Dreams series will fill ARKEN Museums's largest exhibition space, the Art Axis, in Denmark. In the exhibition titled Refik Anadol – Nature Dreams we will present three nature-themed artworks, one of them created especially for this exhibition. The exhibition's highlight is Winds of Denmark (2023), a new artwork based on meteorological data collected from the museum's unique location in Ishøj Beach Park.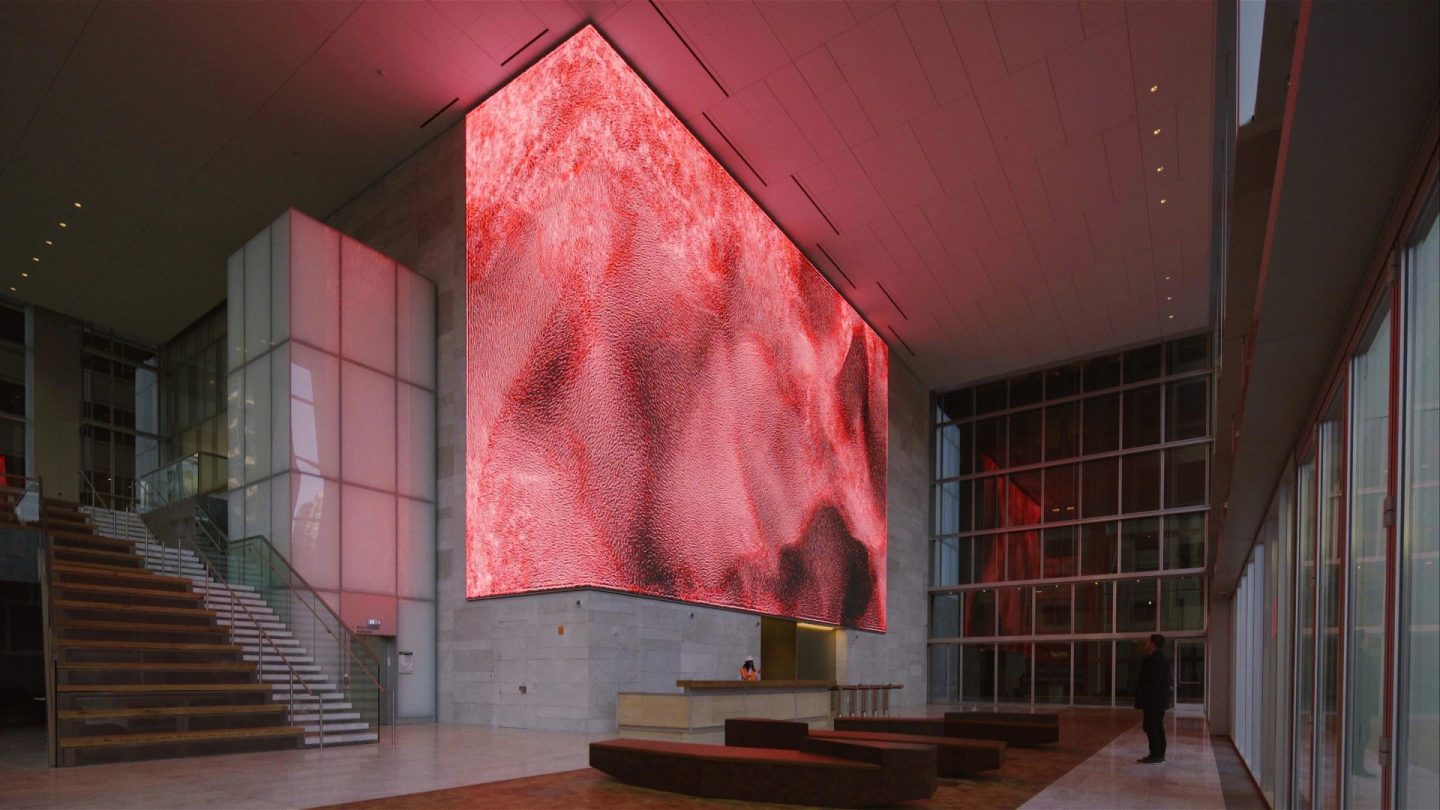 Permanent Artwork
VIRTUAL DEPICTIONS: SAN FRANCISCO
350 Mission
San Francisco , United States
OPEN ADDRESS
350 Mission St, San Francisco, CA 94105, United States
'Virtual Depictions:San Francisco' is a public art project consist of series of parametric data sculptures that tell the story of the city and people around us within a unique artistic approach for 350 Mission's media wall in collaboration with Kilroy Realty Corporation / John Kilroy and Skidmore, Owings & Merrill LLP Architects. The main idea of 'Virtual Depictions:San Francisco' is to bring 21st century approach to public art to define new poetics of space through media arts and architecture and to create a unique parametric data sculptures that has an intelligence, memory and culture. Through architectural transformations of media wall located in 350 Mission' lobby, main motivation with this seminal media architecture approach is to frame this experience with a meticulously abstract and cinematic site-specific data-driven narration. As a result, this media wall turns into a spectacular public event making direct and phantasmagorical connections to its surroundings through simultaneous juxtapositions. When creating this public artwork my goal was to make the invisible visible by embedding media arts into architecture to create a new way to experience a living urban space. The project also intends to contribute to contemporary discourse of public art by proposing a hybrid blend of media arts and architecture in 21st century.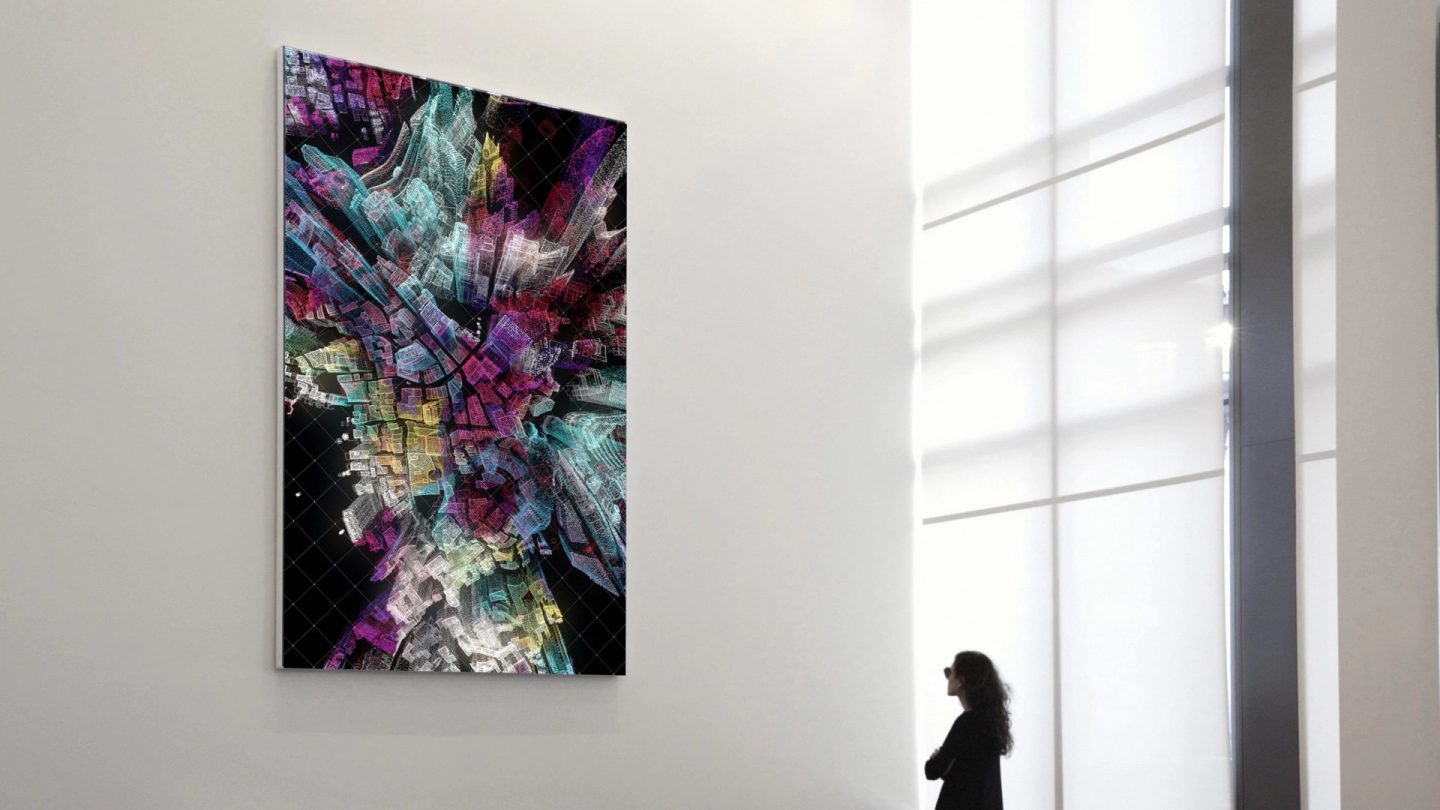 Permanent Artwork
WIND OF BOSTON: DATA PAINTINGS
Boston Logan International Airport
Boston , United States
Wind of Boston: Data Paintings is a site-specific work that turns the invisible patterns of wind in and around Boston into a series of poetic data paintings within a 6' x 13' digital canvas. By using a one-year data set collected from Boston Logan Airport, Refik Anadol Studios developed a series of custom software to read, analyze and visualize wind speed, direction, and gust patterns along with time and temperature at 20-second intervals throughout the year. The resulting artwork is a series of four dynamic "chapters", each using data as a material to create a unique visual interpretation of the interaction between the environment and the city. Each chapter brings different aspects of the data sets to life with distinct and varied painterly, emotive aesthetics, making visible the invisible beauty of wind as a natural phenomenon. Each of the four chapters focuses on one distinct characteristic of the Wind of Boston. The first chapter, Hidden Landscapes highlights the anemometer's most radical readings to create immaterial, spatial experiences. Porcelain Memories recalls the intangible power of a gale when reimagined outside of the traditional constraints of time. Sea Breeze explores the paradox of soft gentle wind blowing from the sea to the site in the harsh cold of winter. Gust in the City is a top-view visualization that explores the phenomenon of high speed winds in short bursts and the constant unseen poetic dance between the forces of nature and the built environment. The visualizations are custom programmed and precisely calibrated to the technical specifications of the seamless, high-resolution LED screen to create spectacular depth, rich contrast, and poetic movement within the digital canvas. Visible daily from 8AM to 11PM from both interior and exterior, the artwork is located in the lobby of 100 Northern Avenue at Fan Pier. Commissioned by The Fallon Company to compliment the architectural design by HOK, it is the latest addition to the public art landscape of the Seaport District, also home to the Institute for Contemporary Art, Boston.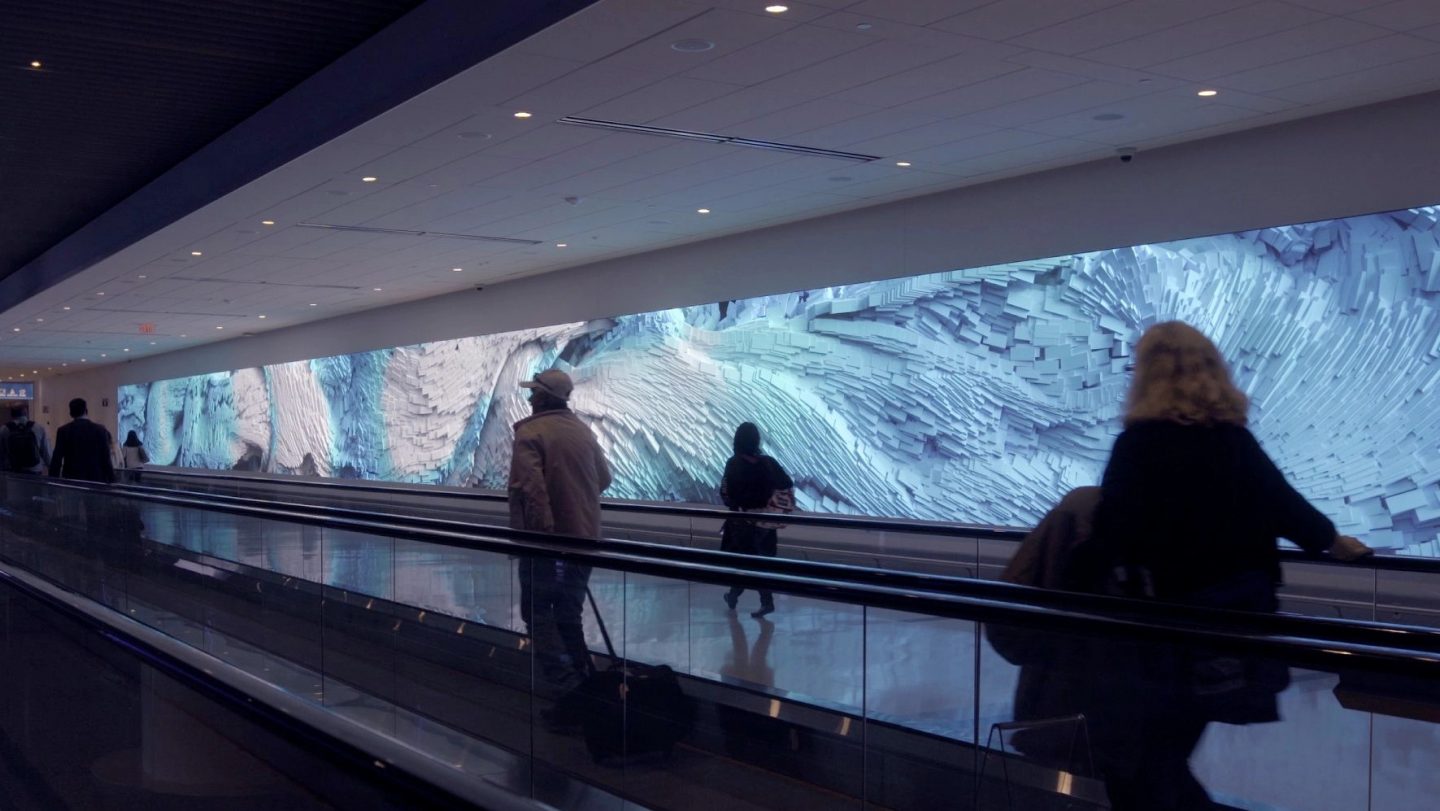 Permanent Artwork
INTERCONNECTED CLT
Charlotte Douglas International Airport
Charlotte , United States
OPEN ADDRESS
5501 Josh Birmingham Pkwy, Charlotte, NC 28208, United States
INTERCONNECTED is a digital artwork that dramatically portrays the hidden troves of operational data at Charlotte Douglas International Airport (CLT) as an ever-changing suite of abstract form, color, and simulated texture. The data feeds that drive the artwork include global and regional air-traffic tracking software, airline flight information (arrivals/departures), baggage handling systems, and parking and ground shuttle transportation throughout the airport campus. The artwork is synchronized and displayed across three high-definition LED Media Walls in addition to a series of programmable LED ribbons embedded into the architecture of Concourse A. INTERCONNECTED is organized into three distinct visual chapters: Chapter I–Fluid Structures, Chapter II–Impossible Materials, and Chapter III –Data Poems. Shifting formal variations within each chapter reflect real-time responses to the dynamic flow of data, creating a living snapshot of the data management systems that enable CLT to serve over 44.4 million travelers annually.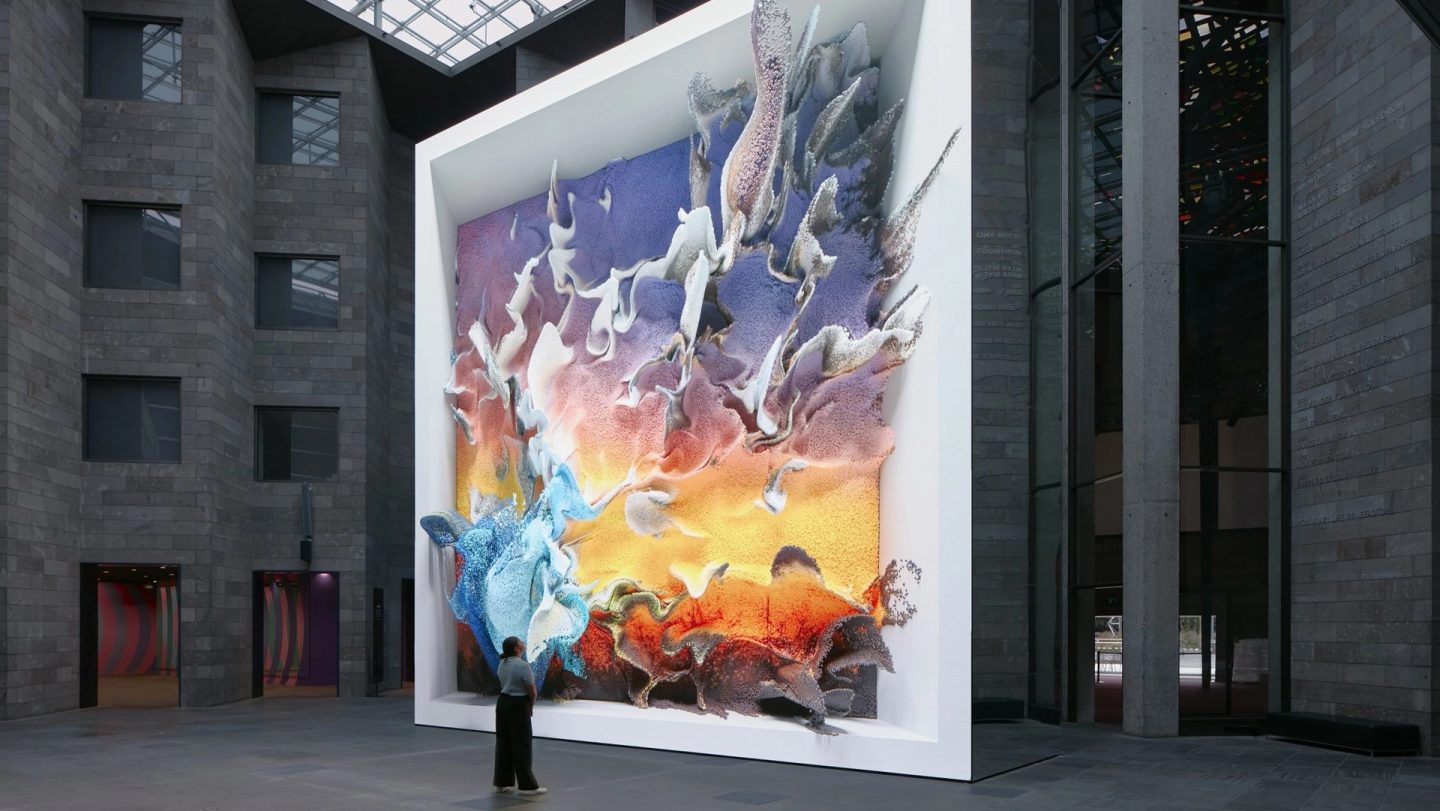 Permanent Artwork
QUANTUM MEMORIES
NGV Melbourne
Melbourne , Australia
OPEN ADDRESS
180 St Kilda Rd, Melbourne VIC 3006, Australia
Exhibited on the largest LED screen that NGV has deployed to date, Quantum Memories is Refik Anadol Studio's epic scale investigation of the intersection between Google AI Quantum Supremacy experiments, machine learning, and aesthetics of probability. Technological and digital advancements of the past century could as well be defined by the humanity's eagerness to make machines go to places that humans could not go, including the spaces inside our minds and the non-spaces of our un- or sub-conscious acts. Quantum Memories utilizes the most cutting-edge, Google AI's publicly available quantum computation research data and algorithms to explore the possibility of a parallel world by processing approximately 200 million nature and landscape images through artificial intelligence. These algorithms allow us to speculate alternative modalities inside the most sophisticated computer available, and create new quantum noise-generated datasets as building blocks of these modalities. The 3D visual piece is accompanied by an audio experience that is also based on quantum noise–generated data, offering an immersive experience that further challenges the notion of mutual exclusivity. The project is both inspired by and a speculation of the Many-Worlds Interpretation in quantum physics – a theory that holds that there are many parallel worlds that exist at the same space and time as our own. Tapping into the random fluctuations of quantum noise as a unique realm of possibilities and predictions, Quantum Memories provides an interactive aesthetic experience by tracking the audience's movements in real-time and simulating how their observer positions indeed become entangled with the visible outcomes of the ever-changing artwork. Deeply thankful to Google AI Quantum Team and their generous support especially Hartmut Neven, Alan Ho, Murphy Niu and Michael Broughton.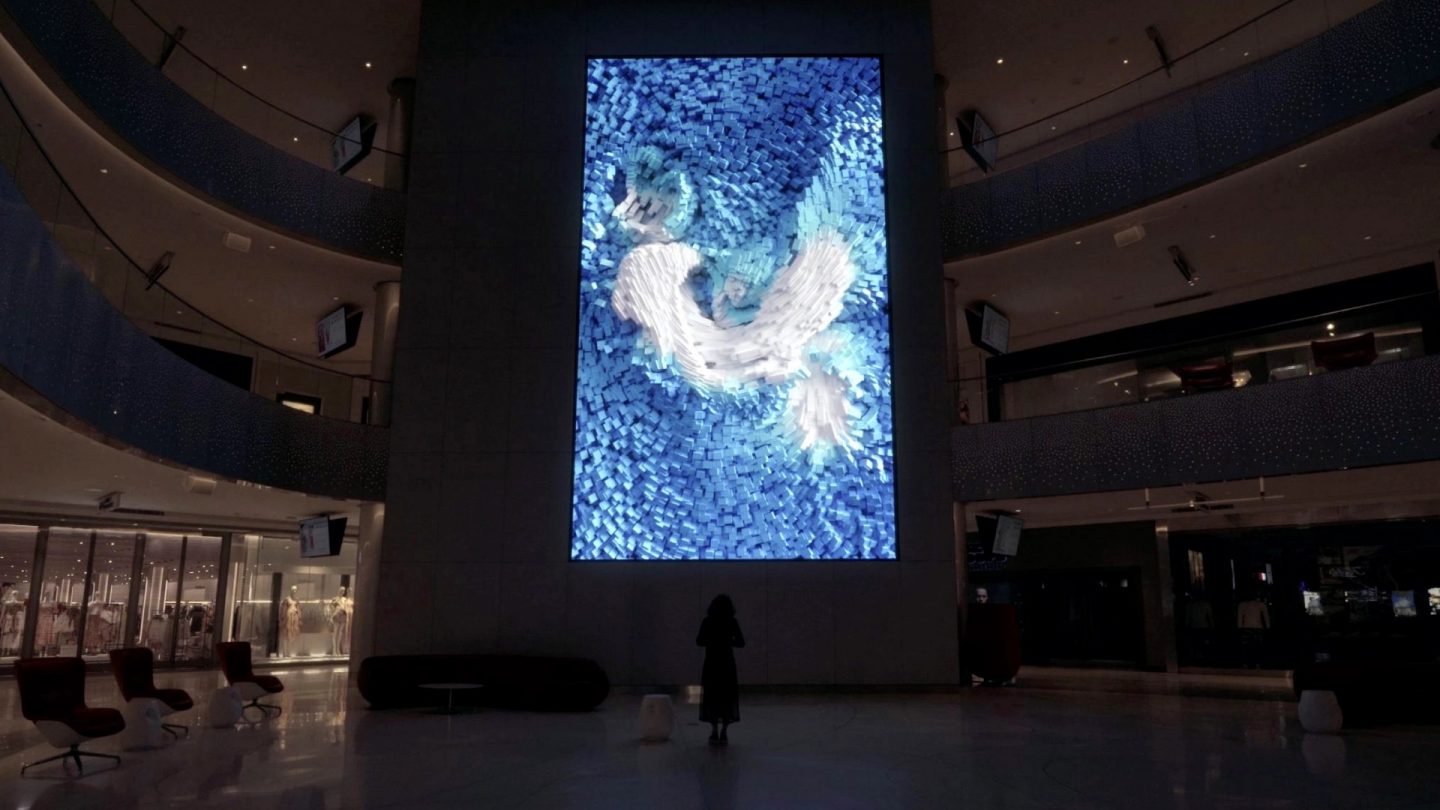 Permanent Artwork
VIRTUAL APPLIQUE: BEVERLY
Beverly Center
Los Angeles , United States
OPEN ADDRESS
8500 Beverly Blvd, Los Angeles, CA 90048, United States
Virtual Appliqués is a site-specific data sculpture that imagines the future of fashion through a digital exploration of the symbiotic relationship of colors, fabrics, and techniques. The project utilizes contemporary algorithms, a special API that captures color patterns from social media photos as well as real-time information that provides the base for it's "data-knitted" synthetic fabrics. Presented in four Chapters, Virtual Appliqués is inspired by the natural world and the unique architectural design of Beverly Center. Each chapter showcases a visual rendering of a future "fabric" that is weaved together by the Studio's interpretation of material transformations, together forming a multi-faceted reflection of the nuanced relationship between technology, humanity, and culture.
There's no upcoming event at the moment.