Title
Wind of Boston: Data Paintings
Categories
Installation, Public Art
Wind of Boston: Data Paintings is a site-specific work that turns the invisible patterns of wind in and around Boston into a series of poetic data paintings within a 6' x 13' digital canvas. By using a one-year data set collected from Boston Logan Airport, Refik Anadol Studios developed a series of custom software to read, analyze and visualize wind speed, direction, and gust patterns along with time and temperature at 20-second intervals throughout the year.
The resulting artwork is a series of four dynamic "chapters", each using data as a material to create a unique visual interpretation of the interaction between the environment and the city. Each chapter brings different aspects of the data sets to life with distinct and varied painterly, emotive aesthetics, making visible the invisible beauty of wind as a natural phenomenon.
Each of the four chapters focuses on one distinct characteristic of the Wind of Boston. The first chapter, Hidden Landscapes highlights the anemometer's most radical readings to create immaterial, spatial experiences. Porcelain Memories recalls the intangible power of a gale when reimagined outside of the traditional constraints of time. Sea Breeze explores the paradox of soft gentle wind blowing from the sea to the site in the harsh cold of winter. Gust in the City is a top-view visualization that explores the phenomenon of high speed winds in short bursts and the constant unseen poetic dance between the forces of nature and the built environment.
The visualizations are custom programmed and precisely calibrated to the technical specifications of the seamless, high-resolution LED screen to create spectacular depth, rich contrast, and poetic movement within the digital canvas.
Visible daily from 8AM to 11PM from both interior and exterior, the artwork is located in the lobby of 100 Northern Avenue at Fan Pier. Commissioned by The Fallon Company to compliment the architectural design by HOK, it is the latest addition to the public art landscape of the Seaport District, also home to the Institute for Contemporary Art, Boston.
Credits
Project By Refik Anadol Studio
Media Artist & Director Refik Anadol
—
Commissioned By The Fallon Company
Joseph F. Fallon
Richard Martini
—
Studio Team Members & Collaborators
Raman K. Mustafa / Kian Khiaban / Toby Heinemann / Nick Boss
Rob Tom Browning / Bahadir Dagdelen / Yusuf Emre Kucur / Kerim Karaoglu
—
Art Consultants : Directions In Art
Julie White Ratner / Joanne Brody Spielman
—
Project Management Dg Hunt & Associates, Llc
—
Technical Application : Diversified
Phil Fortune / Mitch Rabil / Mike Finnerty / Brian Mckeon
—
Hardware Provider : Planar
—
Soundtrack : Goldmund / Door Of Our Home
Sound Fx Design : Kerim Karaoglu
Locations & Dates
Boston, US
01/01/2017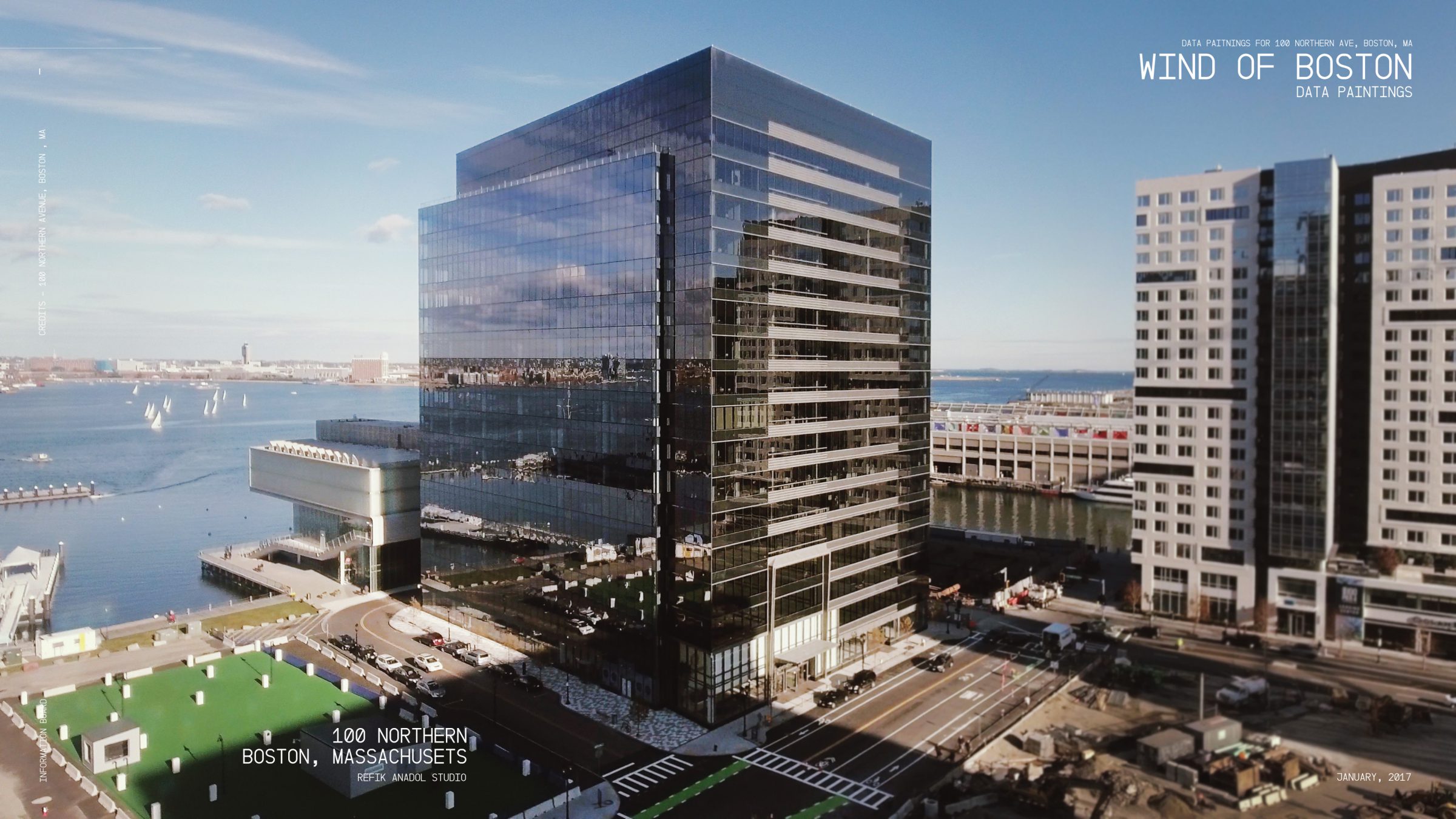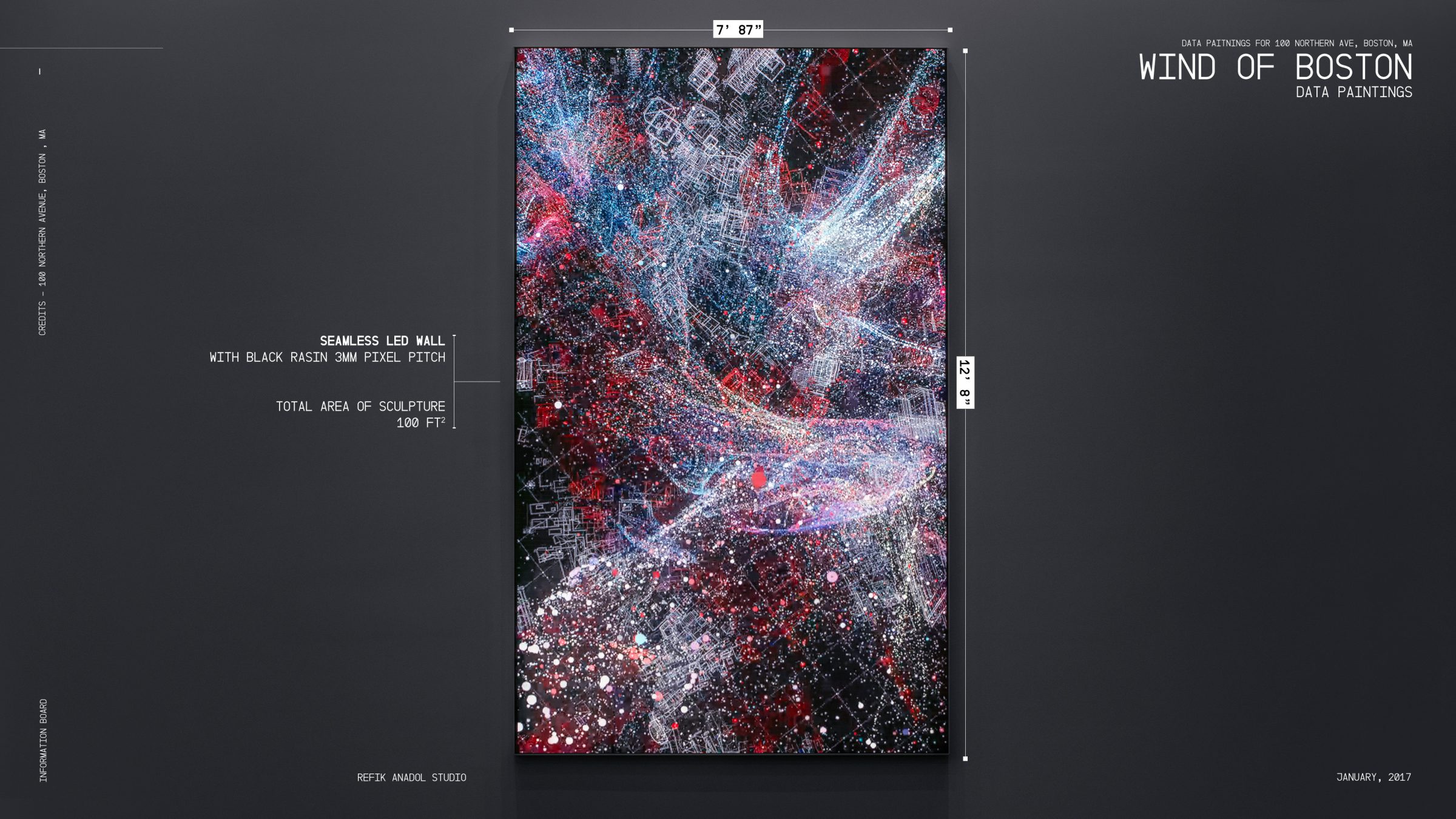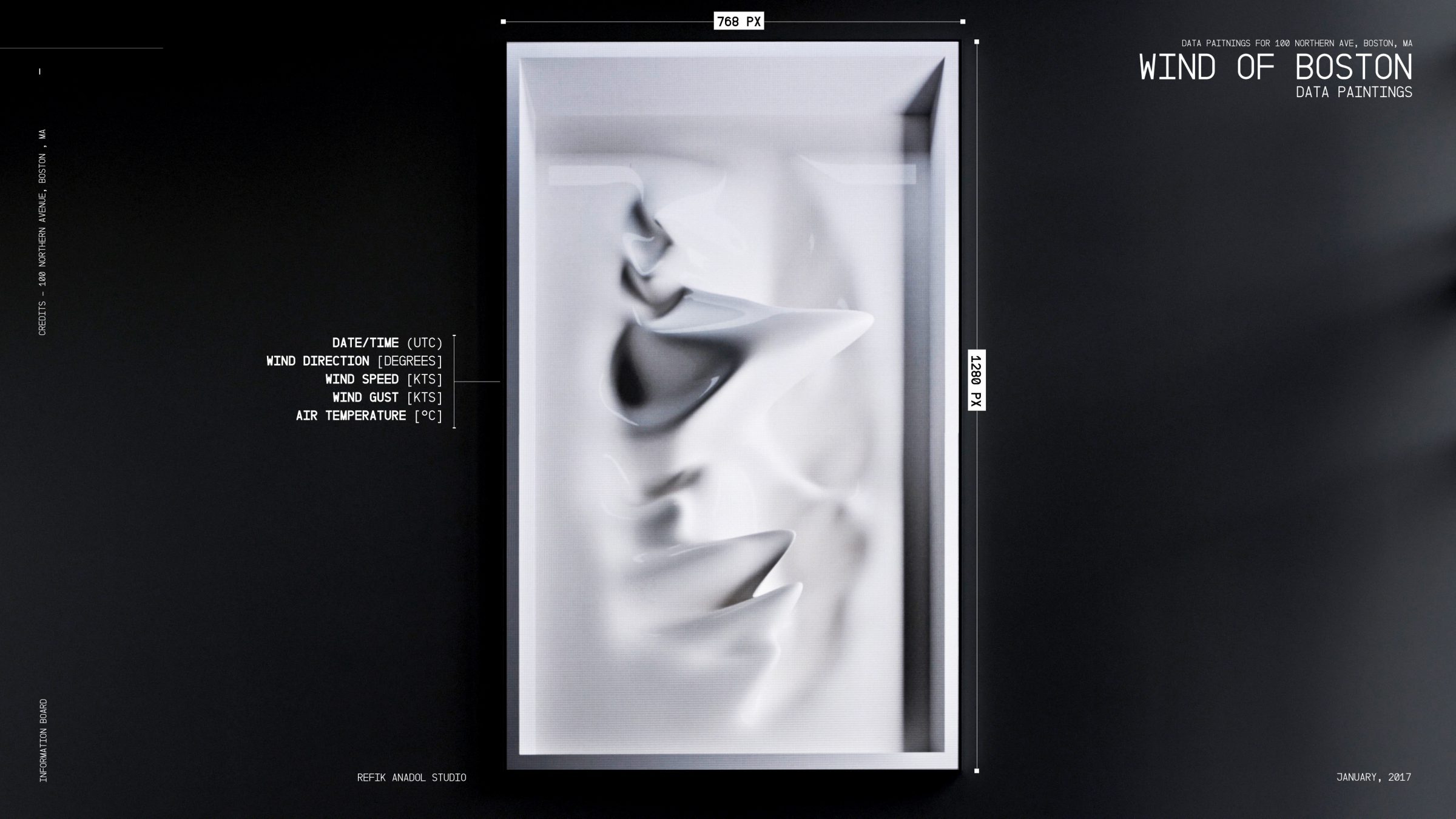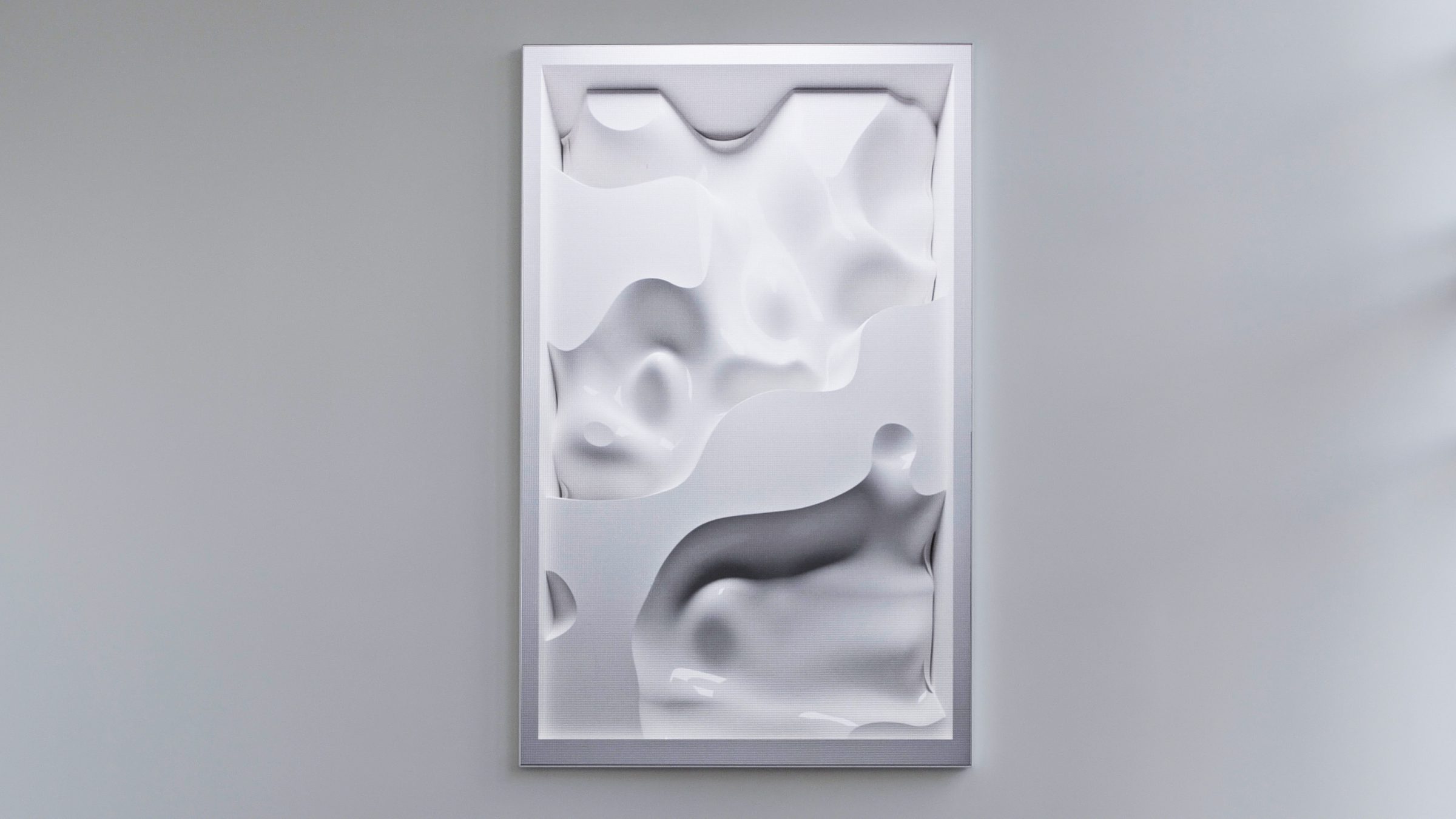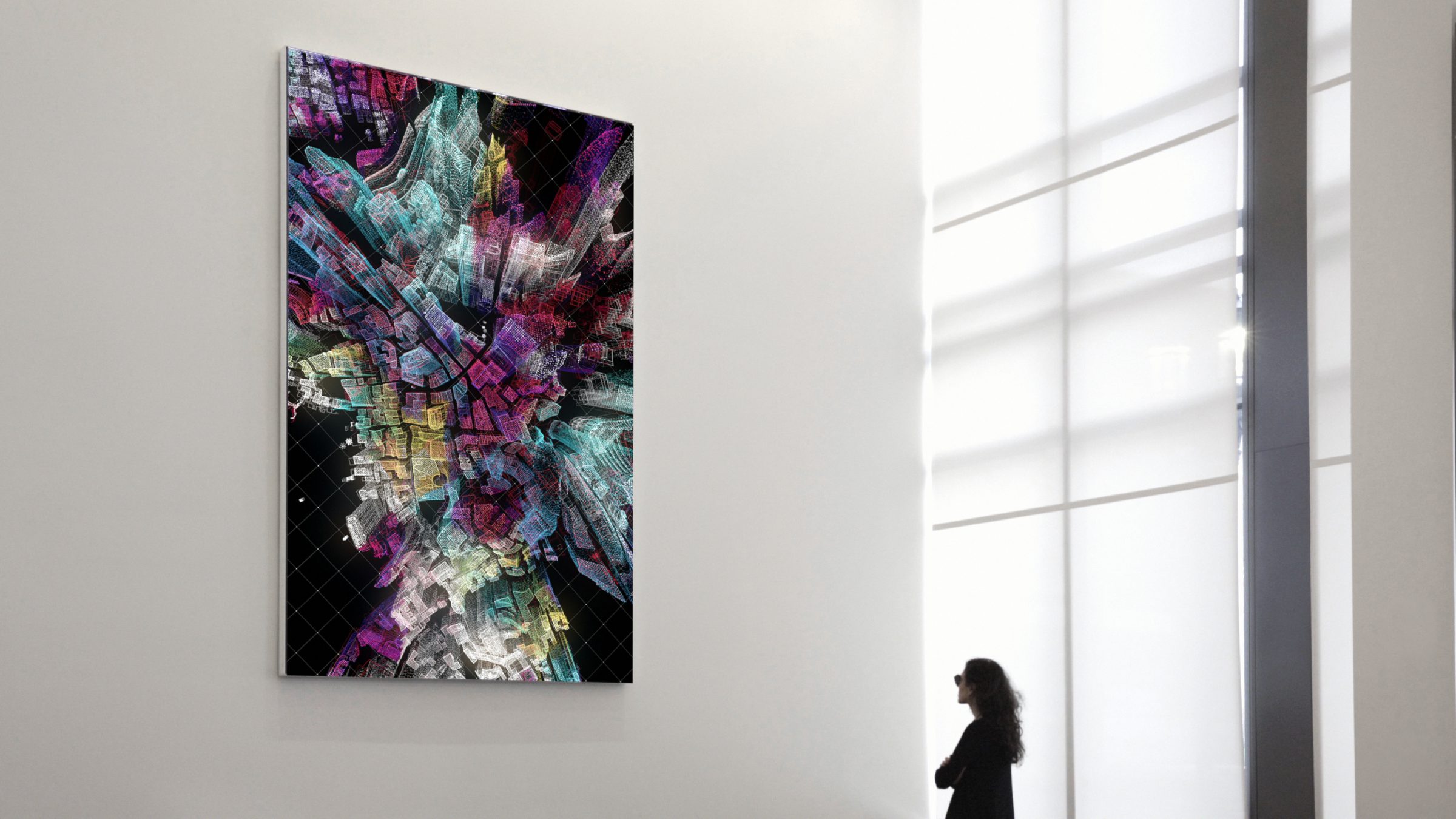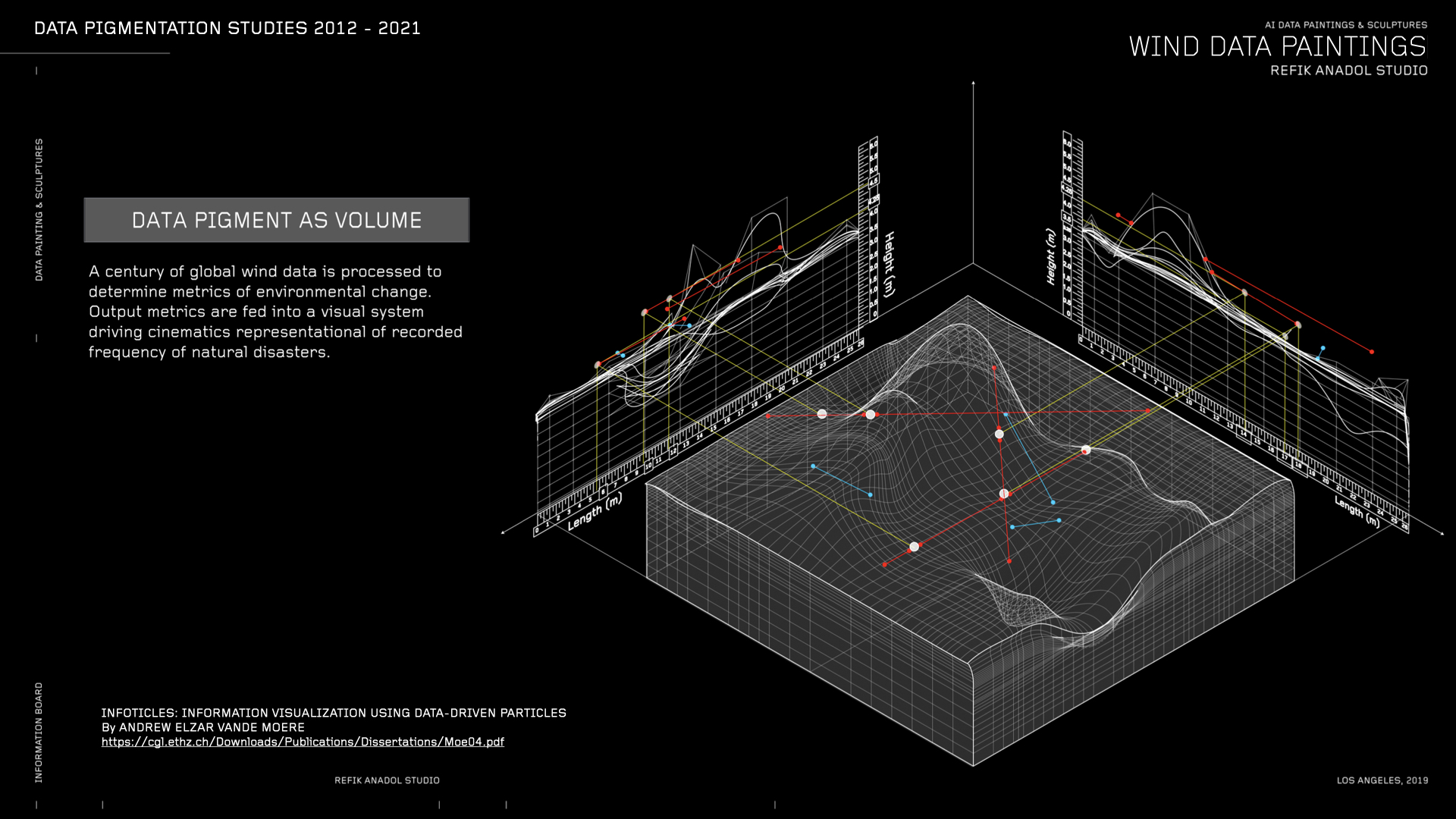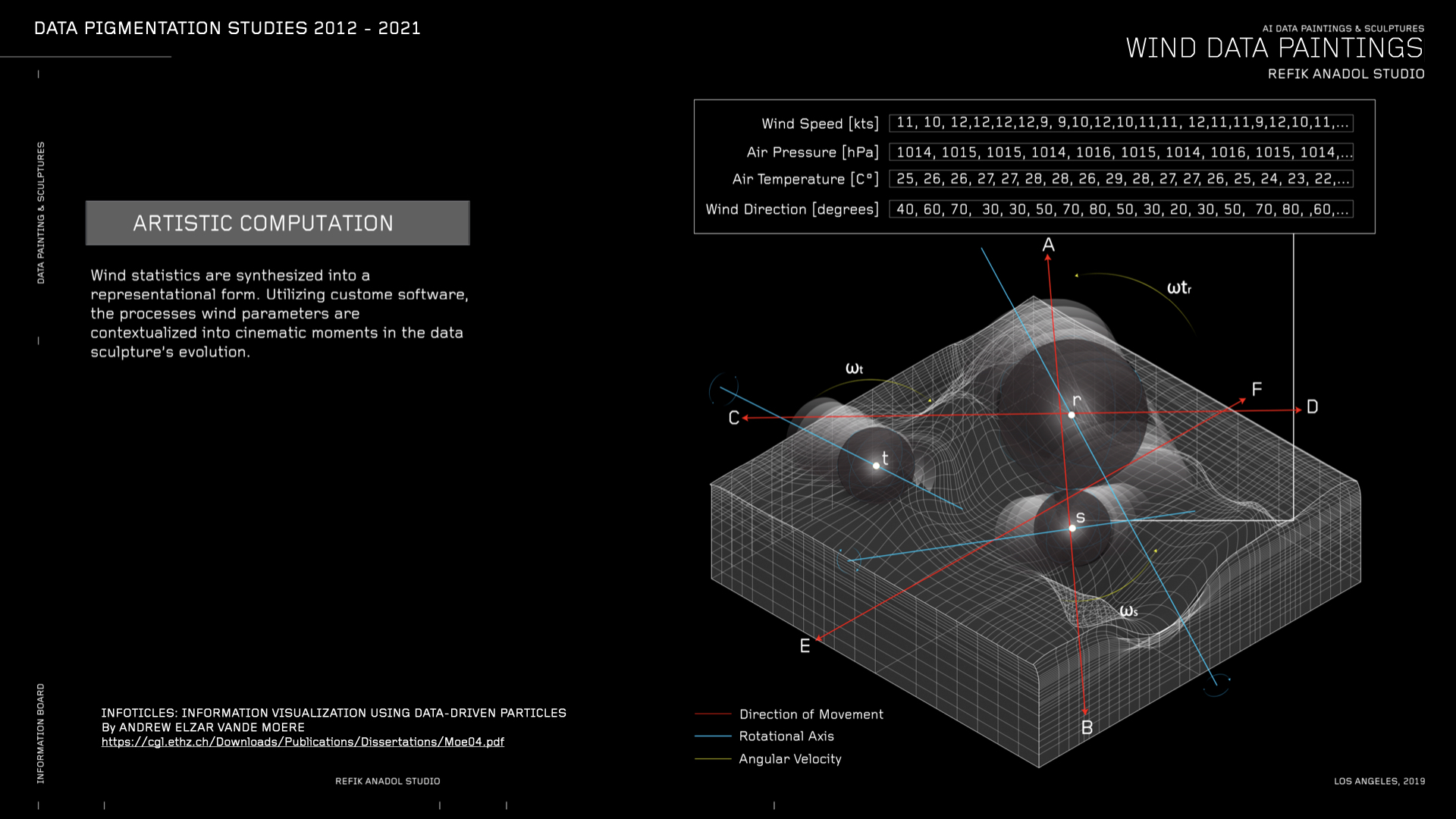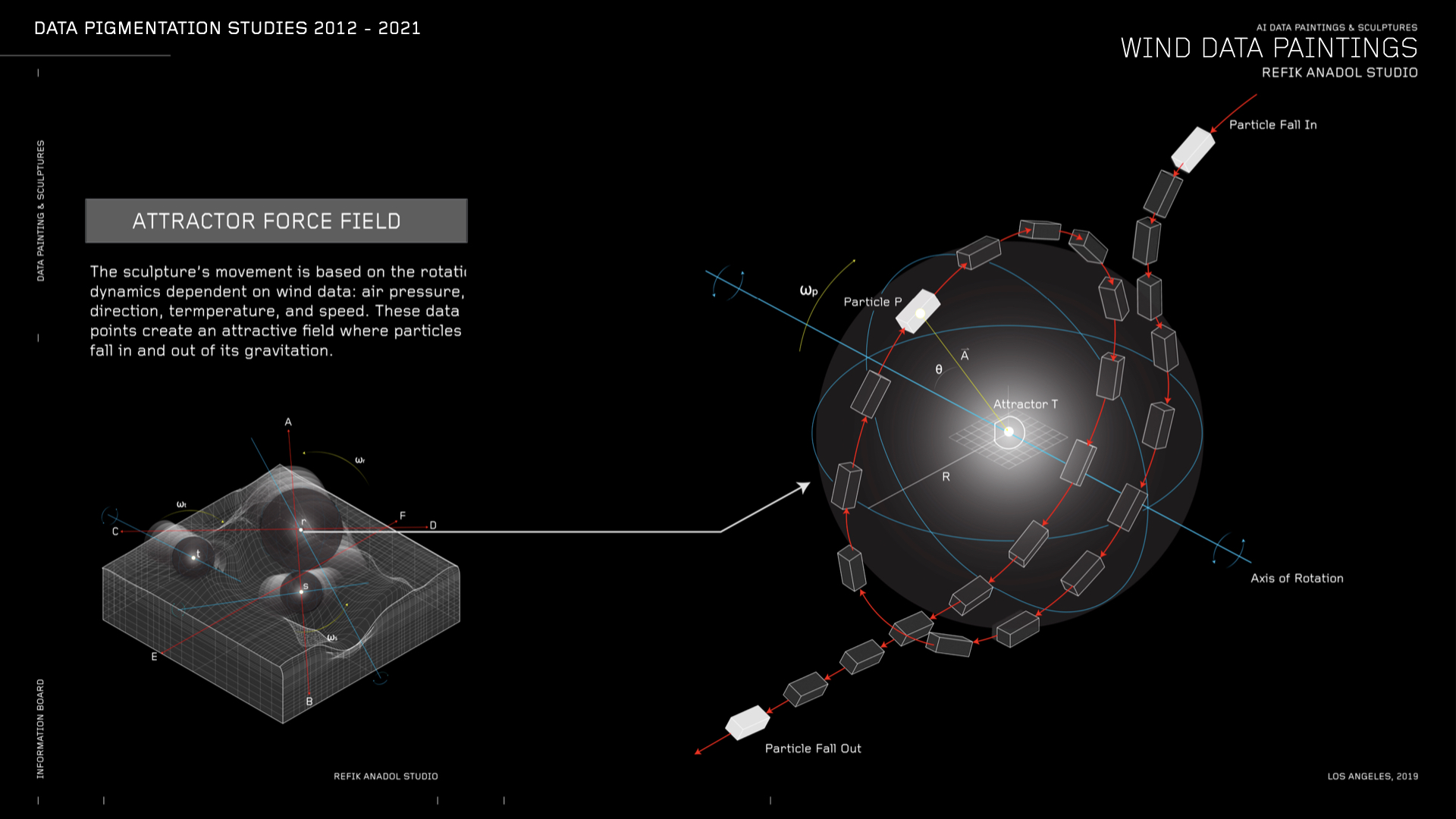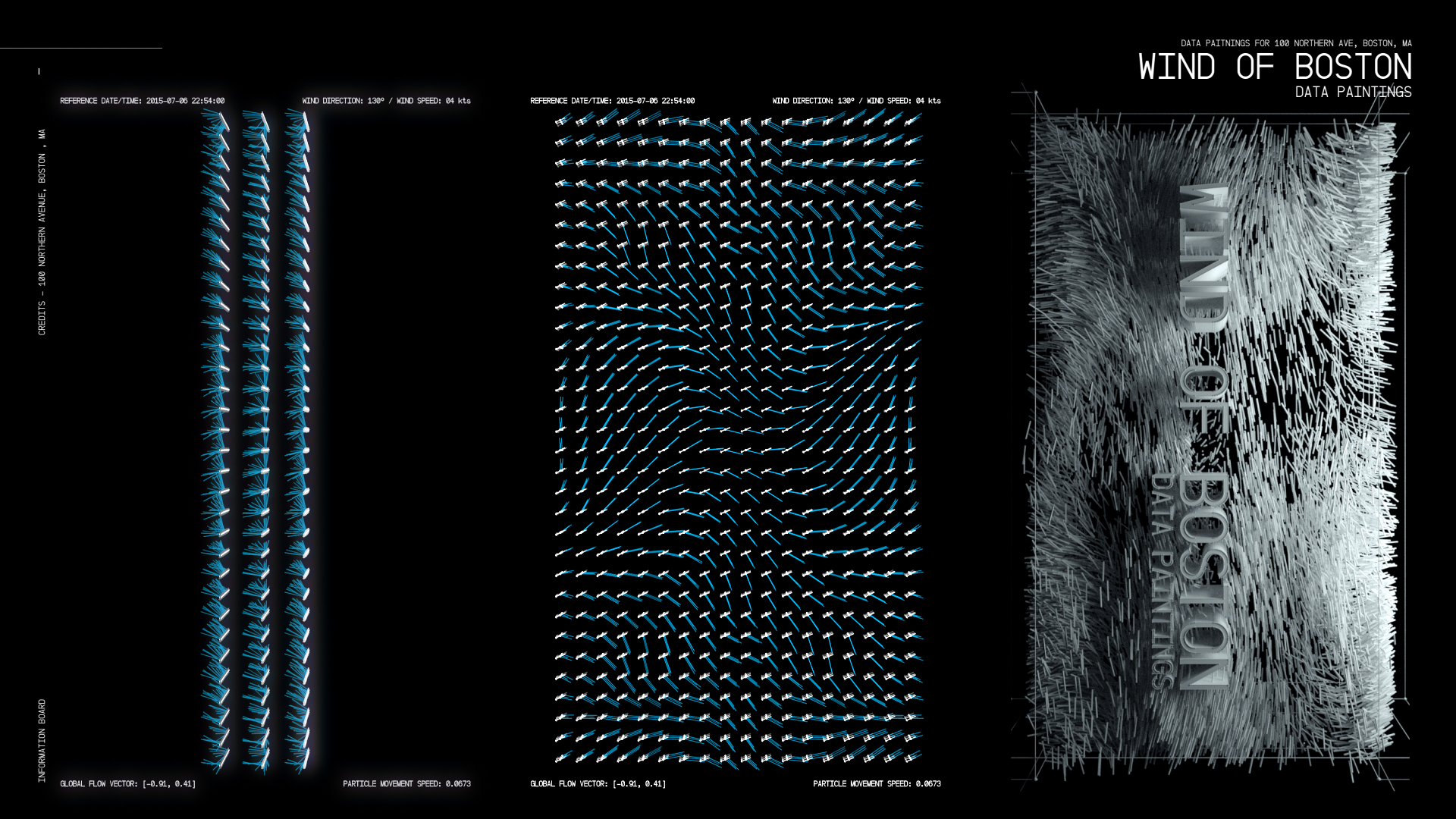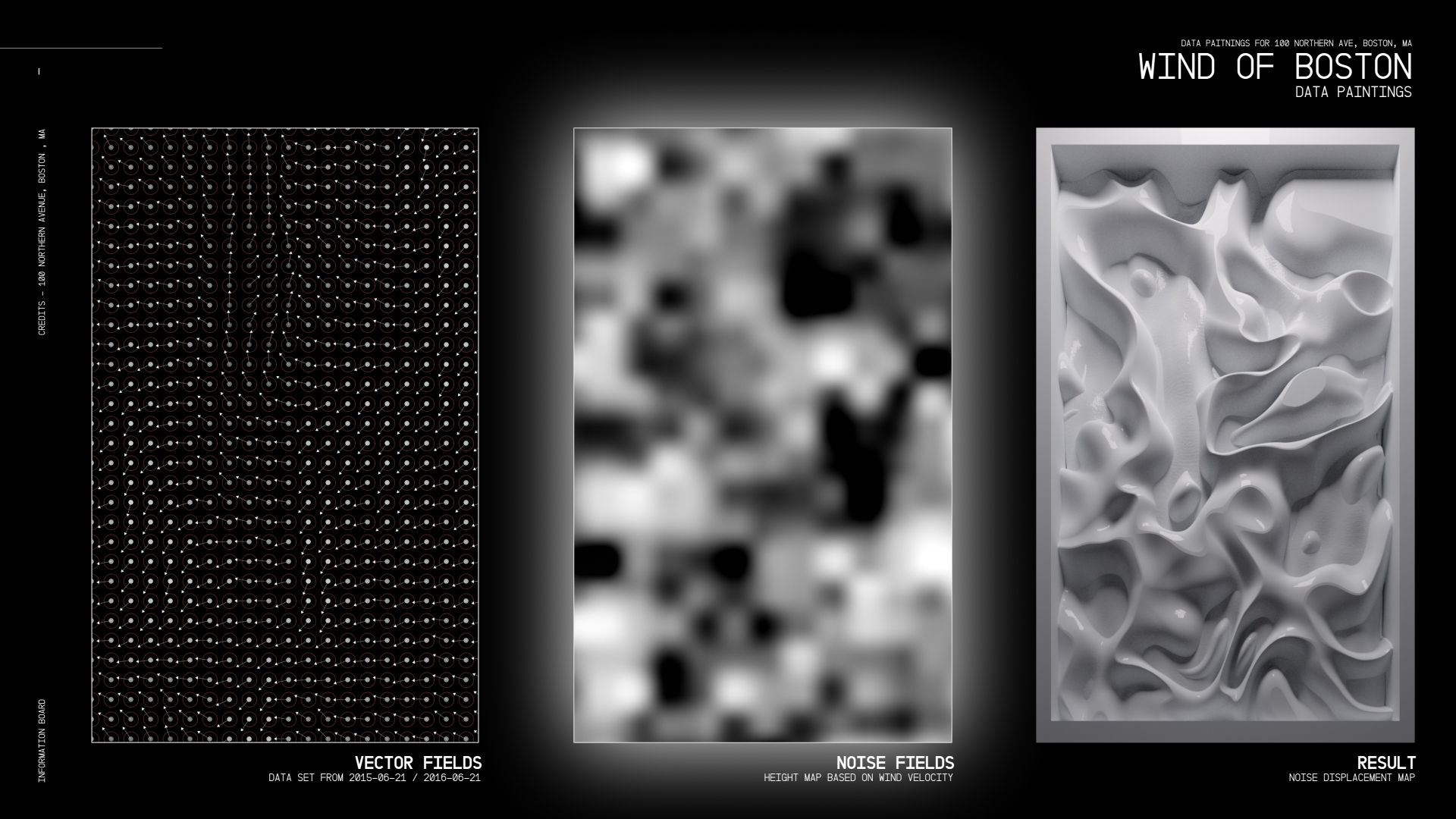 Data Pigmentation - Process 01
Data Pigmentation - Process 02
Data Pigmentation - Process 03
Plotting Wind Data - Process 01
Plotting Wind Data - Process 02