Title
Machine Memoirs : Space
Categories
A/V Performance, Data Architecture, Exhibition, Public Art
Machine Memoirs: Space marked our Studio's most comprehensive solo exhibition in Istanbul, to date, and was free to the public between March 19 – April 25, 2021 at Istanbul Pilevneli Gallery. Each work experienced in the exhibition, where we investigated the relationships between data, memory, knowledge and history in cosmic dimensions, has been inspired by our collaboration with NASA JPL since 2018. The journey started with the studio's visualization of the 60-year-old publicly available space exploration archives of the institution and the transformation of that archive into a data sculpture. Studying the visuals that have been captured by the most comprehensive telescopes sent to outer space and to other celestial bodies made us think about the idea that telescopes keep visual travel journals of spaces to where we cannot travel. Then, the possibility emerged that telescopes – that collect so many images in their memories, albeit artificial – could dream.
The main building blocks for the works that make up this cutting-edge exhibition are all of the publicly available photographs of space taken by satellites and spacecraft deployed by NASA. Through the utilization of machine learning algorithms trained on this enormous data set, we interpreted a machine-based visual speculation of humanity's historical attempts to explore its depths, unveiling the intricate connections between obscurity and openness, creating an alternate data universe of abstract forms where reams of visual information produce open-ended aesthetic possibilities.
We obtained all of the data used in the exhibition from publicly available sources – that is, every data set behind the works can be found on the internet. The process began with a regular review of NASA archives. Afterwards, we analyzed and classified the collection of visual data conceptually with the help of machine intelligence and taught the visual memories of each machine to artificial intelligence with the GAN algorithm named StyleGAN2ADA. We were able to create poetic, immersive experiences by combining fluid dynamics algorithms, which we have been using with great enthusiasm in our works for years. Kerim Karaoğlu designed the audio experience in the exhibition also using the same data.
Alex Morozov
Brian Chung
Carrie He
Christian Burke
Danny Lee
Efsun Erkilic
Kerim Karaoglu
Pelin Kivrak
Ho Man Leung
Kyle McLean
Nicholas Boss
Nidhi Parsana
Raman K. Mustafa
Toby Heinemann
Deeply thankful for their kind supports;
Ekrem İmamoğlu – İstanbul Municipality
Murat Abbas – İstanbul Municipality Kültür A.Ş.
Samsung Turkey
BMW Turkey
Location & Date
Istanbul, TR
Pilevneli Gallery
19 March – 26 April 2021
Art Works
18 Channel Video
8 Channel Audio
Custom Software
Custom Media Servers
3D CNC Milled Data Sculpture
AI Data Paintings
AI Cinema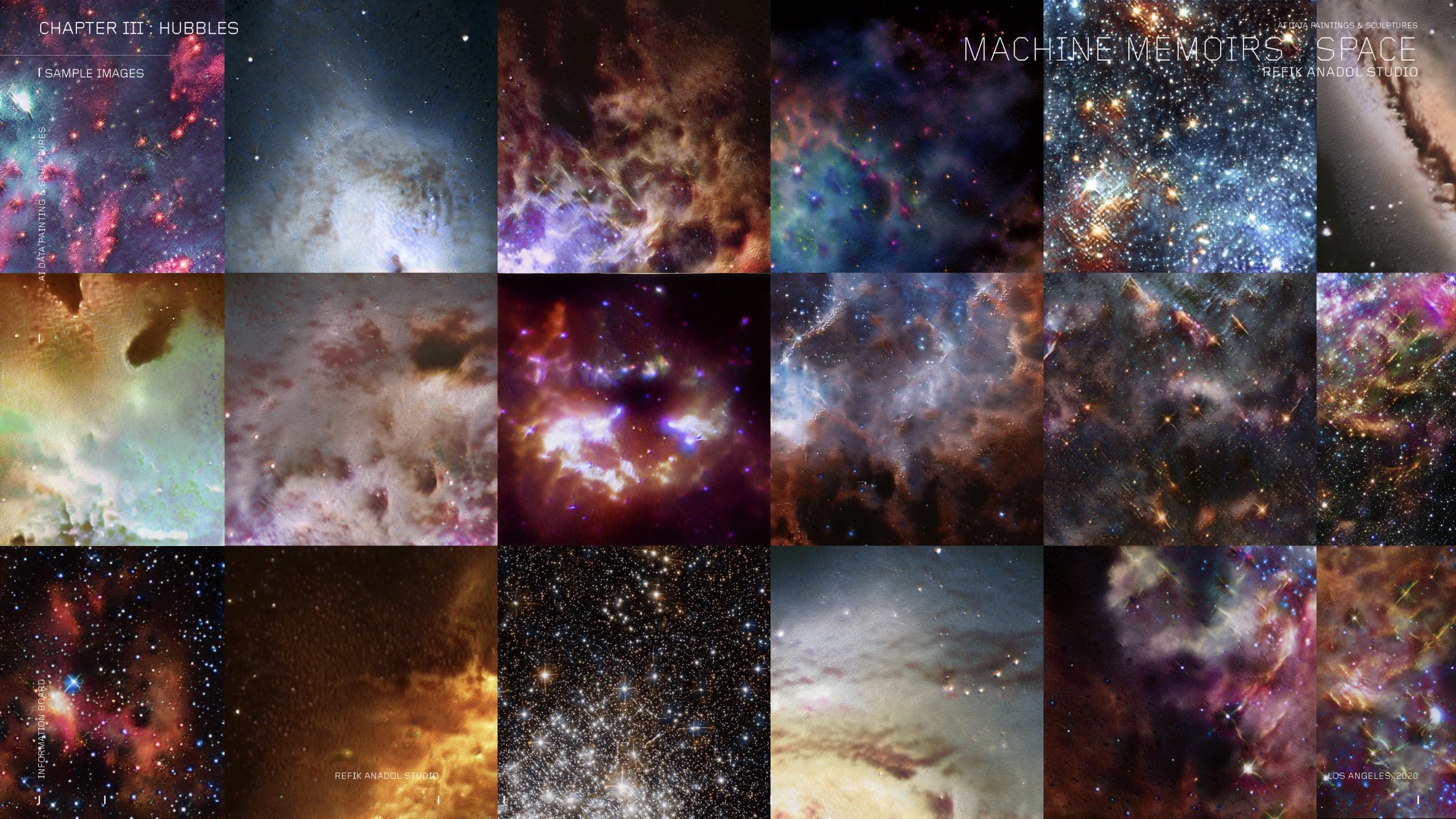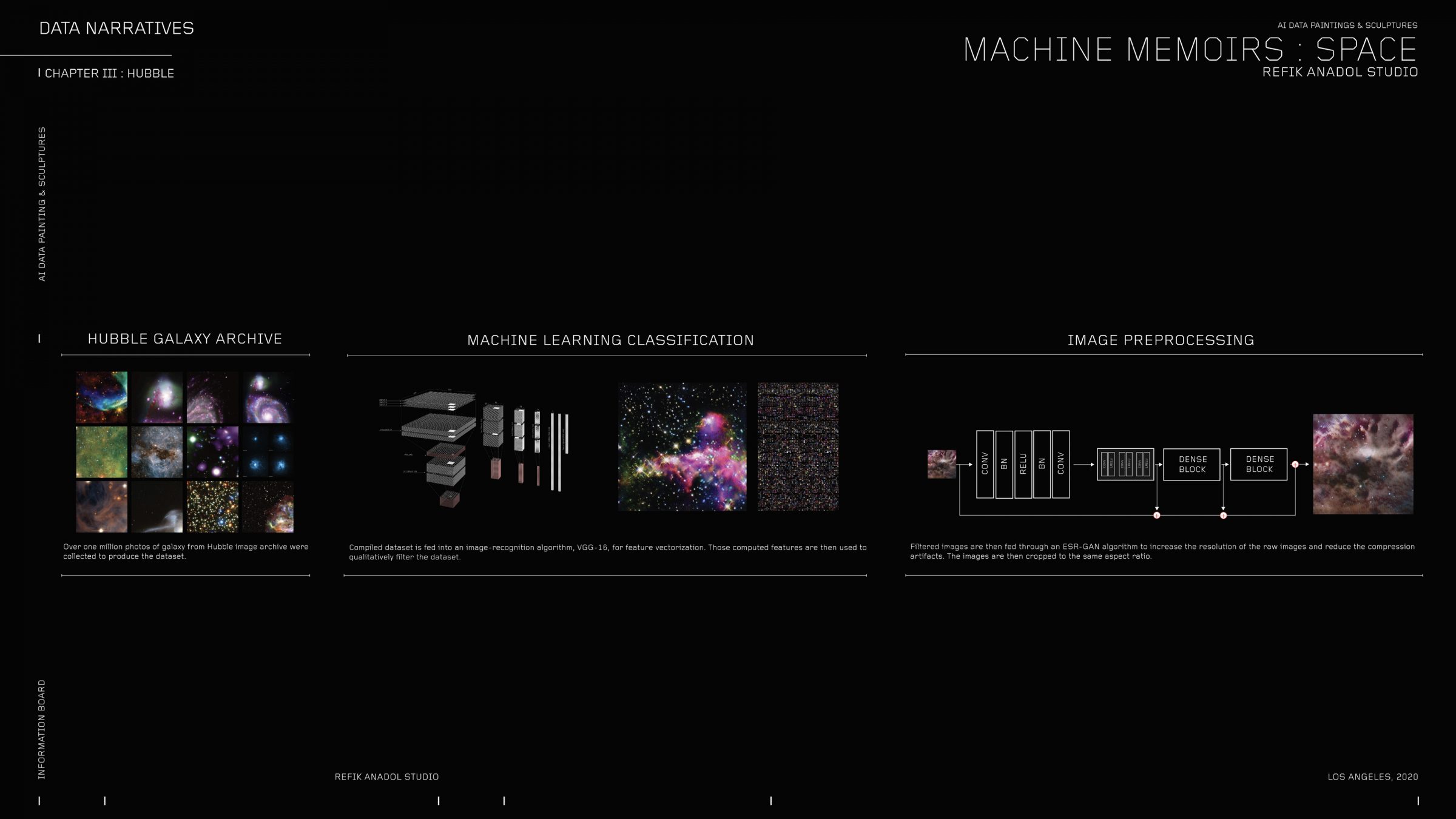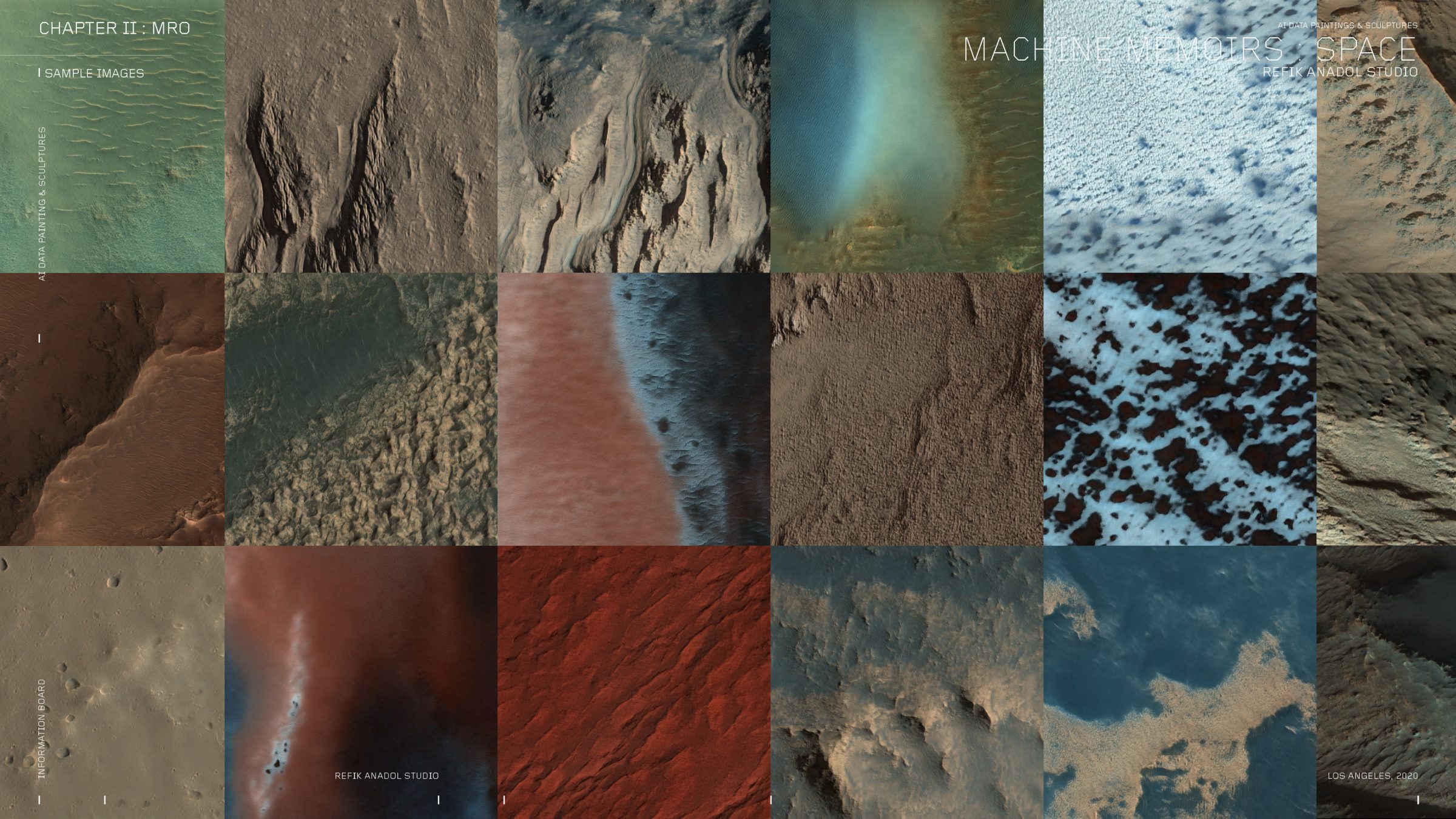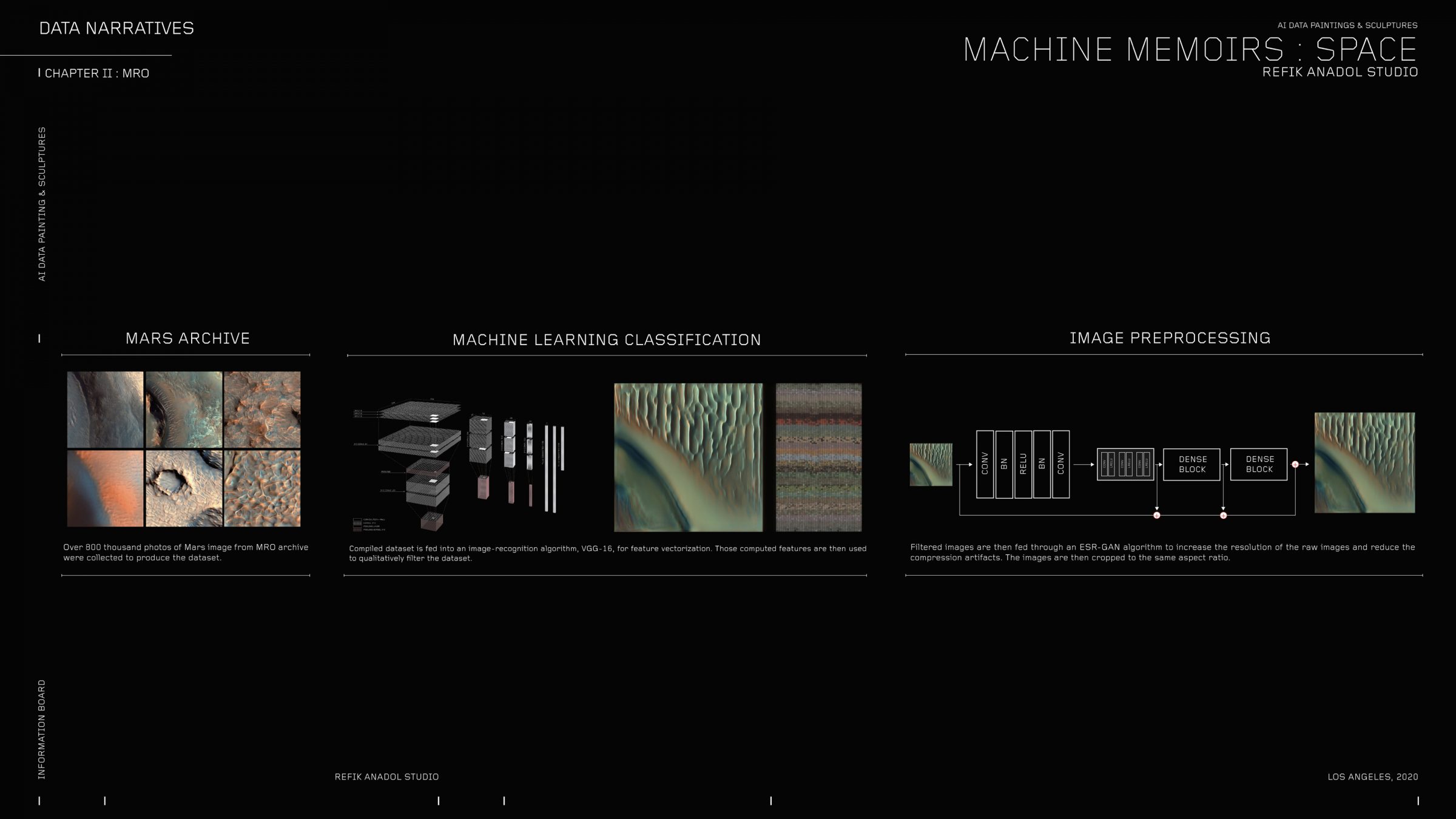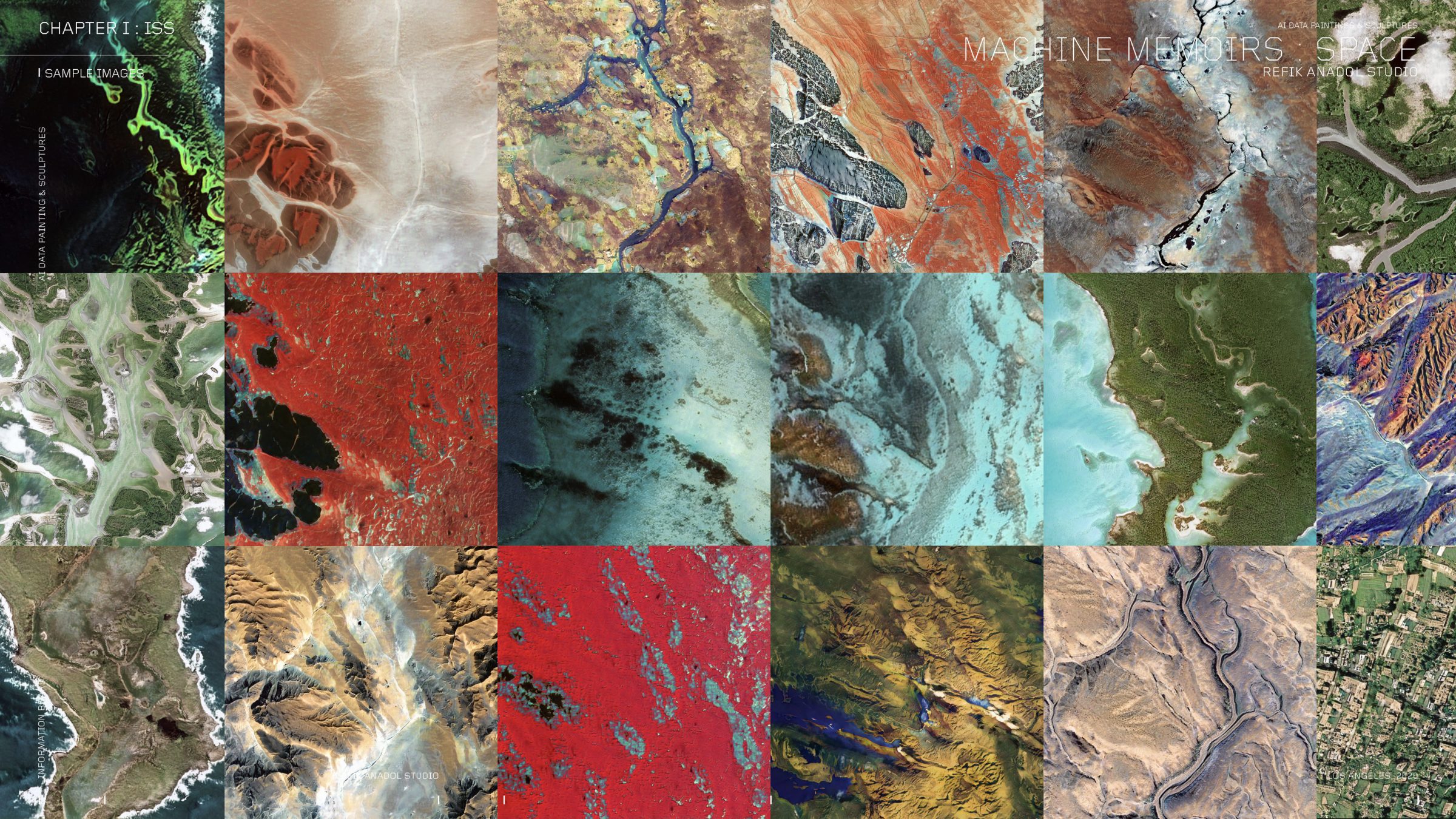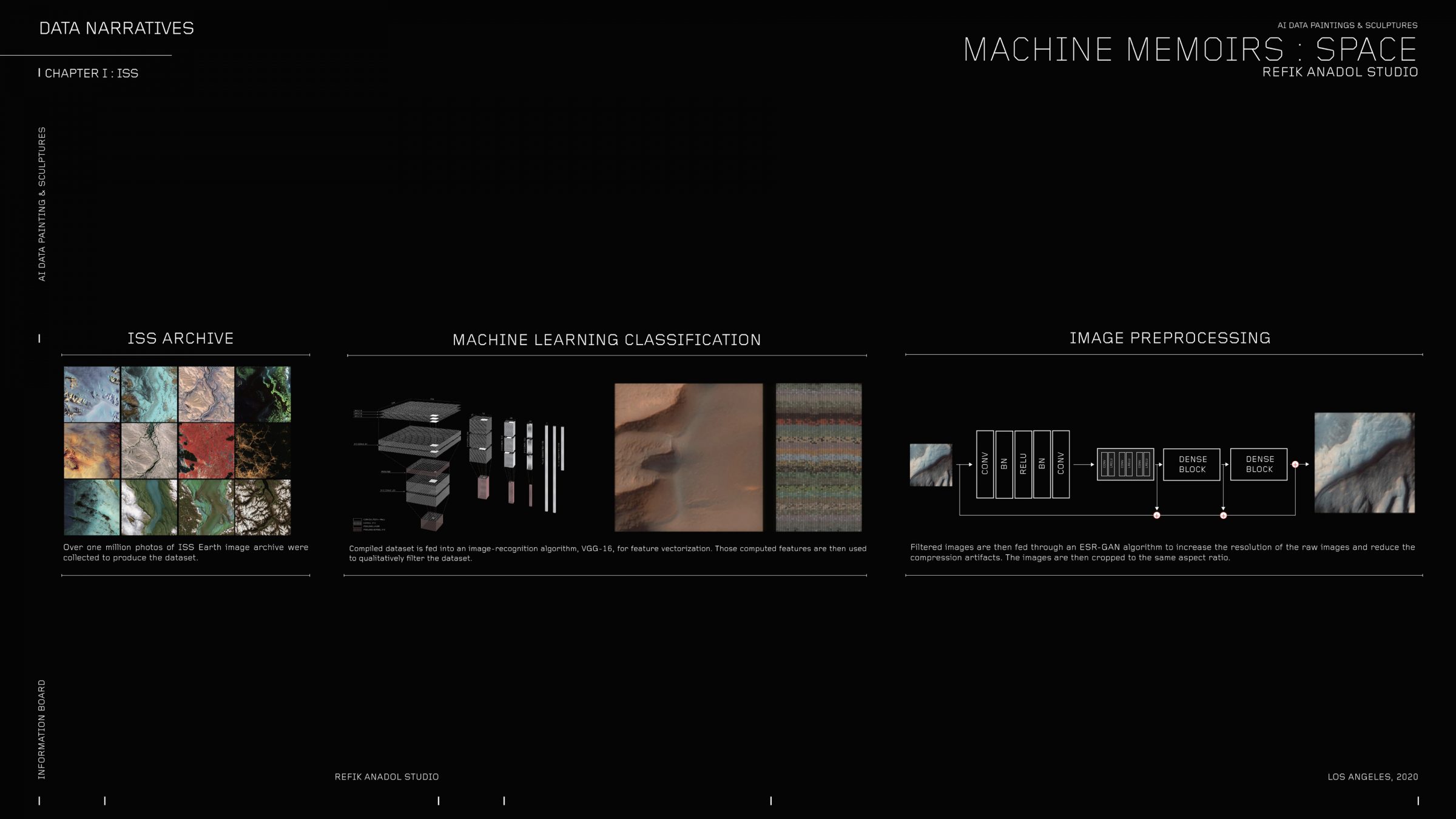 MACHINE MEMOIRS V.3
Machine Memoirs v.2, which is an "AI cinema", is born from a narrative in which the past and the future are intertwined. Space exploration has come a long way in a very short period of time and it is a discipline where exploration and learning take place almost simultaneously. In order to understand the present day of space explorations, we also need to think about the history and the future at the same time. Machine Memoirs v.2 aims to present a multidimensional and space-themed artificial intelligence speculation with an innovative cinematic aesthetic while creating a futuristic visualization experience using space science and the latest cinematic theories and techniques.
The documentation of the transformation of the raw data into a cinematic experience during the preparation process is shared with the audience on the screens accompanying the work. In order to understand this complex spatial structure visually, we were able to utilize dimensional-reduction algorithms, such as cuml-UMAP, projecting to a navigable 3-dimensional universe, using StyleGAN2, NVIDIA DGX Station, 500 TFLOPS of AI power, and the world's fastest workstation for leading-edge AI research & development, thanks to long-term collaborations with Google and NVIDIA.
AI Cinema
18 Minutes
3 Chapters –
ISS Dreams
MRO Dreams
Hubble Dreams
Installation
18 Channel Video
8 Channel Audio
Custom Software
Custom Media Servers
AI Cinema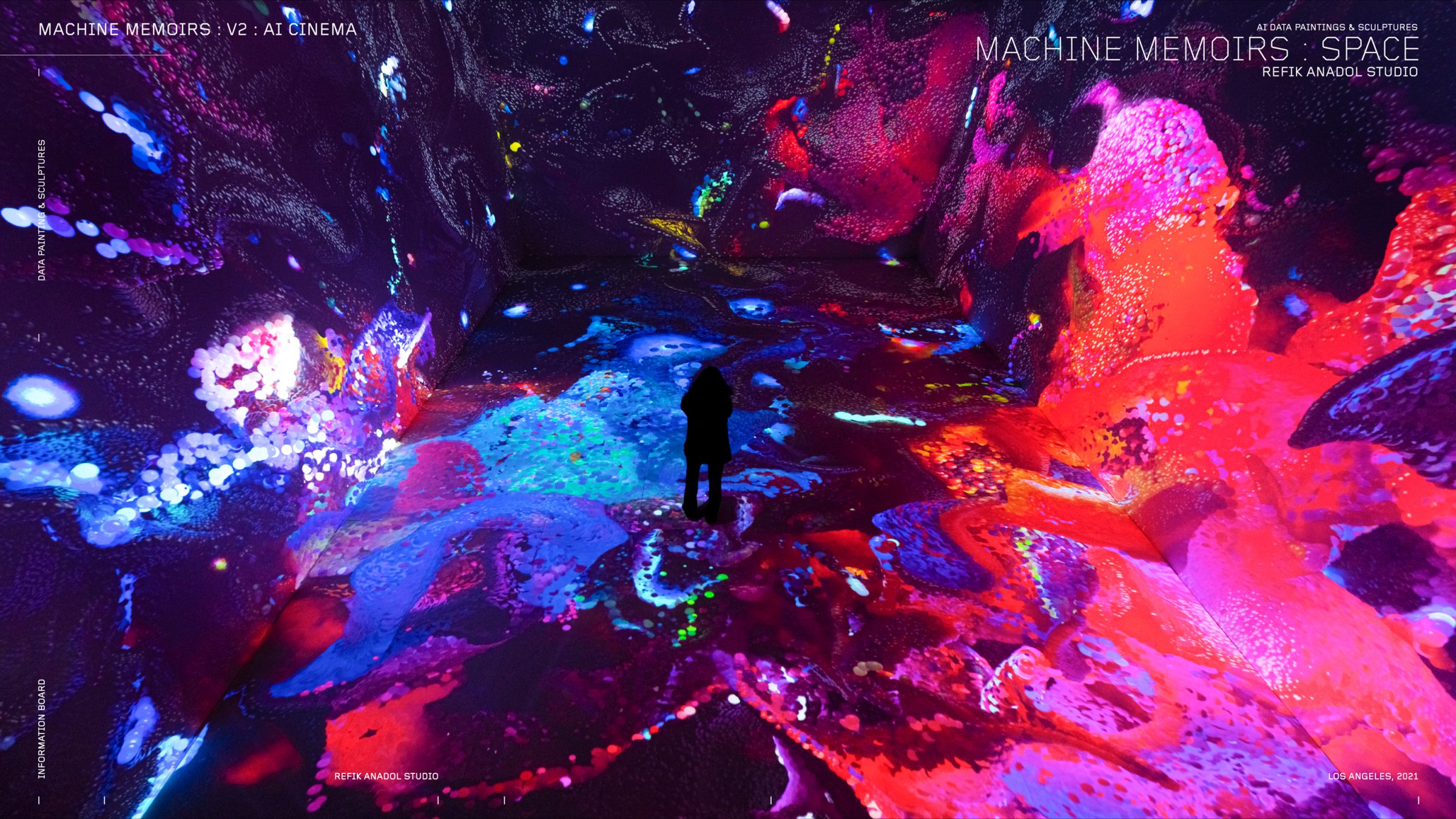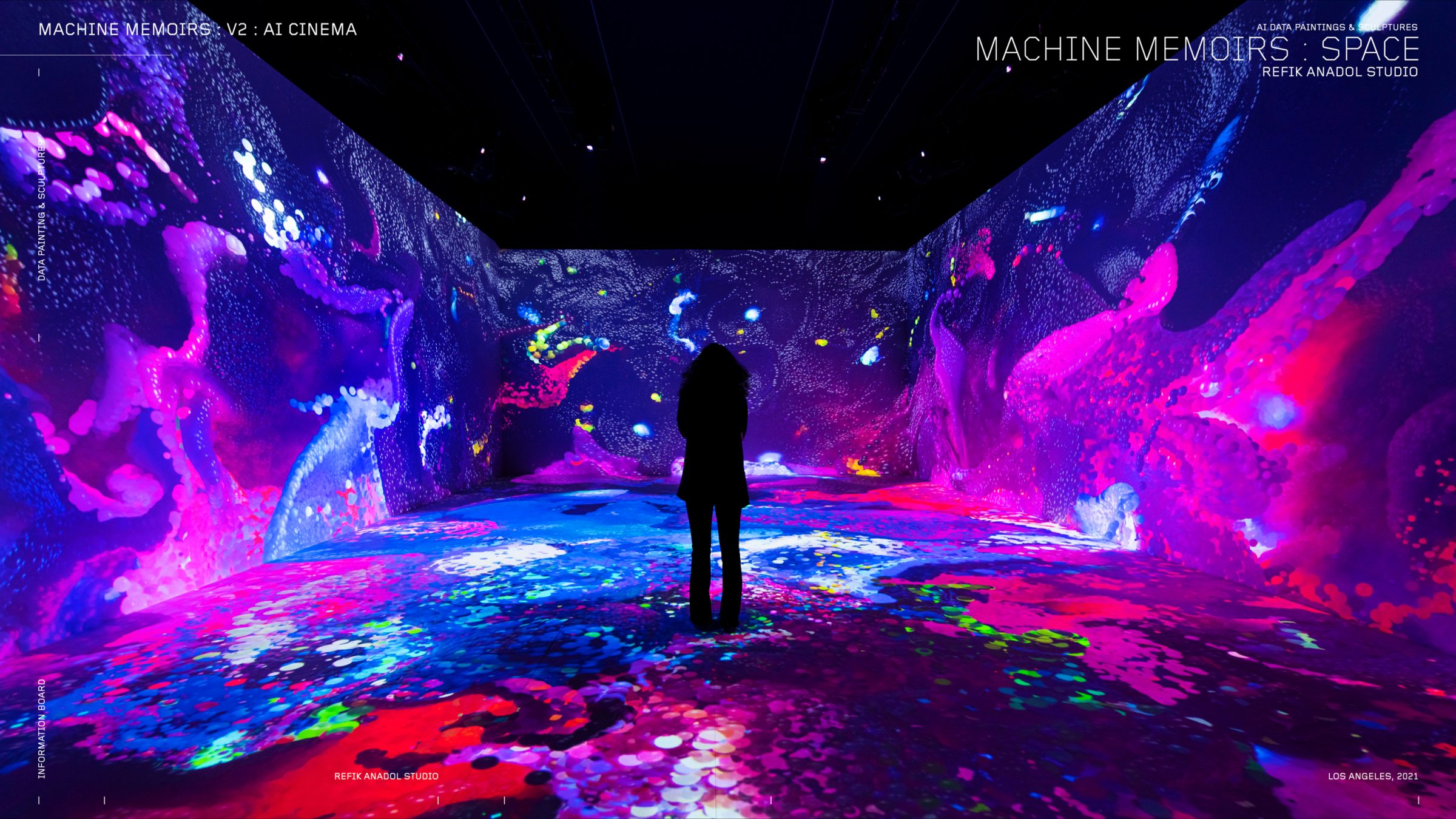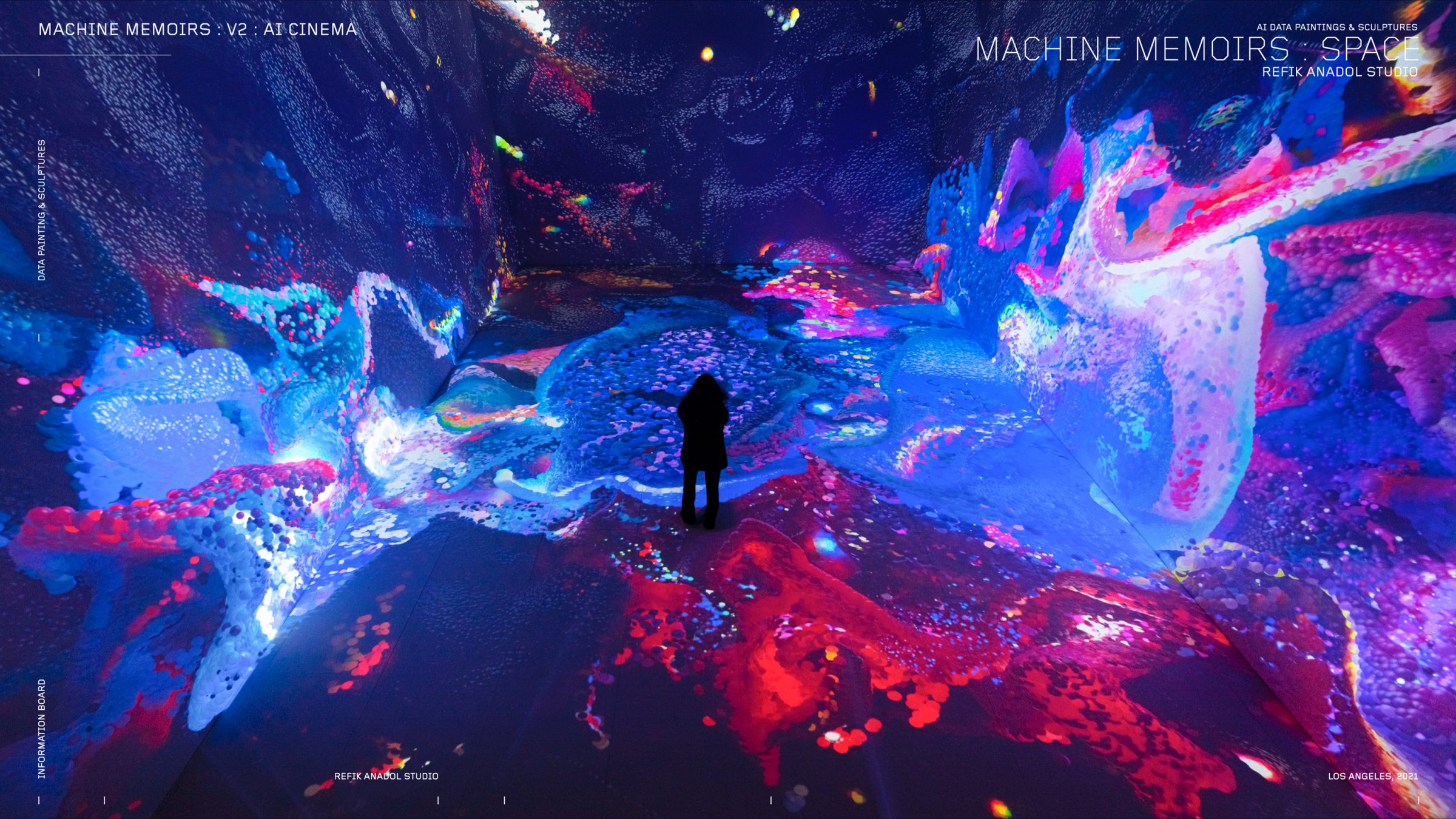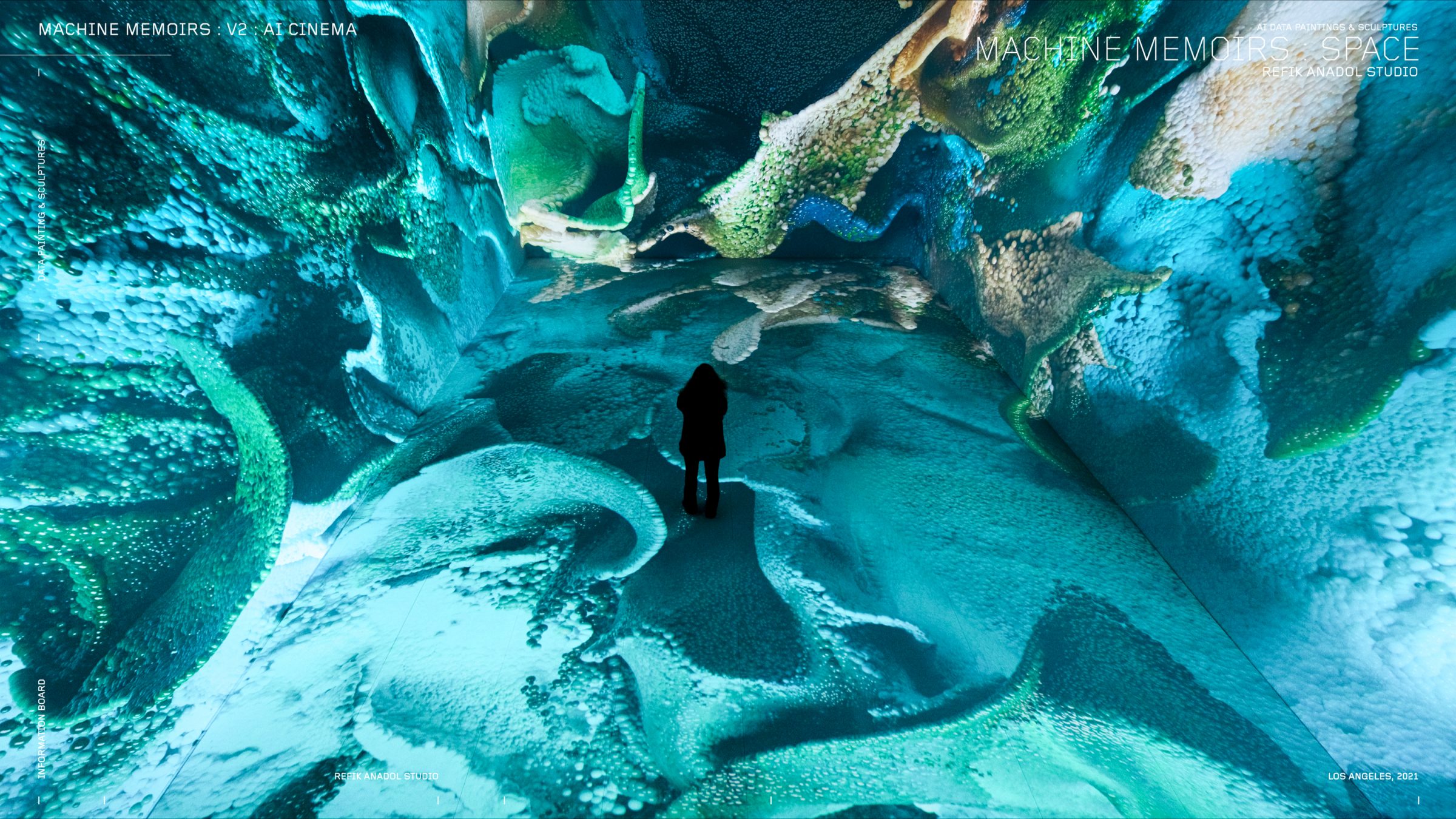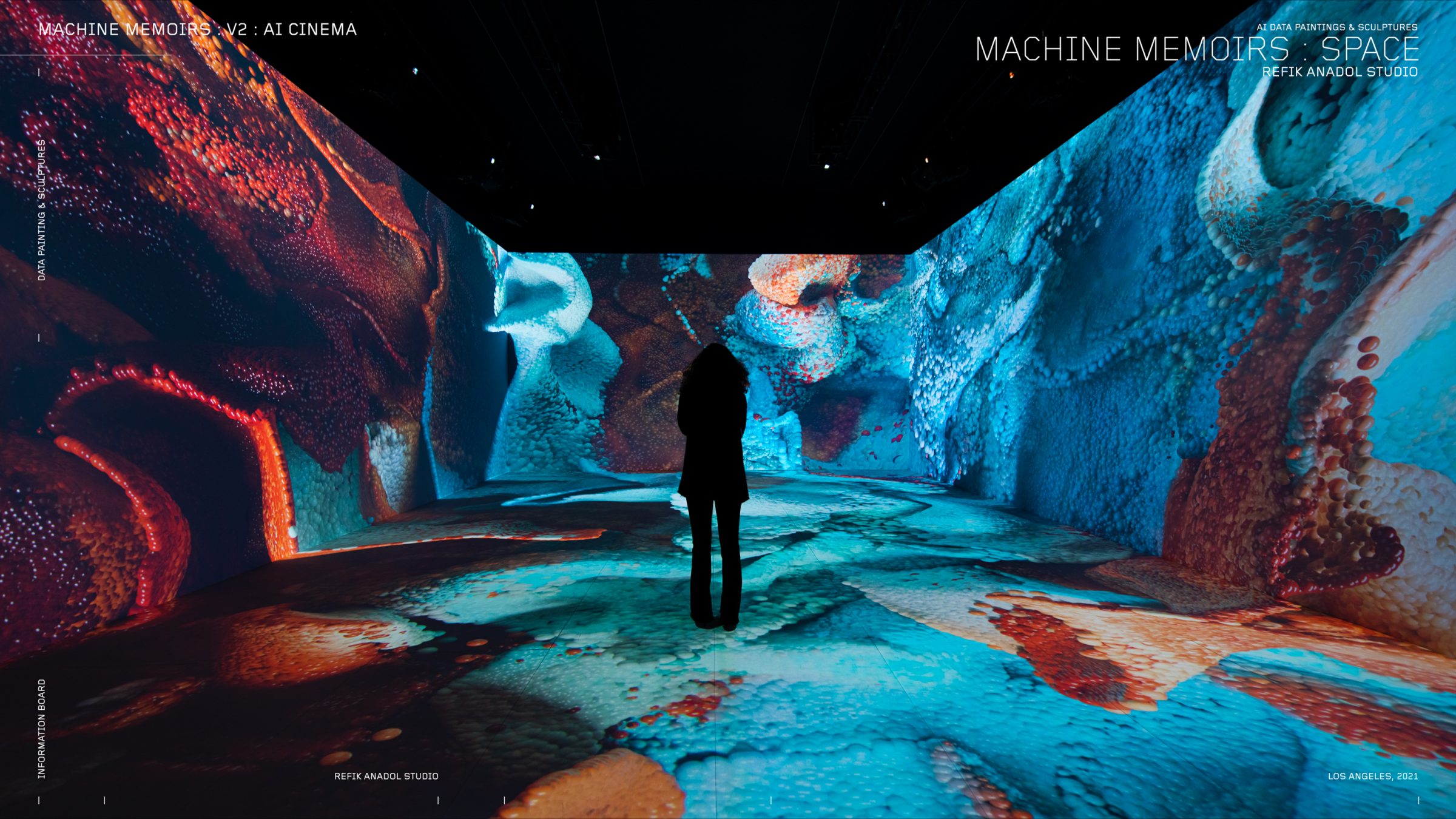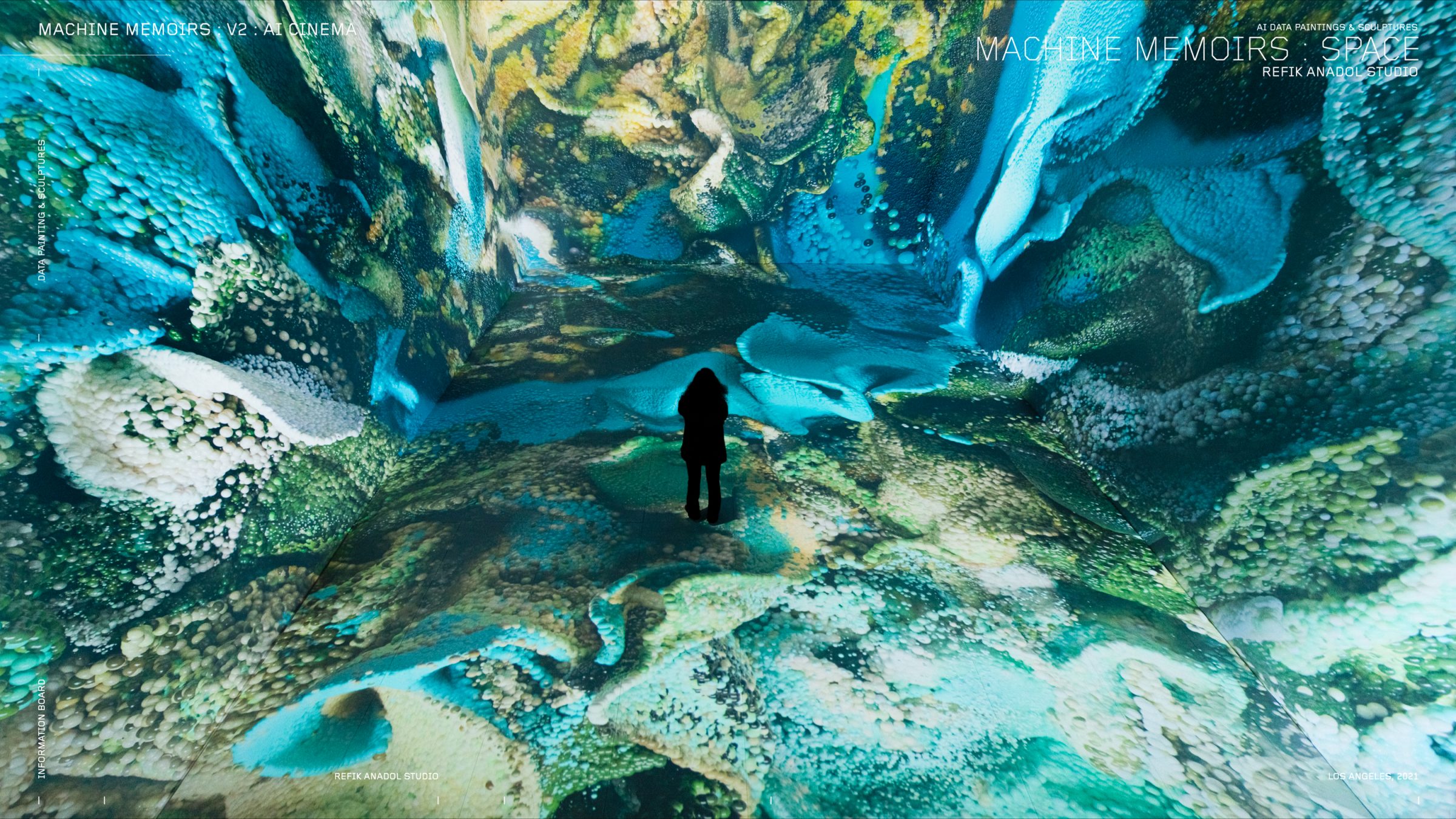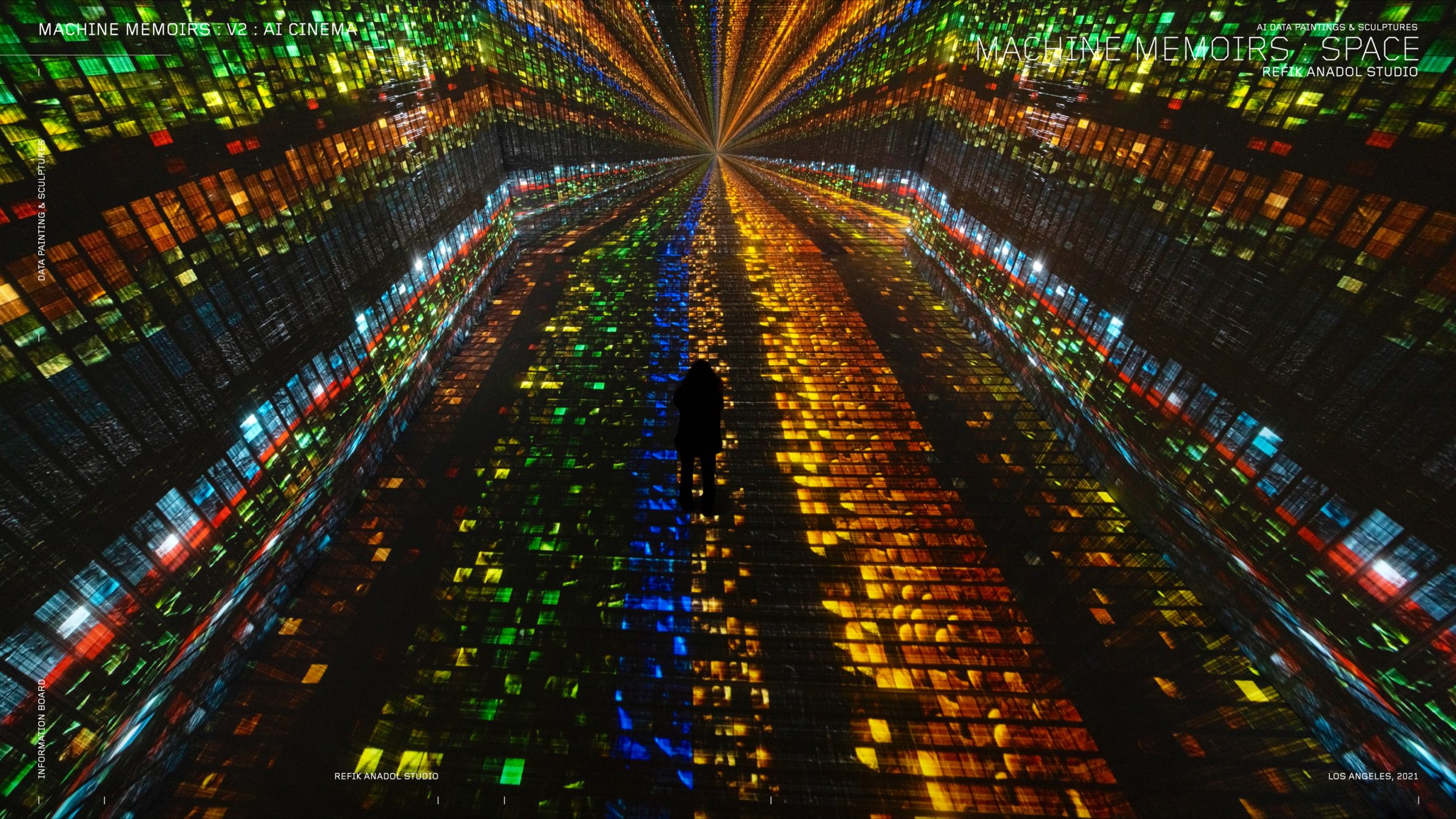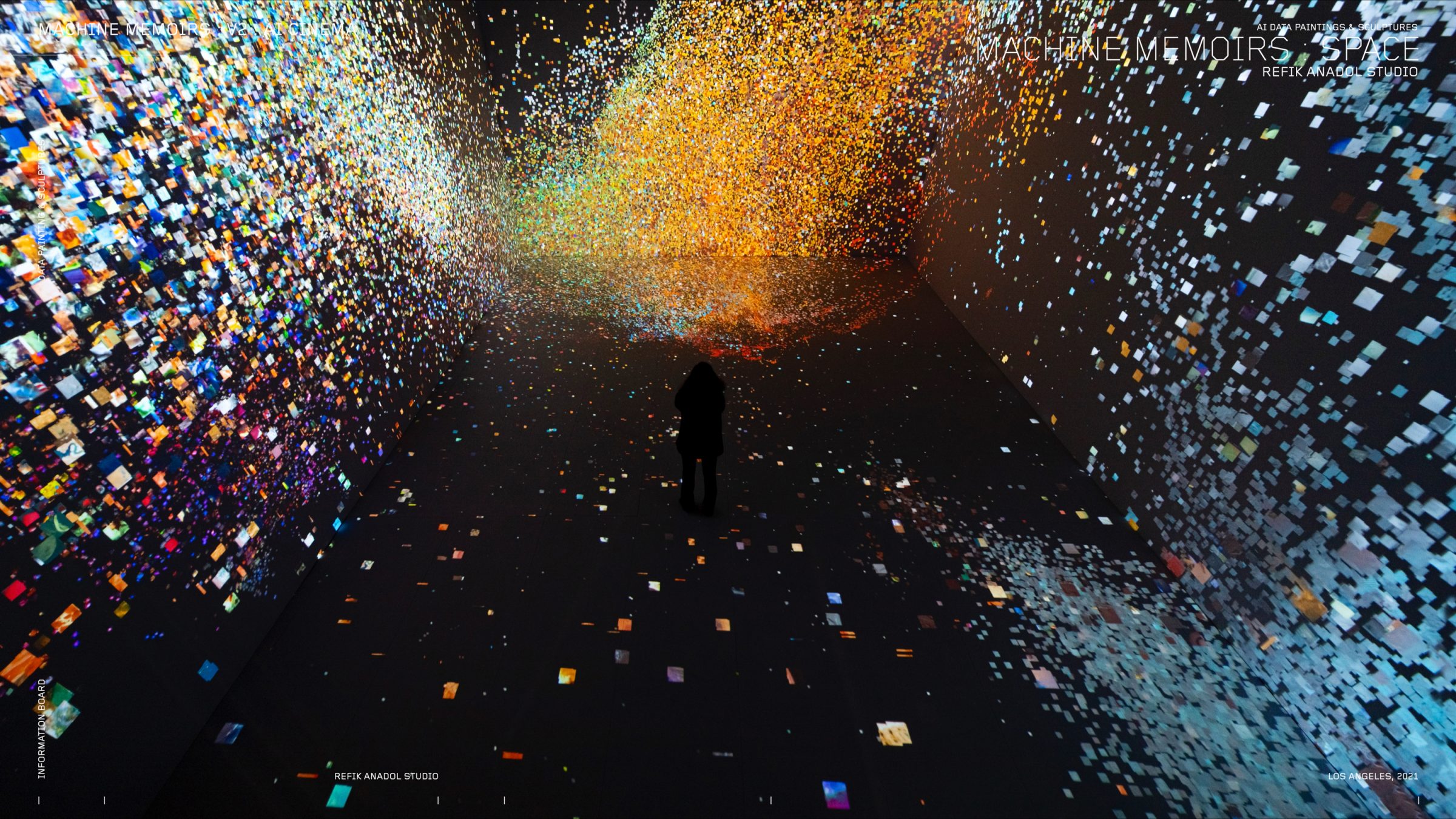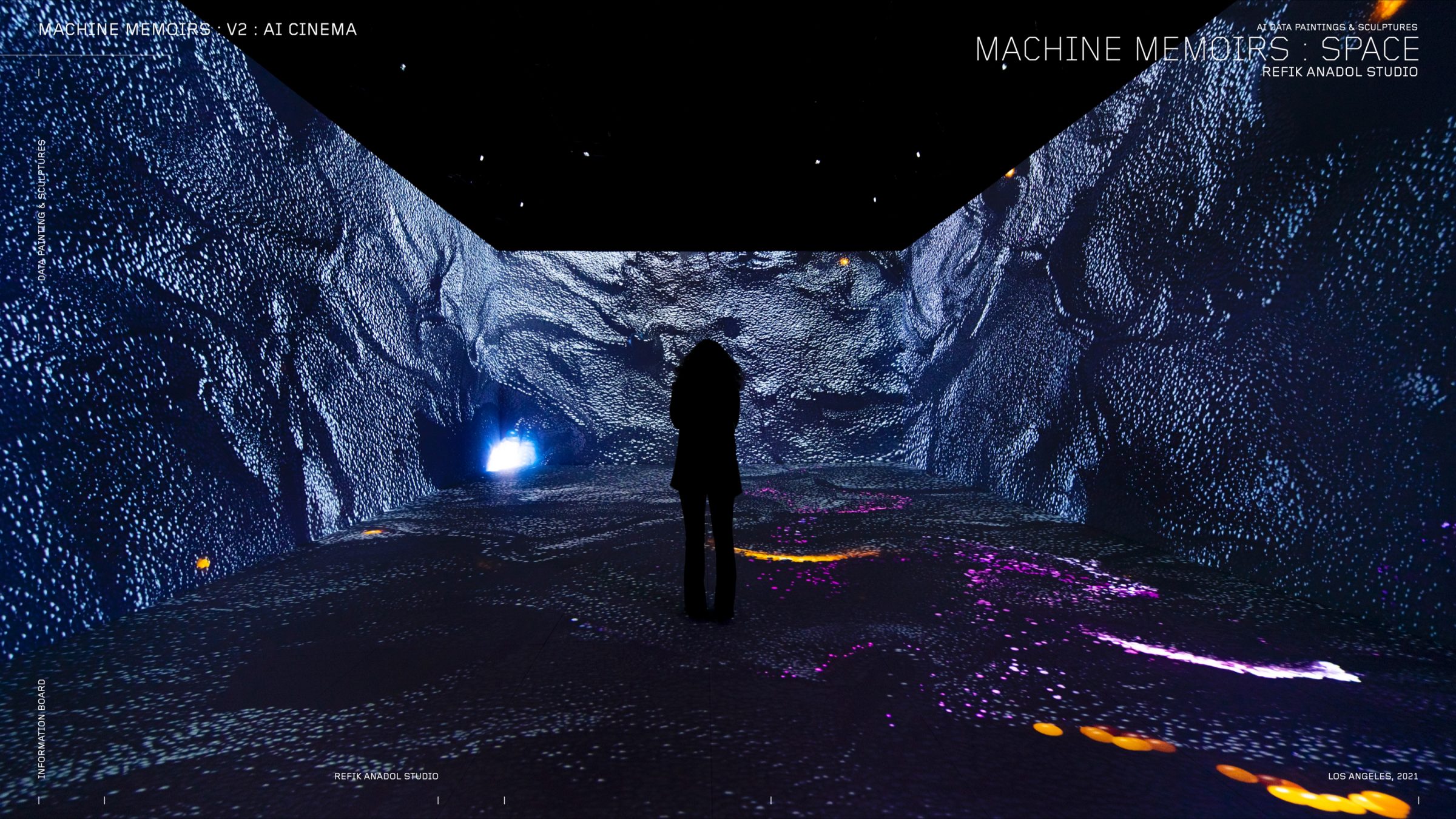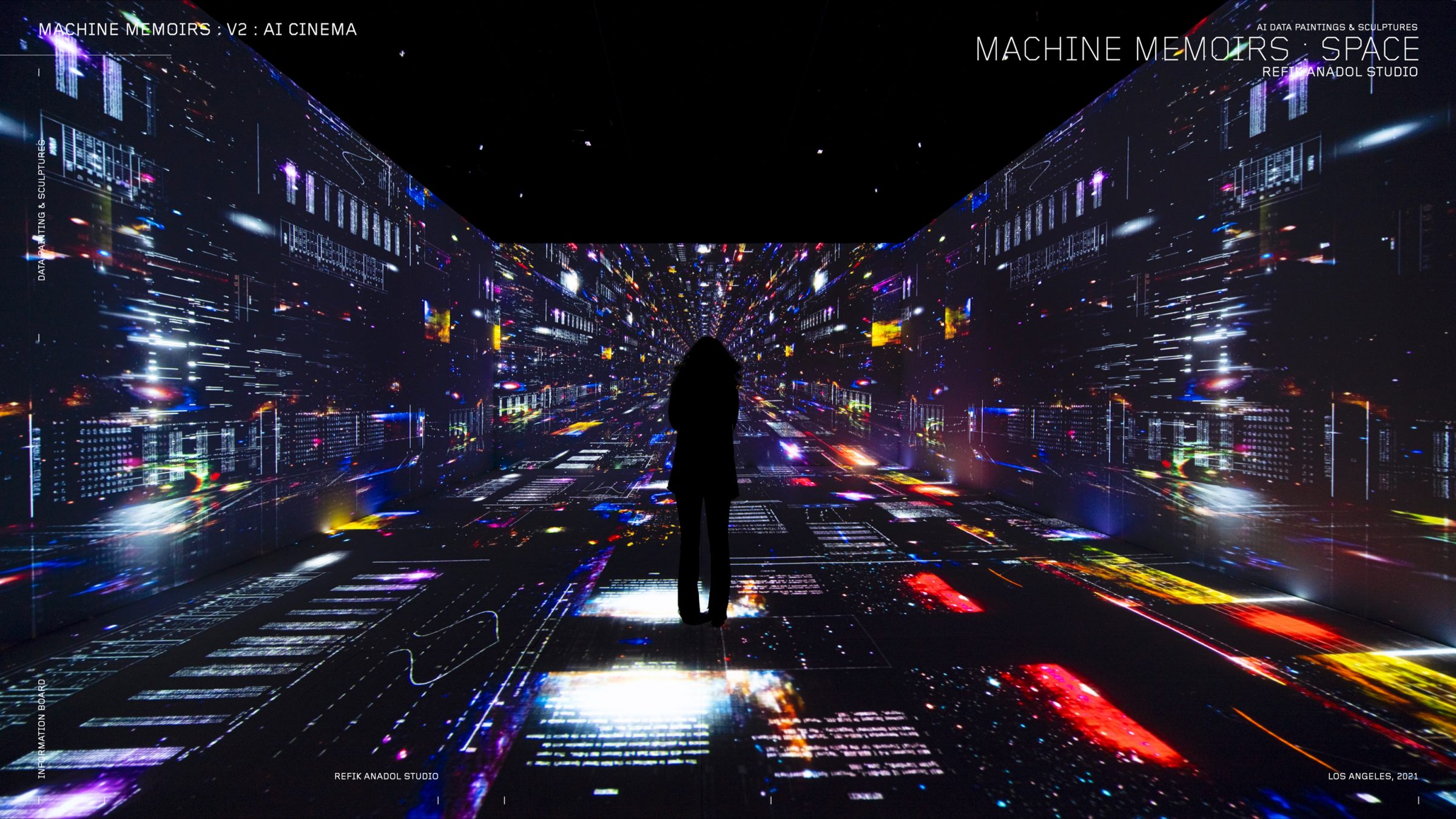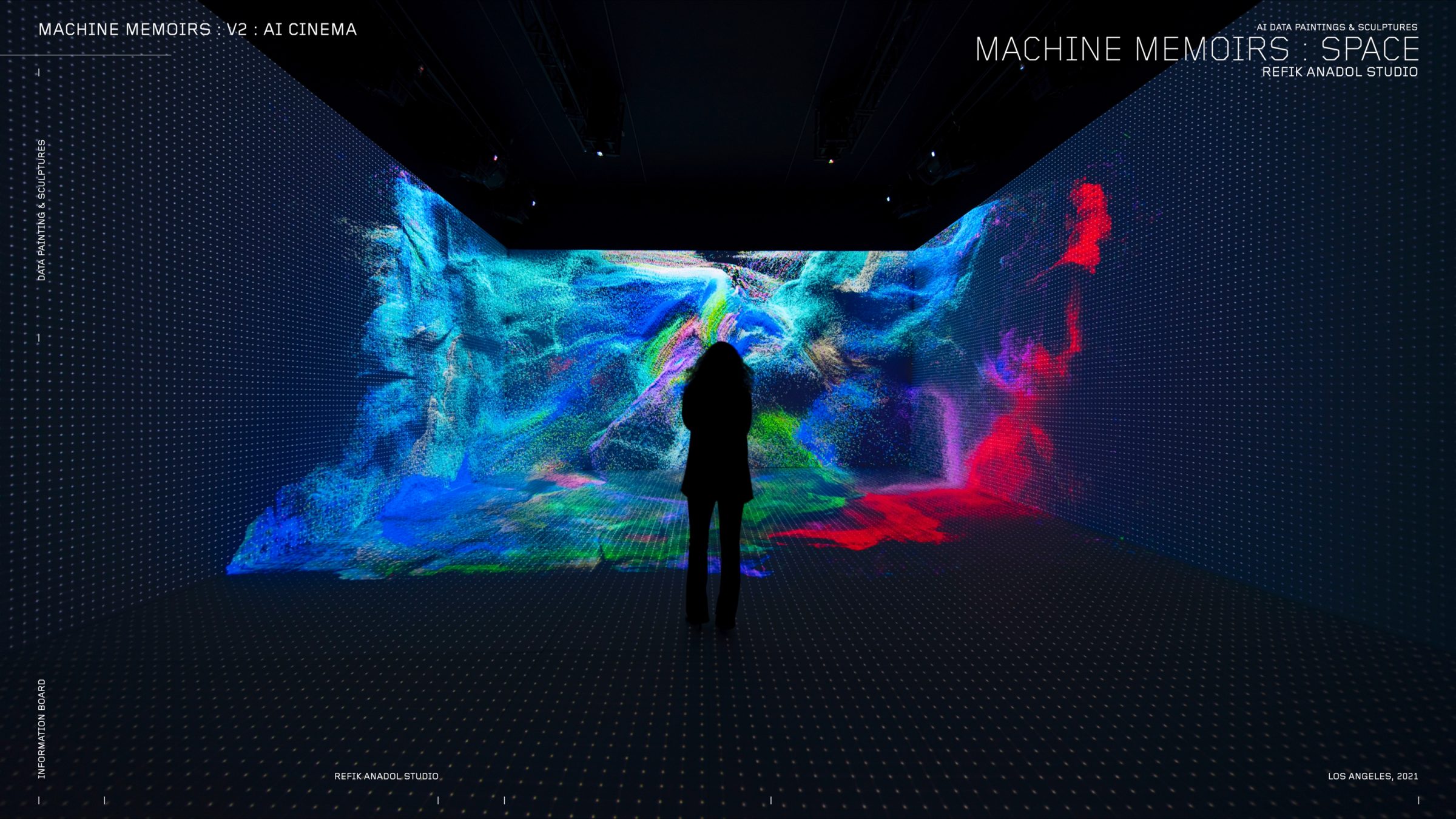 Machine Memoirs V2.0 - 01
Machine Memoirs V2.0 - 02
Machine Memoirs V2.0 - 03
Machine Memoirs V2.0 - 04
Machine Memoirs V2.0 - 05
Machine Memoirs V2.0 - 06
Machine Memoirs V2.0 - 07
Machine Memoirs V2.0 - 08
Machine Memoirs V2.0 - 09
Machine Memoirs V2.0 - 10
Machine Memoirs V2.0 - 11
Machine Memoirs V2.0 - 12
DATA TUNNEL
Data from three different space missions were systematically collected – from ISS, Hubble and MRO telescopes – and analyzed with the help of comprehensive artificial intelligence algorithms. In this part of the exhibition, called the Data Tunnel, the audience is greeted with visuals of the raw data and a look into the analysis processes through which they are transformed into pigments, paintings, and sculptures. These visuals and narratives, which oscillate between abstract and concrete data, simulate the scientific research process behind the exhibition as well as the idea of "being surrounded by data," one of the main themes of the artistic representation of the Studio's research.
Installation
Architectural Scale 2.9MM LED Media Wall
Dimensions : 12M x 3M
Mirrored Walls
4 Channel Sound
Custom Software
AI Cinema
12 Minutes
3 Chapters –
ISS Data Archives
MRO Data Archives
Hubble Data Archives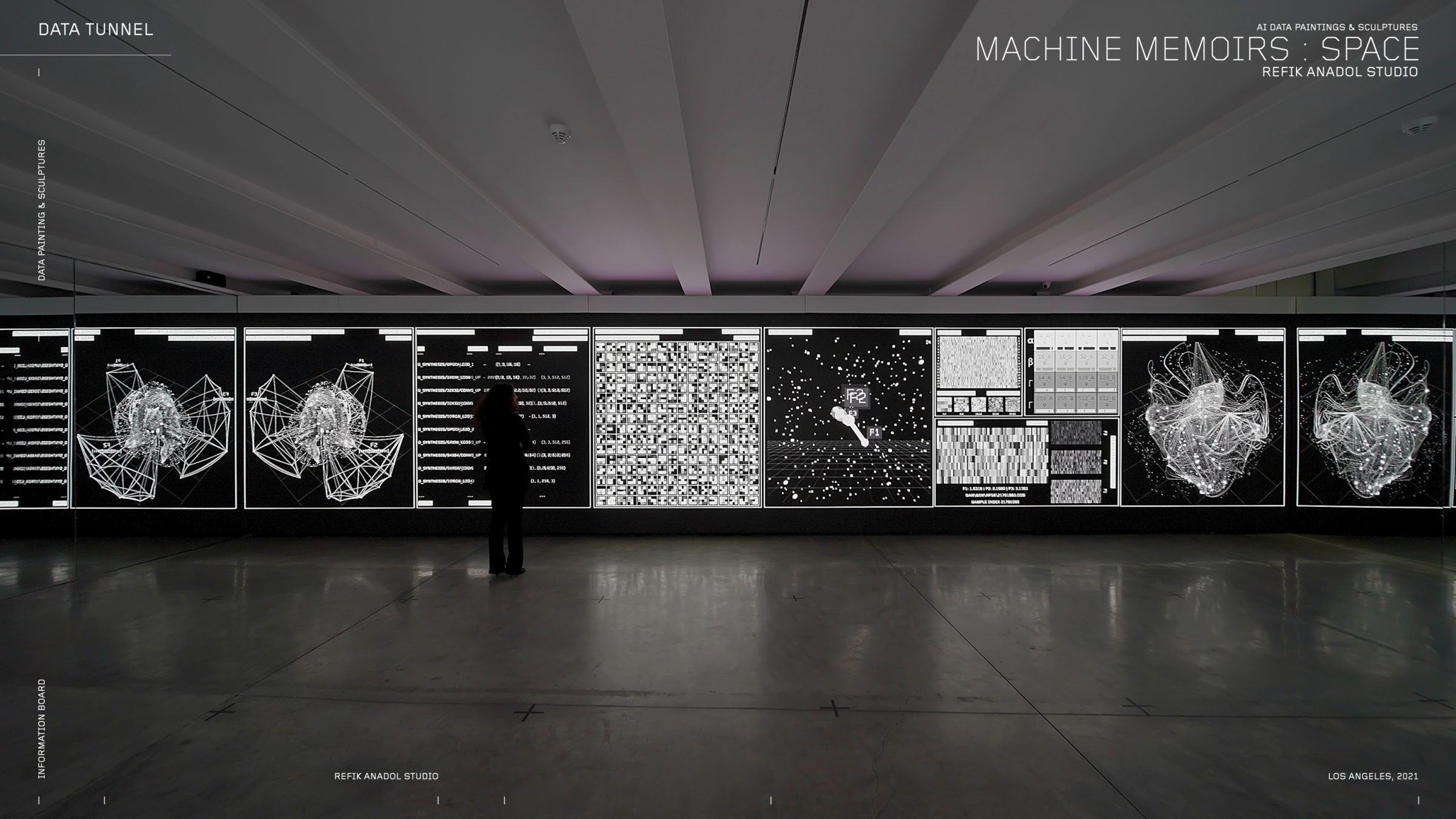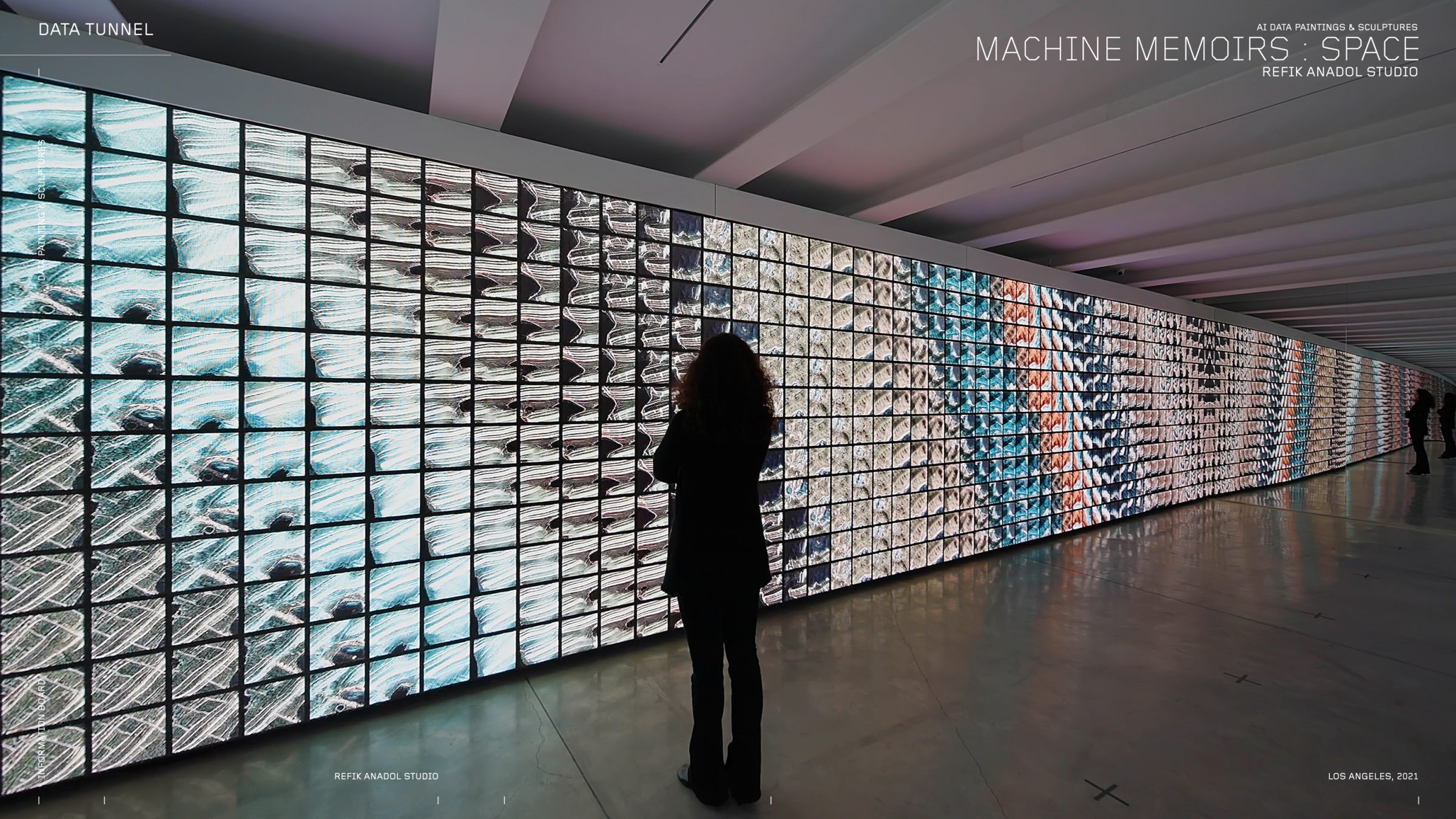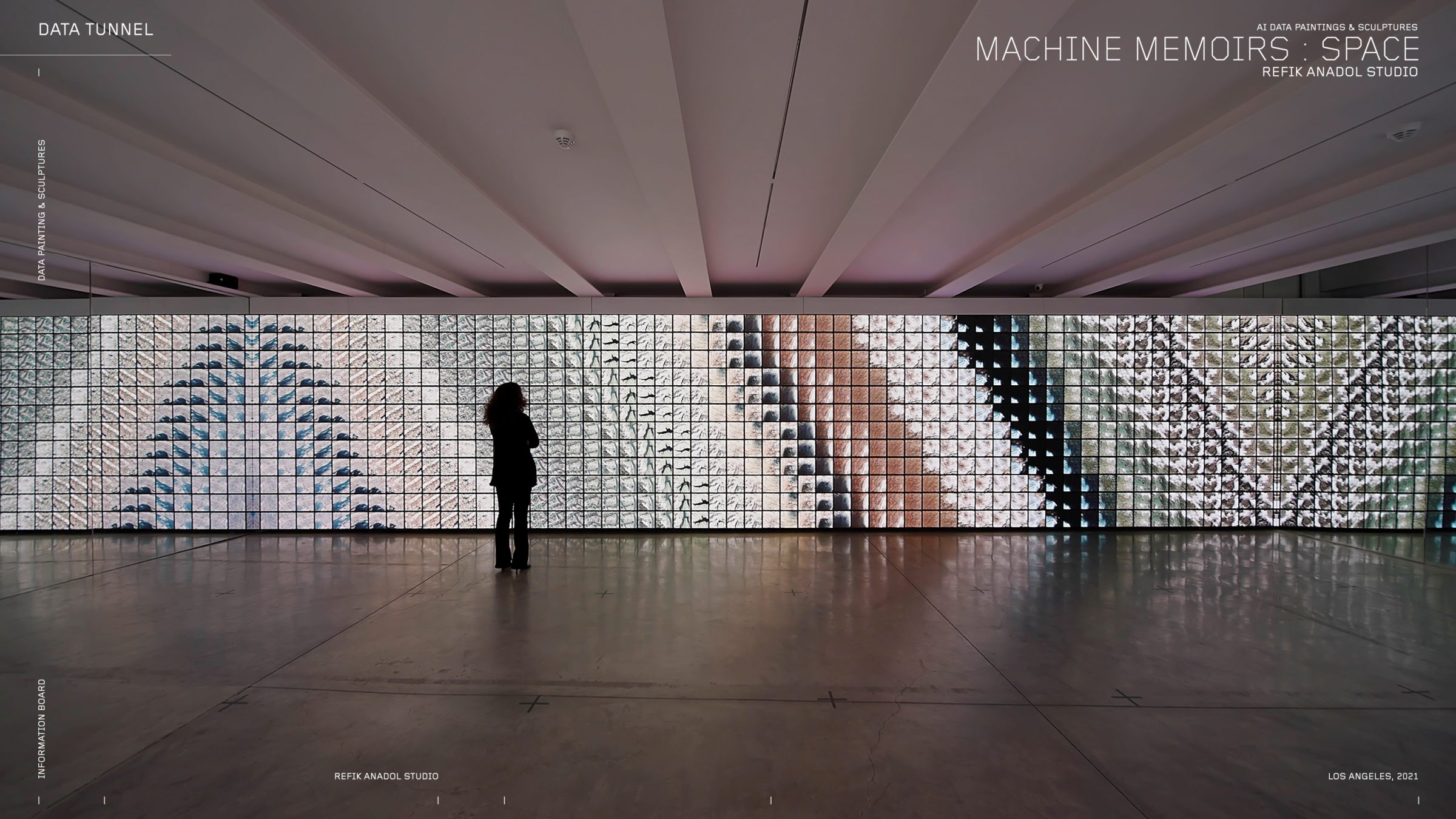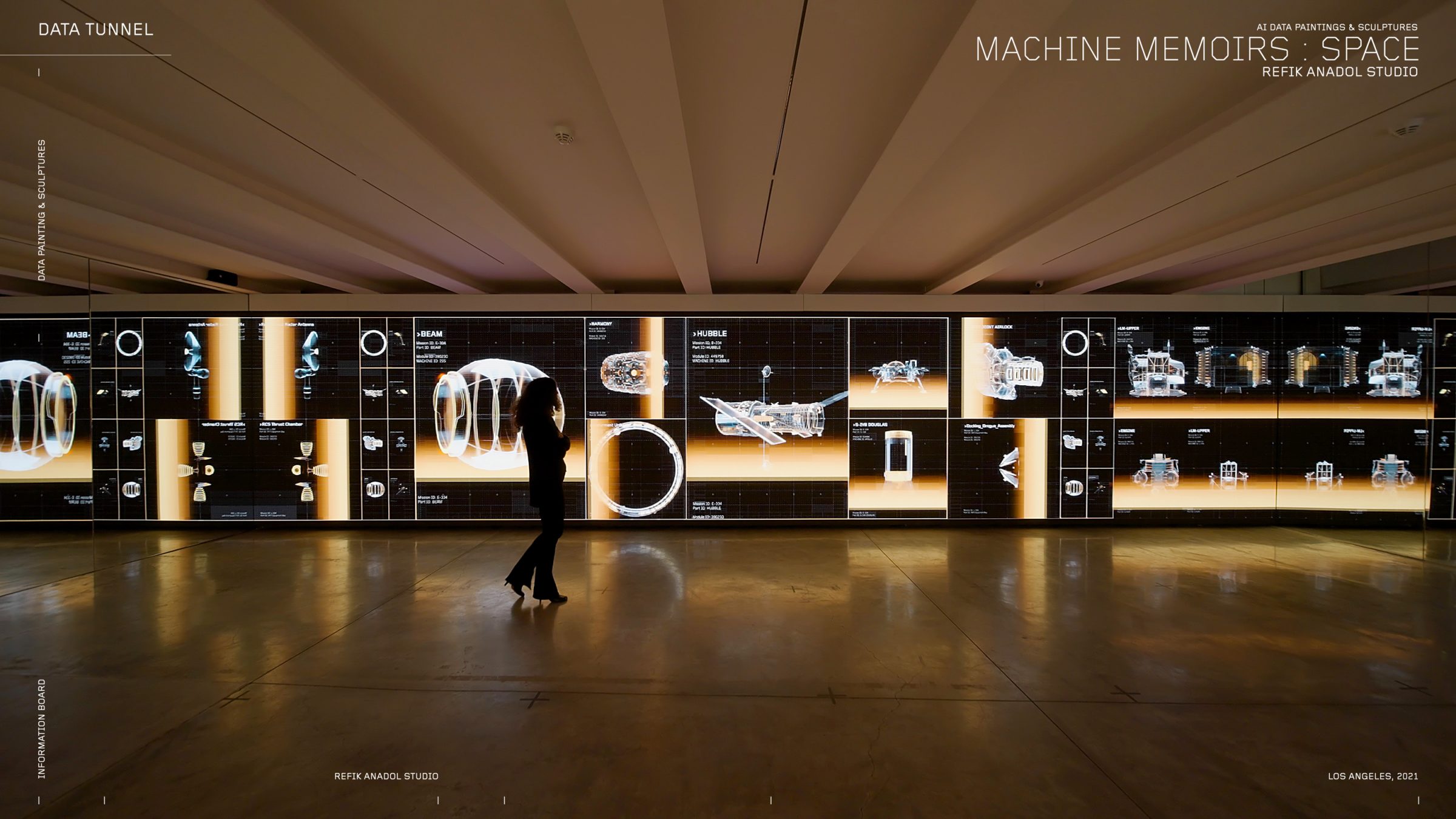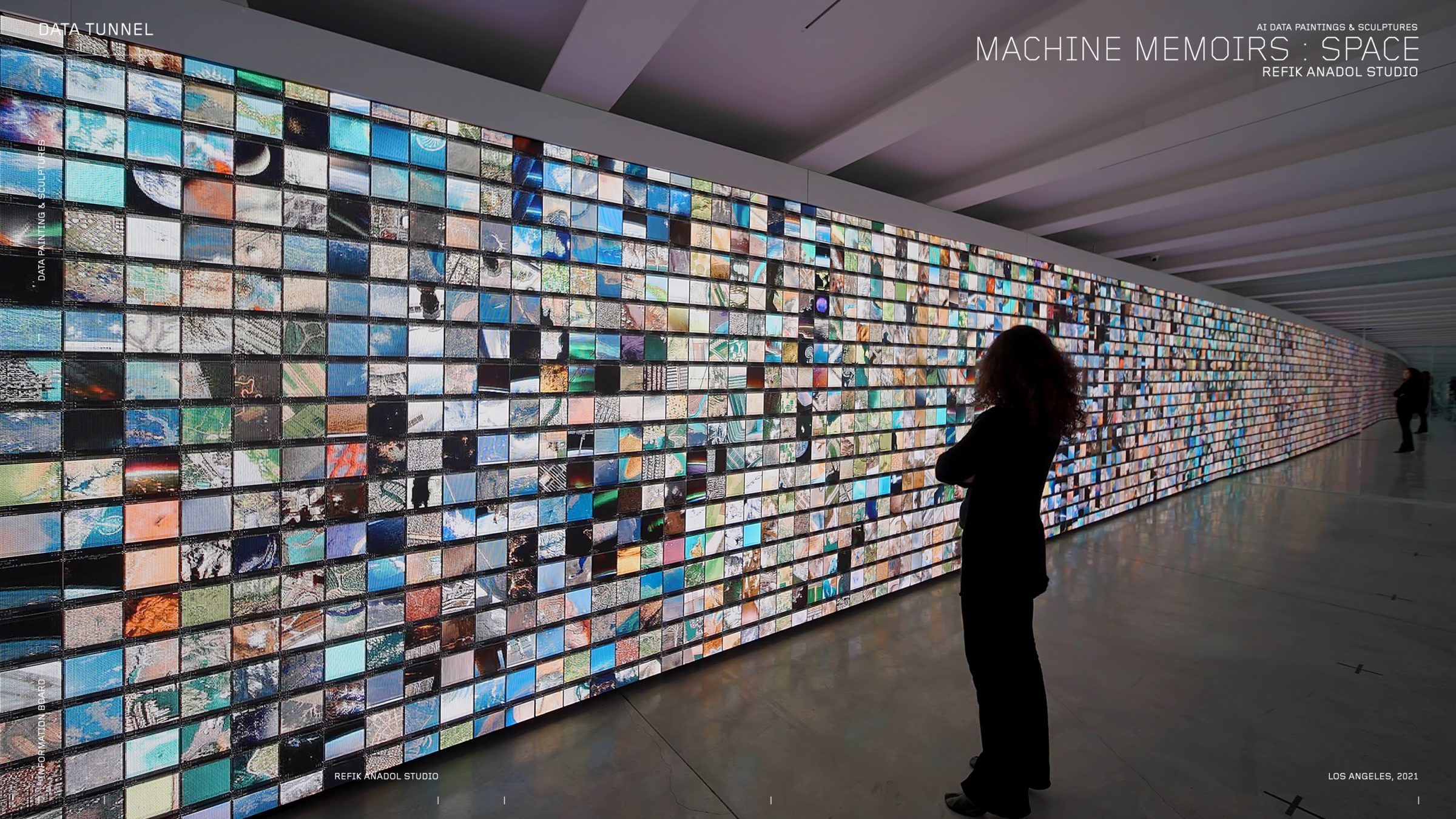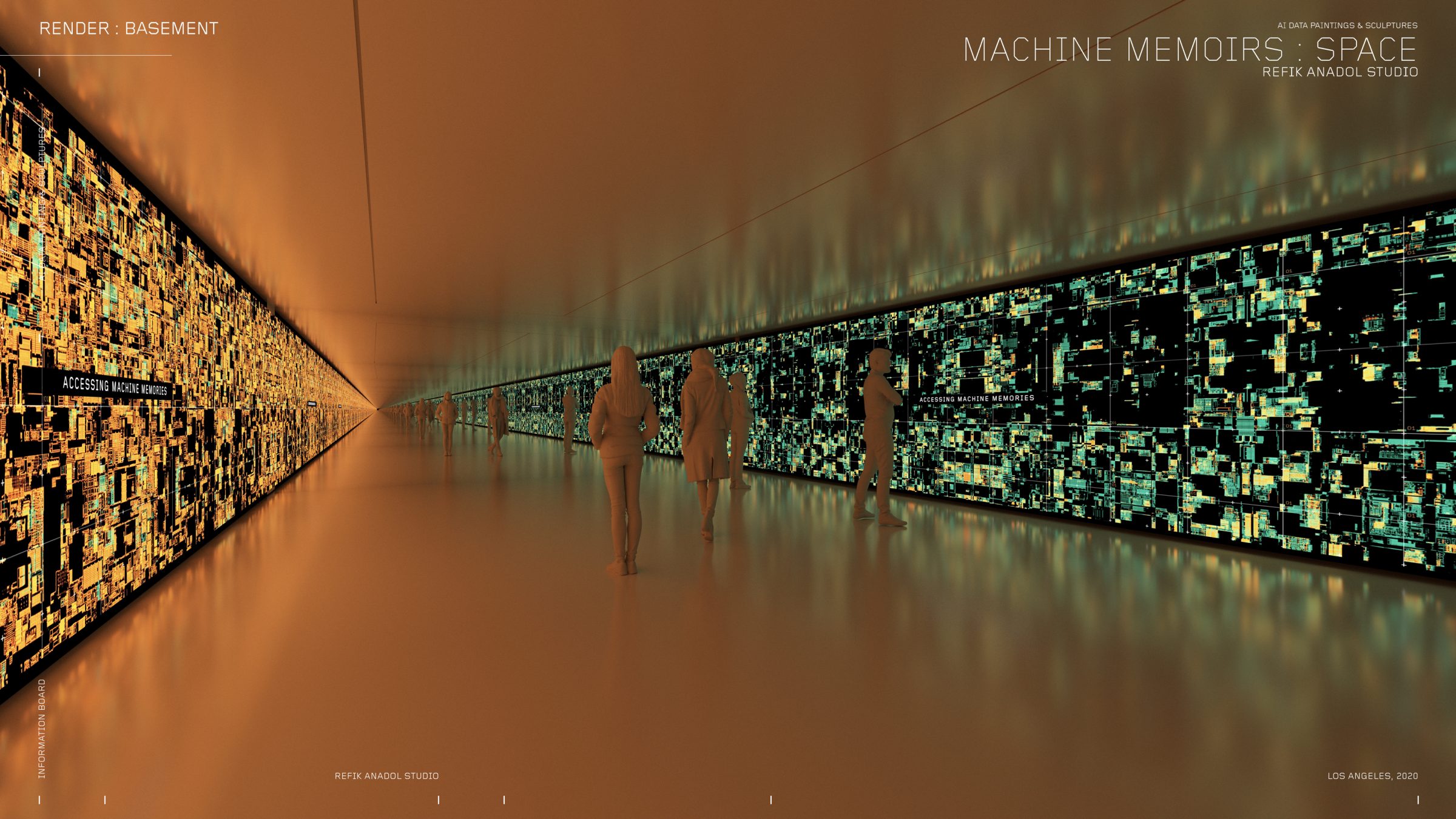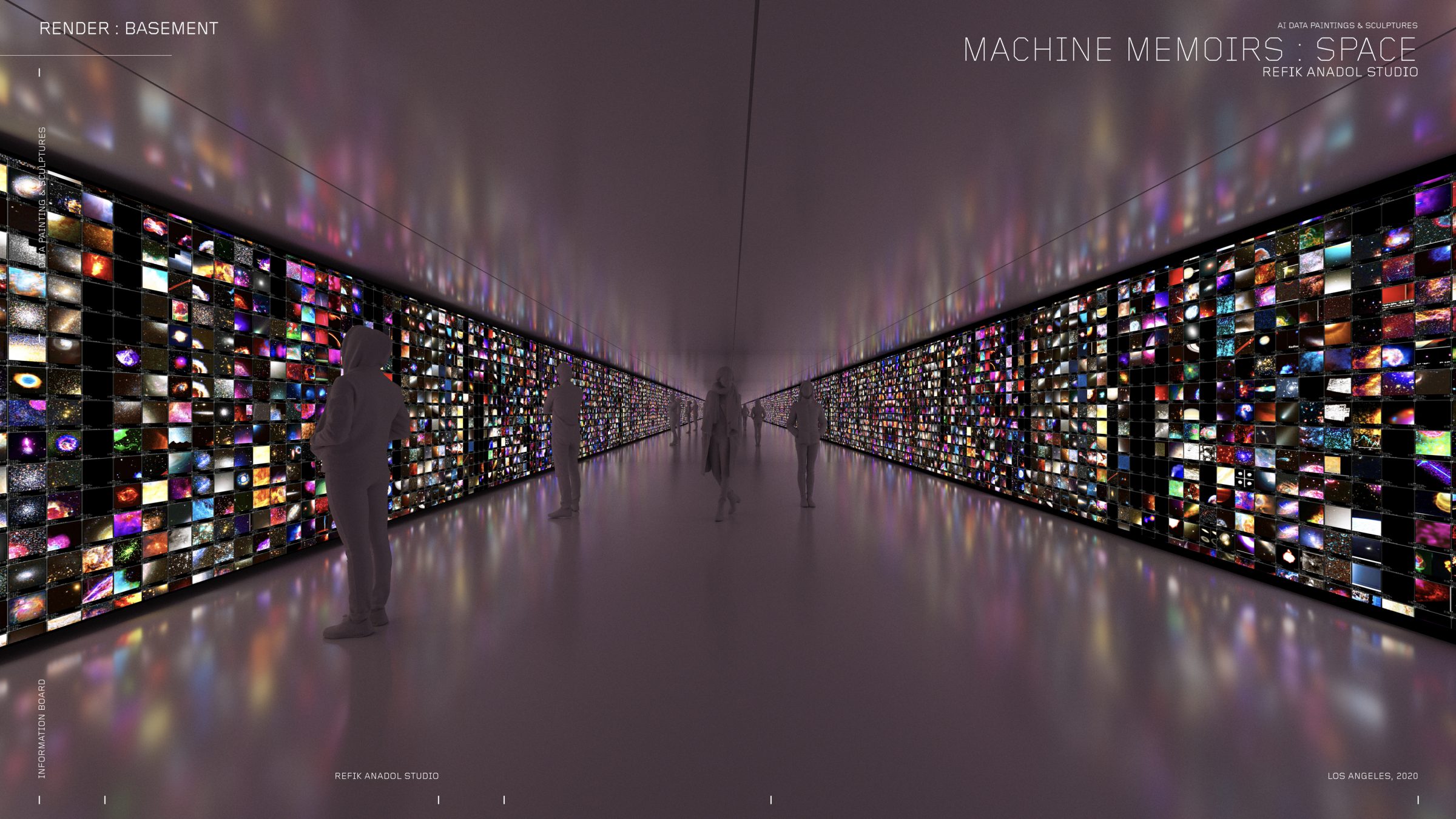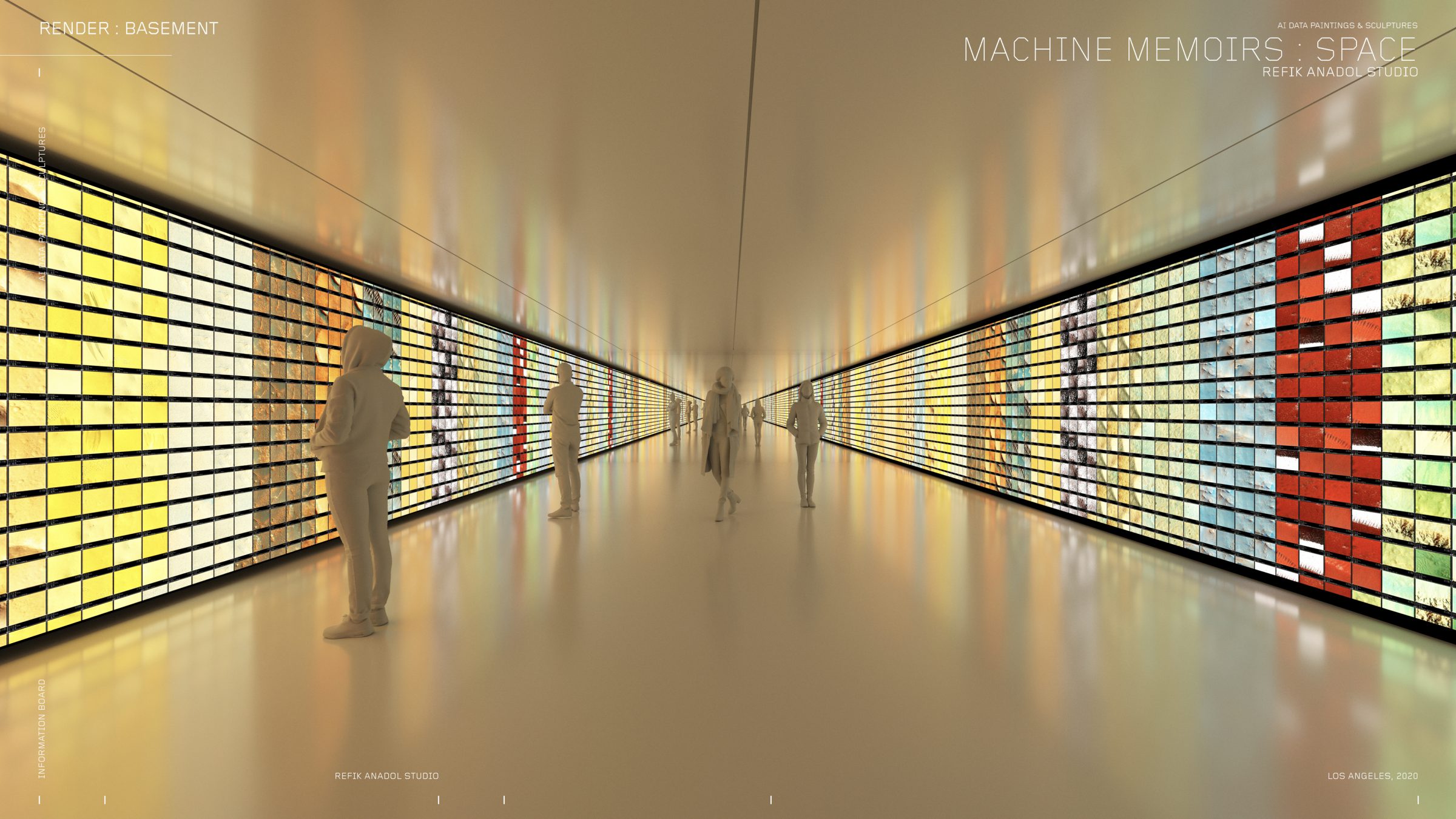 Data Tunnel - Photography - 01
Data Tunnel - Photography - 02
Data Tunnel - Photography - 03
Data Tunnel - Photography - 04
Data Tunnel - Photography - 05
Data Tunnel - 3D Sketches
Data Tunnel - 3D Sketches
Data Tunnel - 3D Sketches
AI DATA PAINTINGS
While expanding the AI and consciousness research that we have been conducting for over two years using space data, these iterations of Machine Hallucinations also displays real and virtual collective experiences generated by the digital age through the concepts of public data and public art. On this floow, we invite the audience to reflect on these ideas by viewing how the machine intelligence hallucinates after "seeing" millions of space images taken by the Hubble, ISS, and MRO telescopes.
MACHINE HALLUCINATIONS
ISS Dreams
MRO Dreams
Hubble Dreams
CANVAS
Samsung The Frame 75"
Custom Software