Title
Machine Hallucinations - Latent Study : Mars
Categories
Exhibition, Installation
Locations
Los Angeles, CA
Machine Hallucinations – Latent Study : Mars, an exploration of the relationship between memory and dreams, recognition and perception, offering a new kind of cognitive cartography for data universes by using a neural network trained on 1.5 million archival photographic memories of HiRISE telescope of MRO Mars. A poetic journey in the mind of a machine explored with vast synthetic landscapes of Mars to image a space yet reachable by humankind. Providing texture to this still unfamiliar place, Machine Hallucinations – Latent Study : Mars illustrates a dreamscape of possible futures and hidden pasts.
HiRISE (High Resolution Imaging Science Experiment) is the most powerful camera ever sent to another planet, one of six instruments onboard the Mars Reconnaissance Orbiter. MRP launched in 2005, arrived at Mars in 2006 and have been imaging ever since. MRO's camera's high resolution capability (imaging up to 30 centimeters per pixel) remains unprecedented for any existing orbiter in the study of the Red Planet, as well as being an indispensable instrument for helping to select landing sites for robotic and future human exploration. In the past decade, NASA've also imaged avalanches in progress, and discovered dark flows that may or may not be briny seeps. Hundreds of science papers have been published with this data.
These machine-hallucinated images come to represent collective memory, hidden layers of history, and then consciousness of a planet that, otherwise, might remain unseen. In this project NVIDIA's StyleGAN algorithm (Style-Based Generator Architecture for Generative Adversarial Networks by Tero Karras, Samuli Laine, Timo Aila) was modified, and custom latent space explorer software was developed by Refik Anadol Studio.
_
About RAS : Machine Hallucinations
Machine Hallucinations is an ongoing project of data aesthetics based on collective visual memories of space, nature, and urban environments. Since the inception of the project in 2016 (Google AMI Residency), our studio has been utilizing machine intelligence as a collaborator to human consciousness, specifically DCGAN, PGAN and StyleGAN algorithms trained on these vast datasets to unfold unrecognized layers of our external realities. We collect data from digital archives and publicly available resources and process them with machine learning classification models such as CNN's, Variational Autoencoders and deep ranking, to filter out people, noise and irrelevant data points. The sorted image datasets are then clustered into thematic categories to better understand the semantic context of the data universe.
This expanding data universe not only represents the interpolation of data as synthesis, but also becomes a latent cosmos in which hallucinative potential is the main currency of artistic creativity. In order to capture these hallucinations from a multi-dimensional space, we use NVIDIA's StyleGAN, StyleGAN2 and StyleGAN2 ADA which generates a model for the machine to process the archive and the model is trained on subsets of the sorted images, creating embeddings in 1024 dimensions.
As a masterfully curated multi-channel experience, Machine Hallucinations brings a self-regenerating element of surprise to the audience and offers a new form of sensational autonomy via cybernetic serendipity.
Refik Anadol Studio
Alex Morozov
Carrie He
Christian Burke
Christina Moushoul
Danny Seoung
Efsun Erkilic
HyeJi Yang
Ho Man Leung
Julia Thompson
Nicholas Boss
Raman Mustafa
Refik Anadol
Toby Heinemann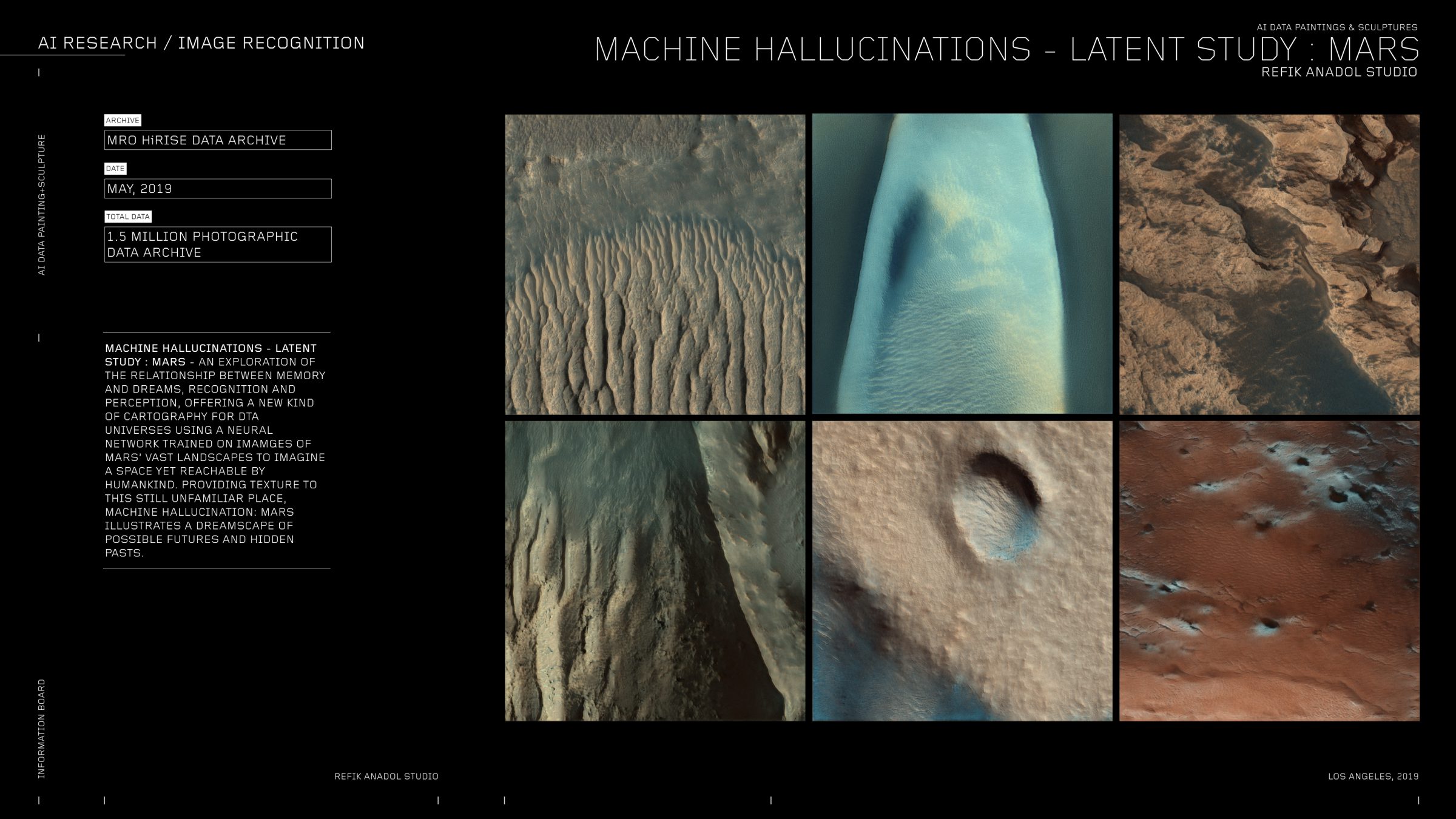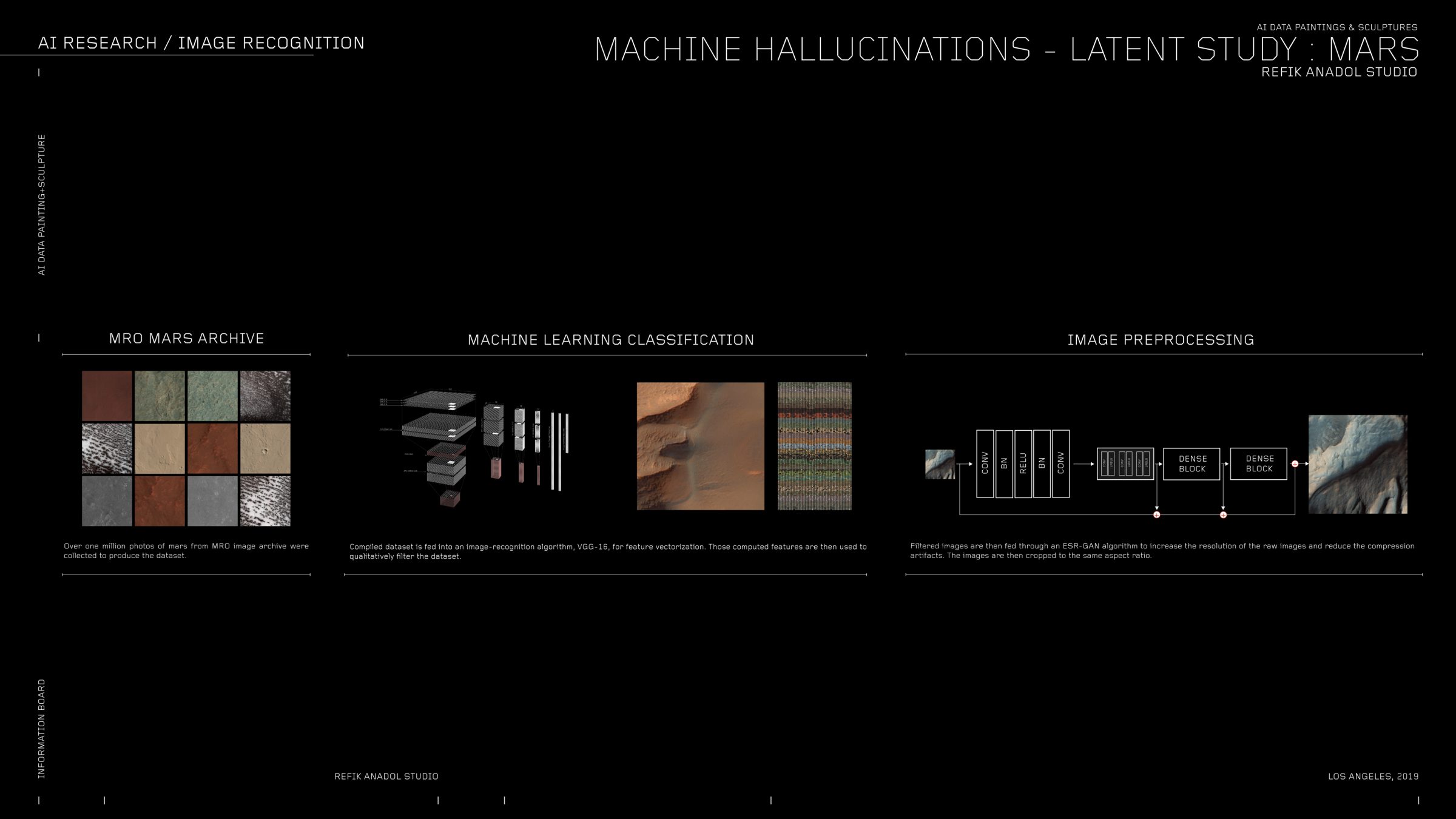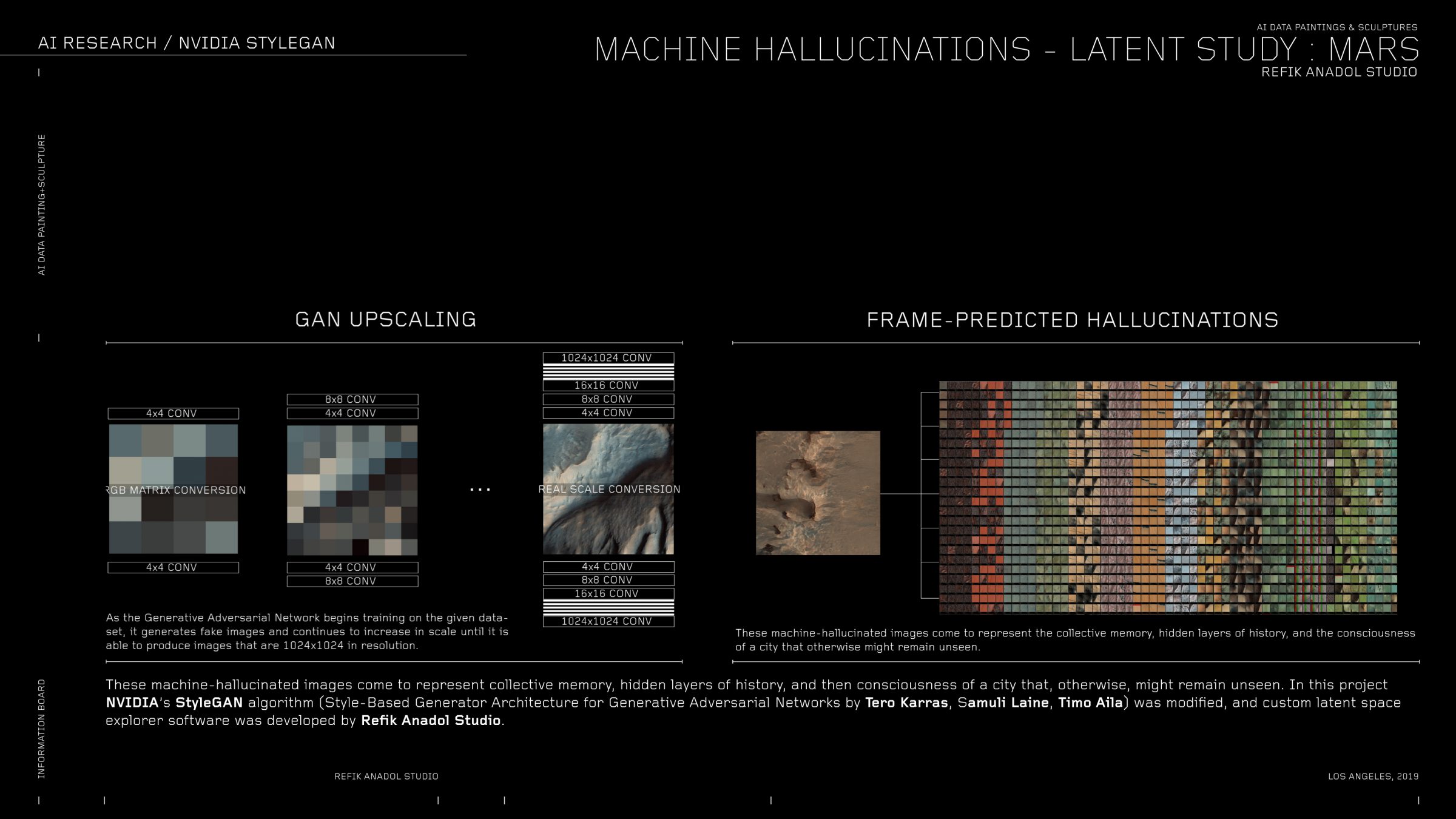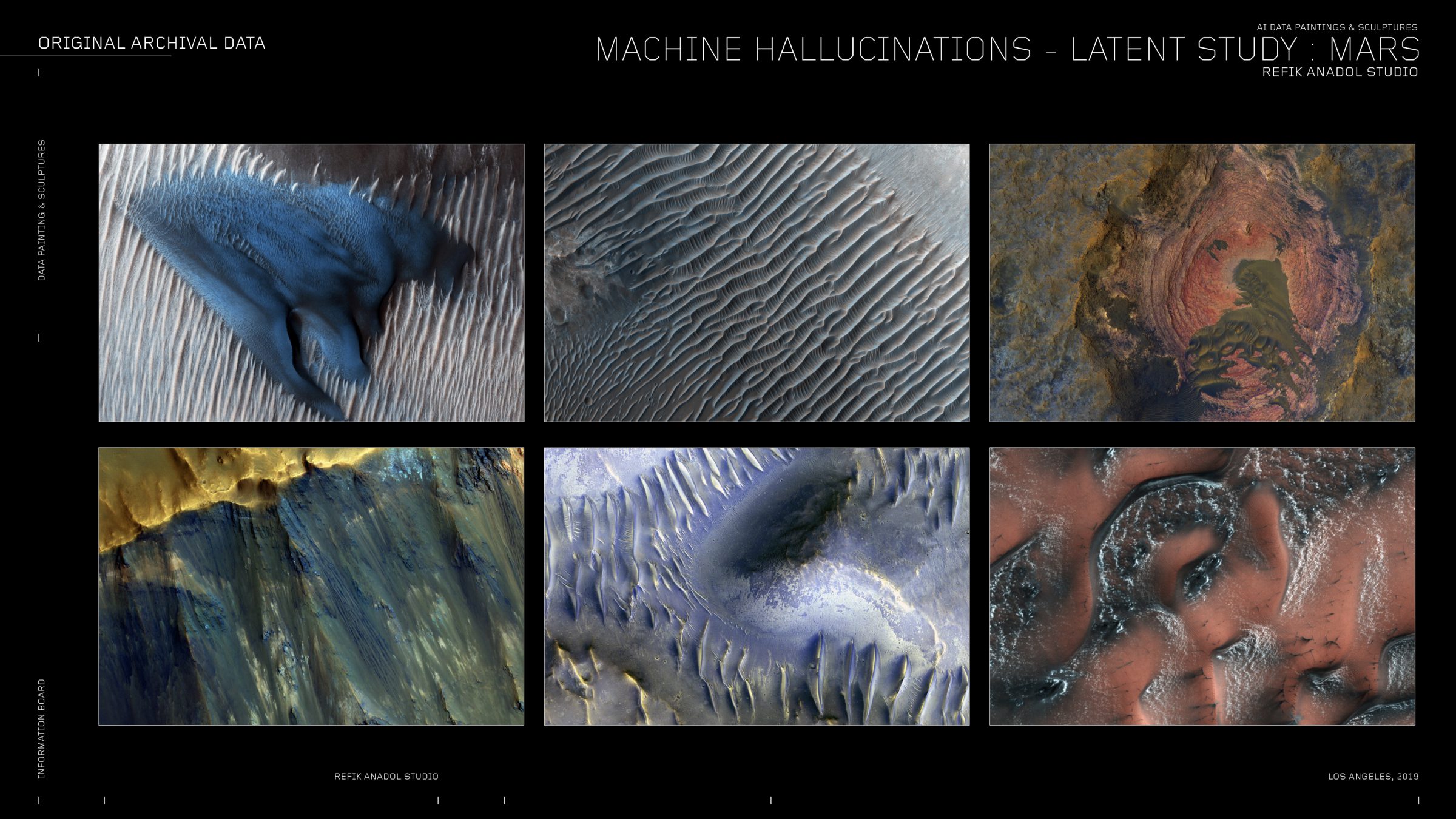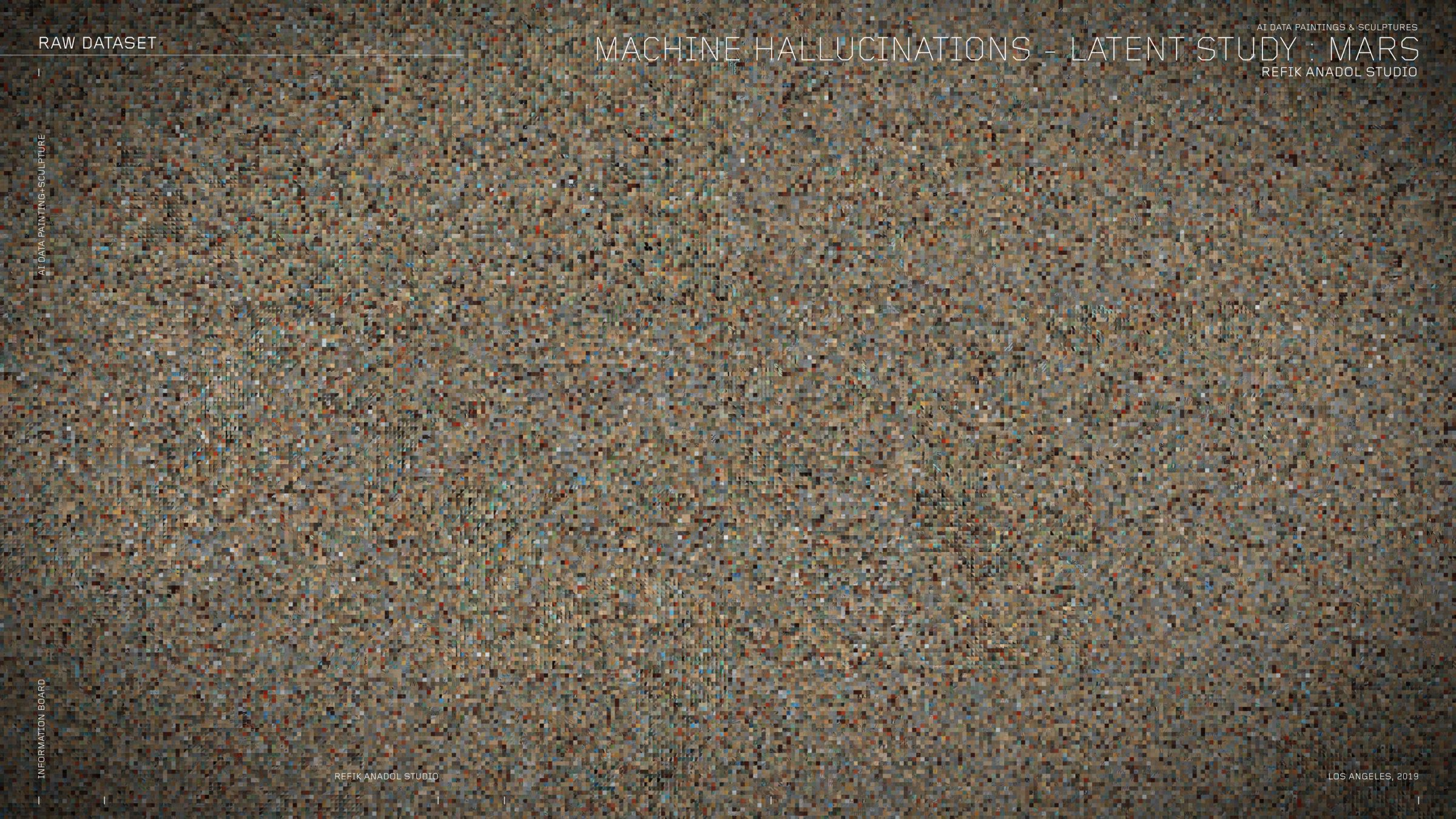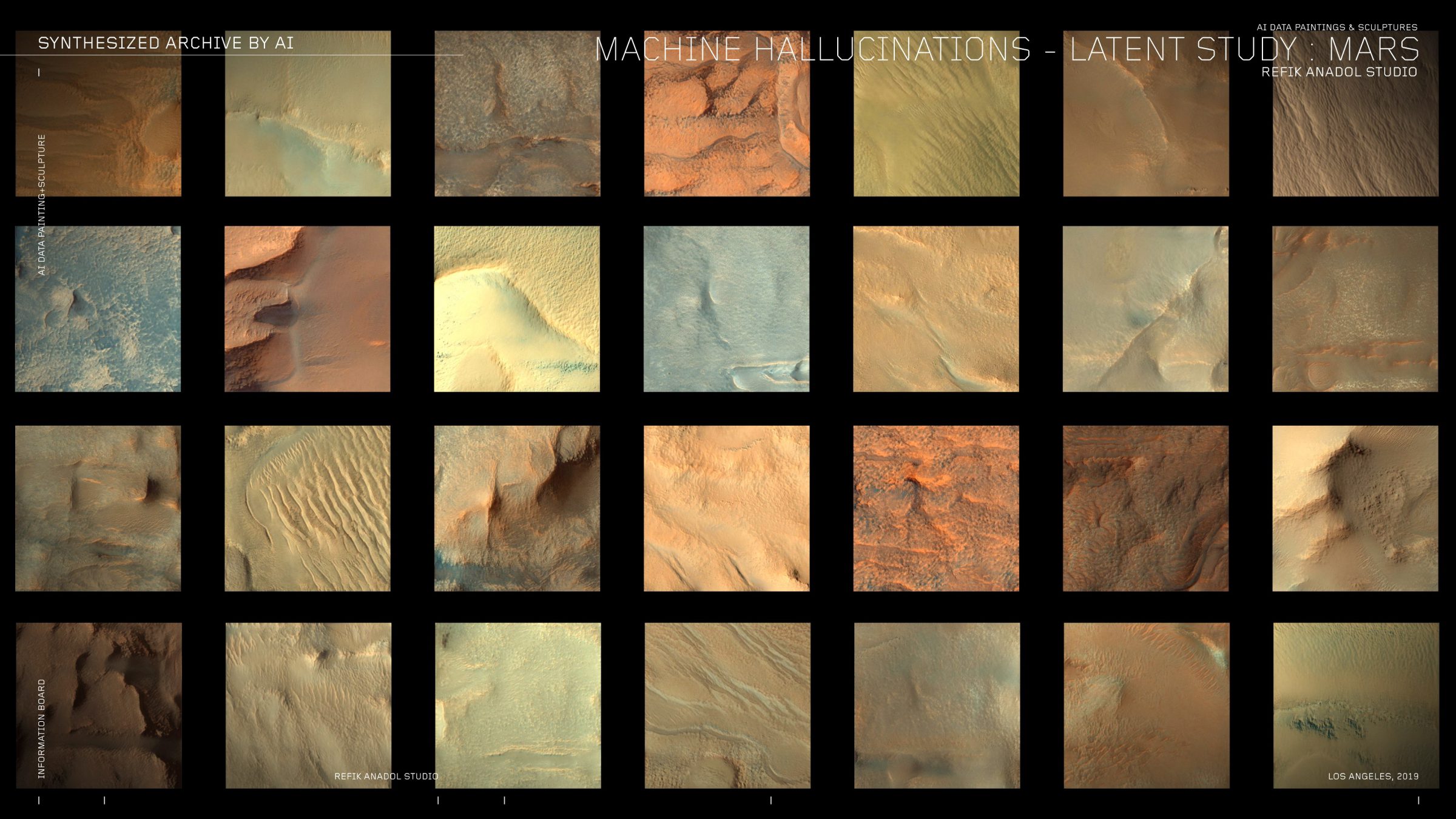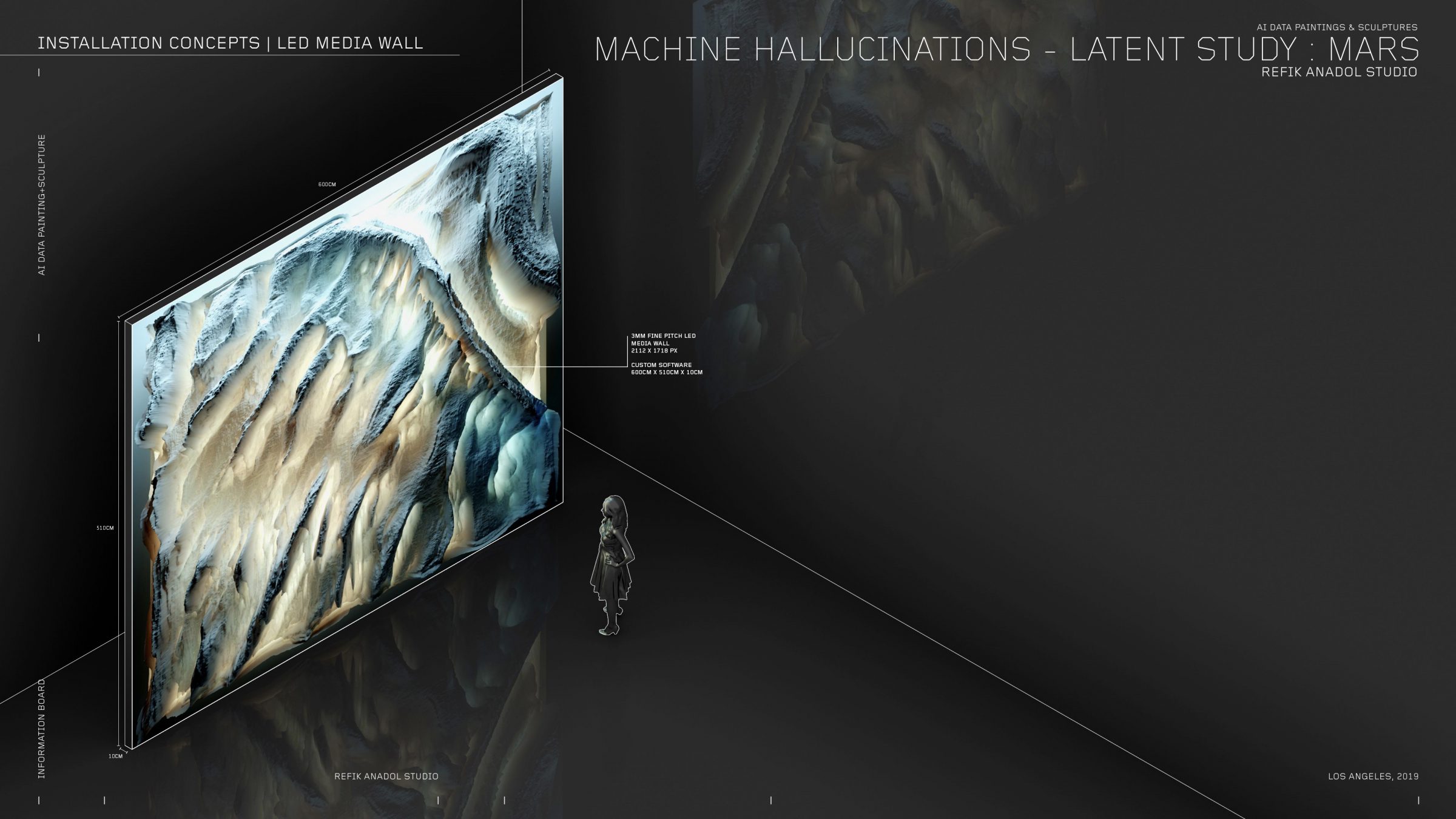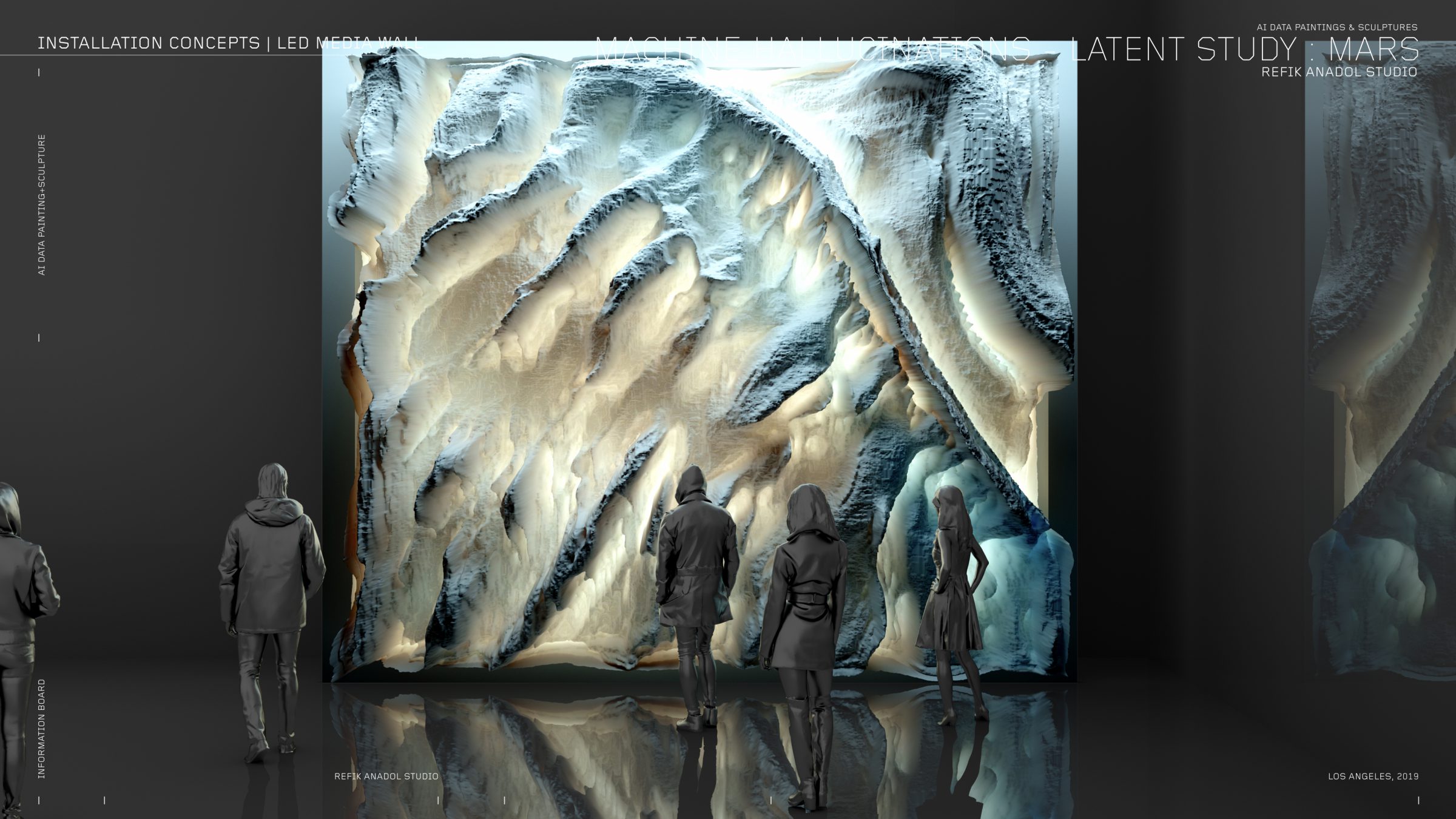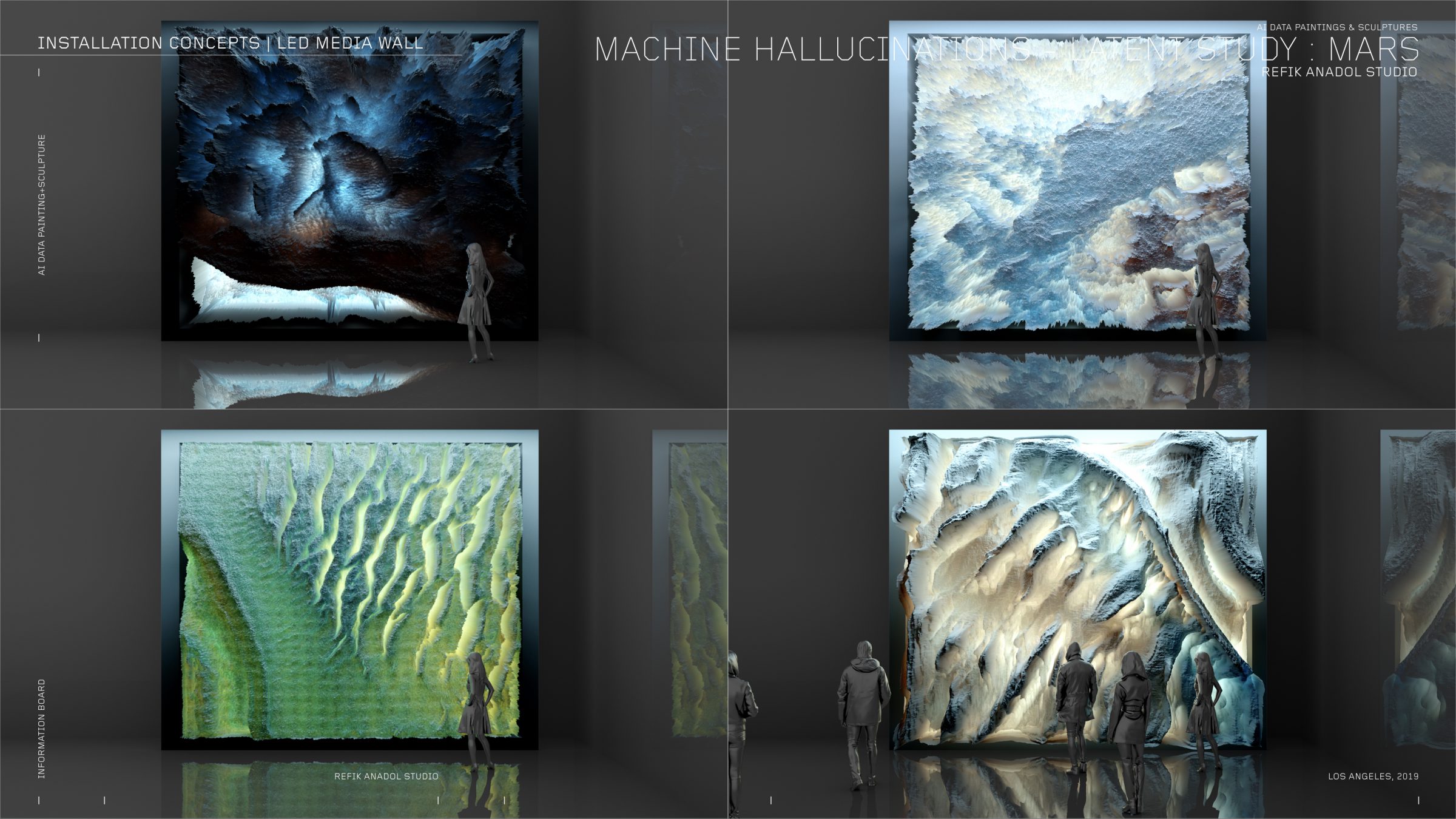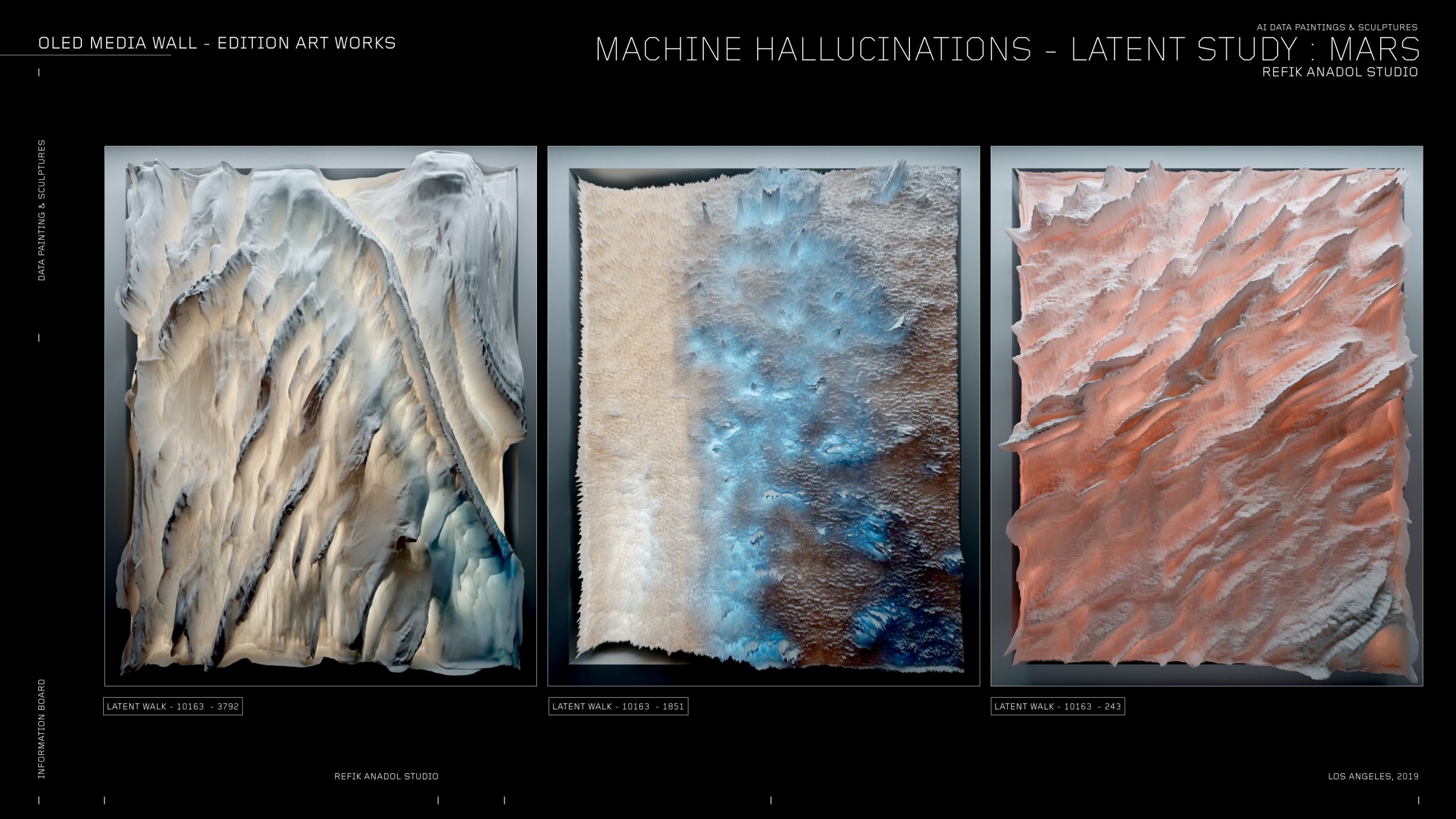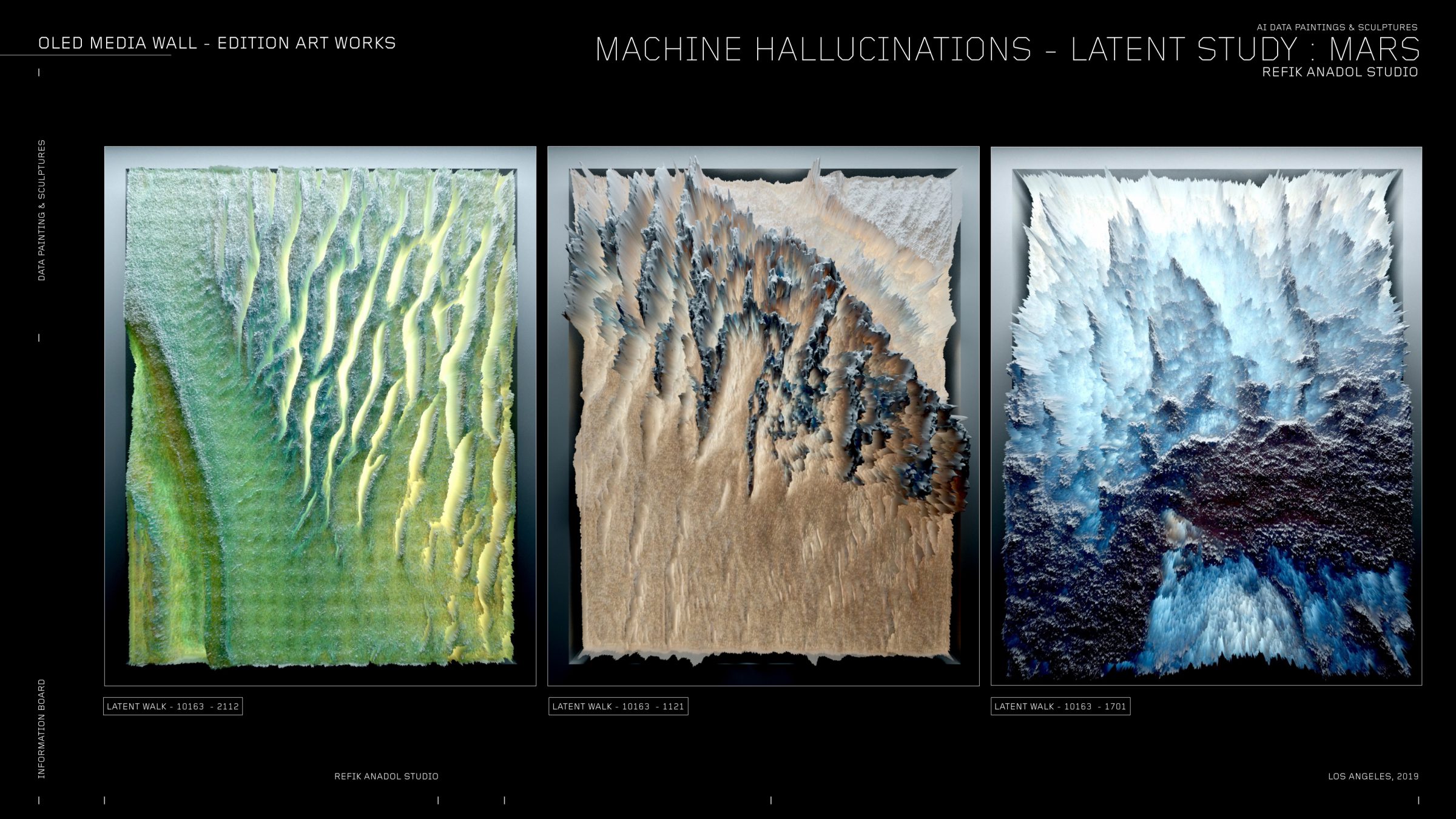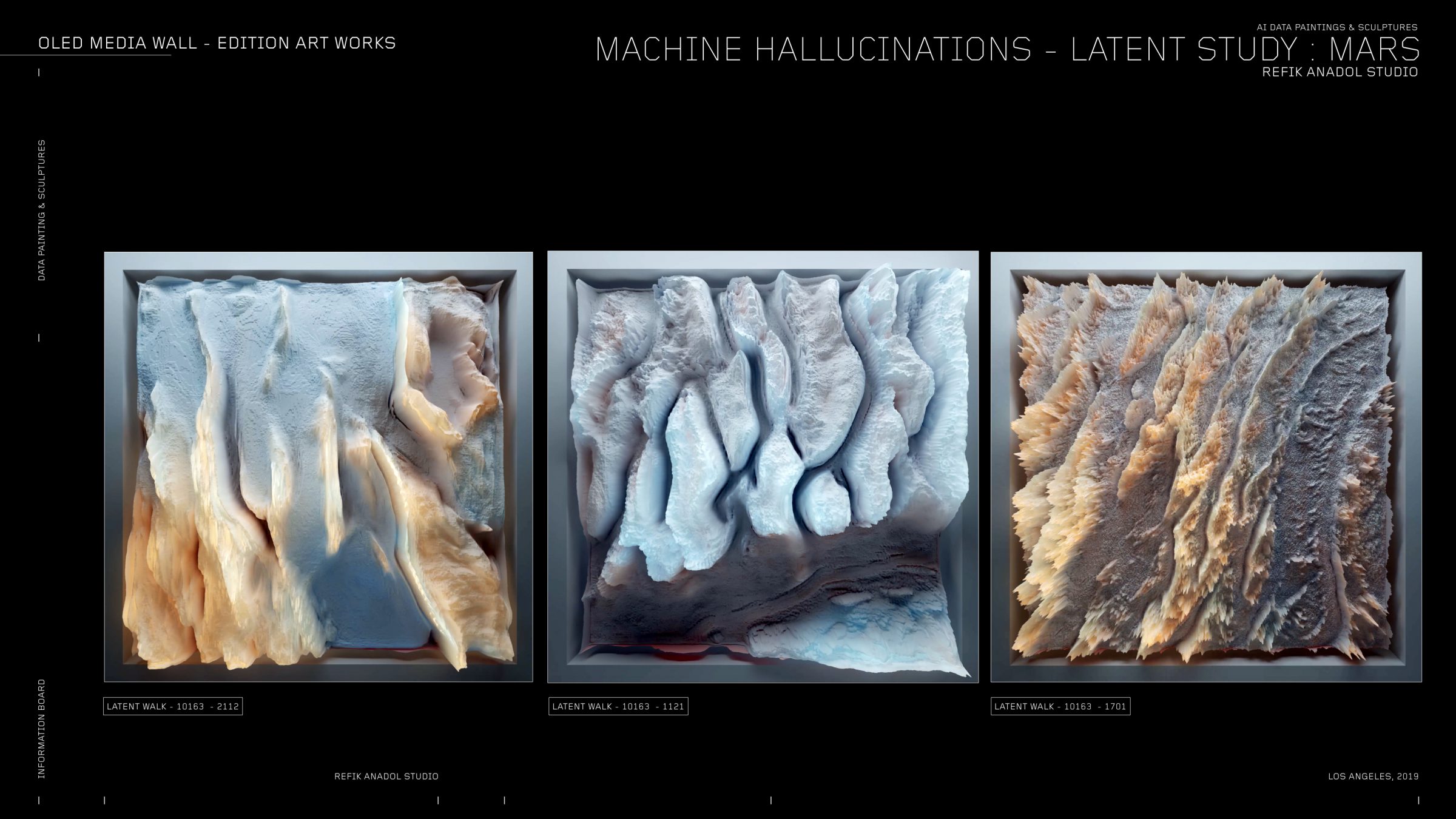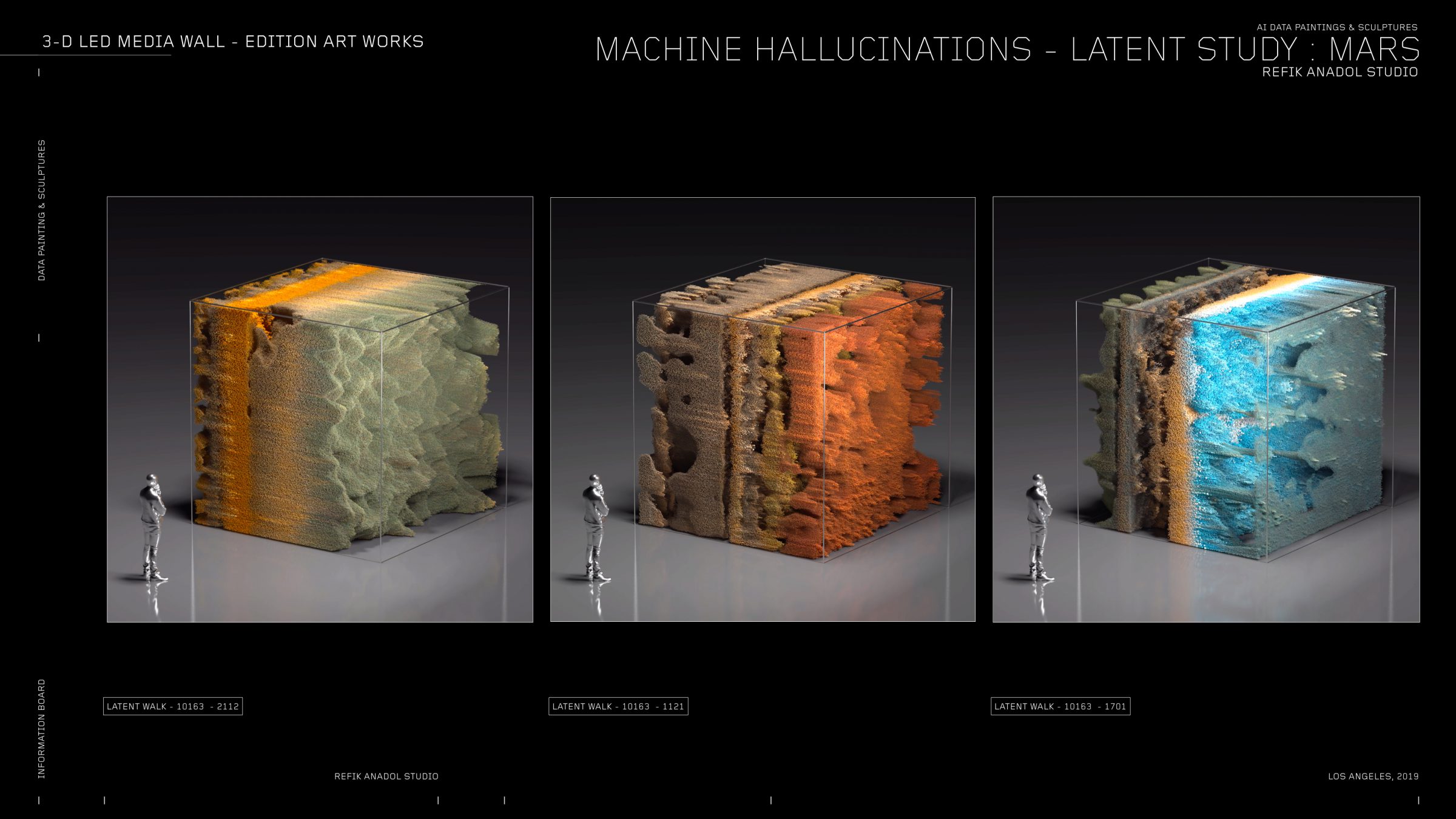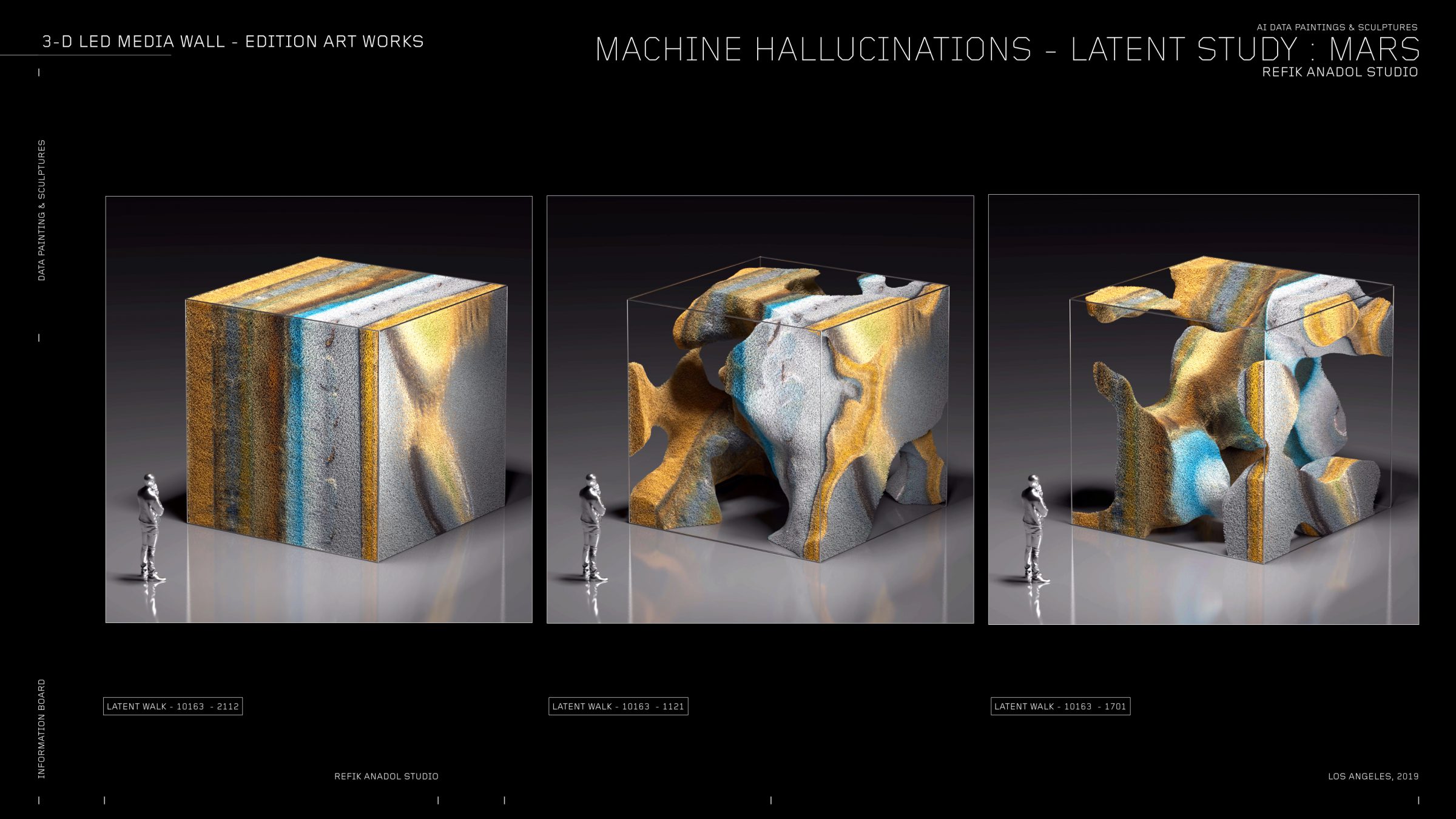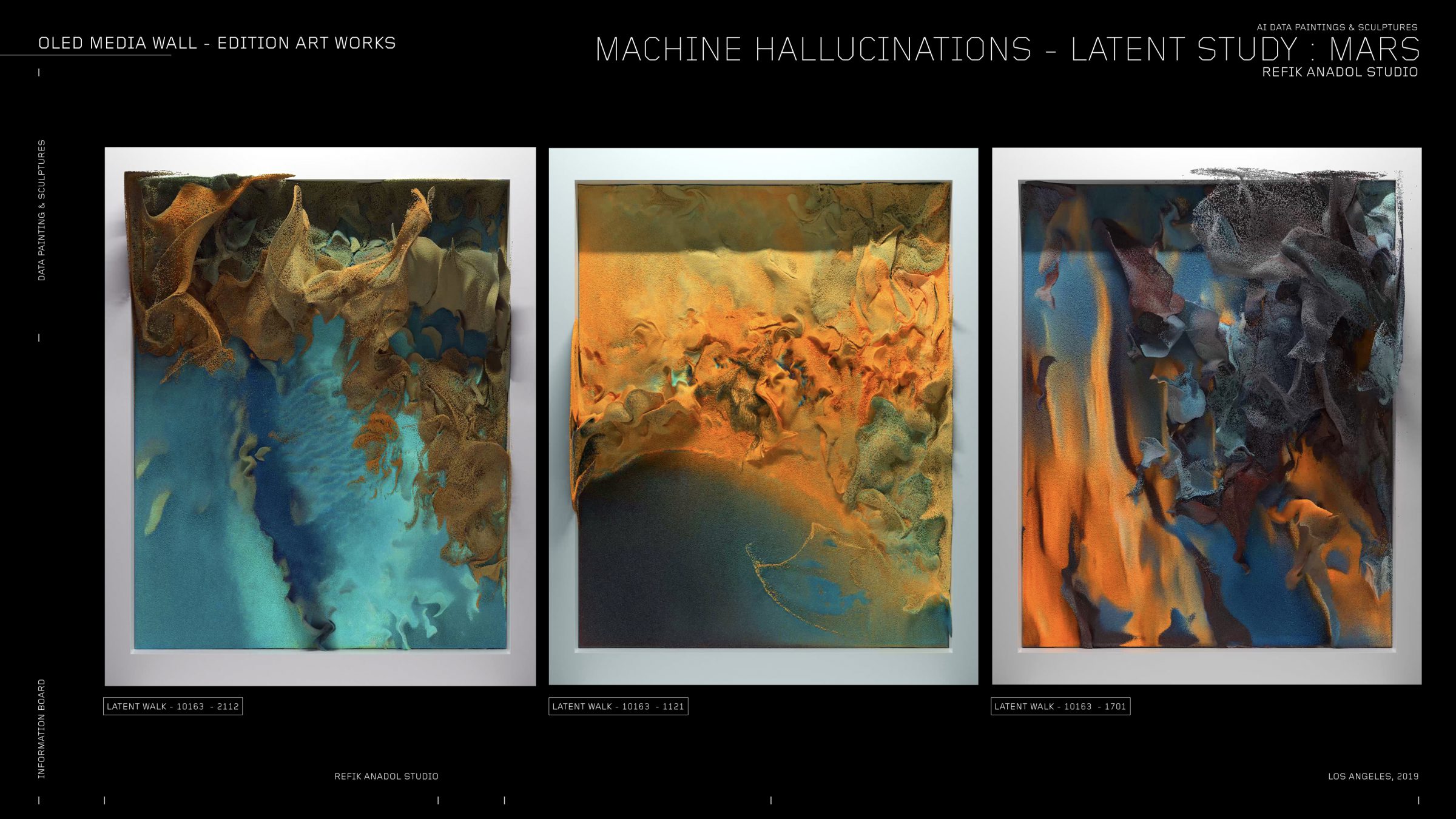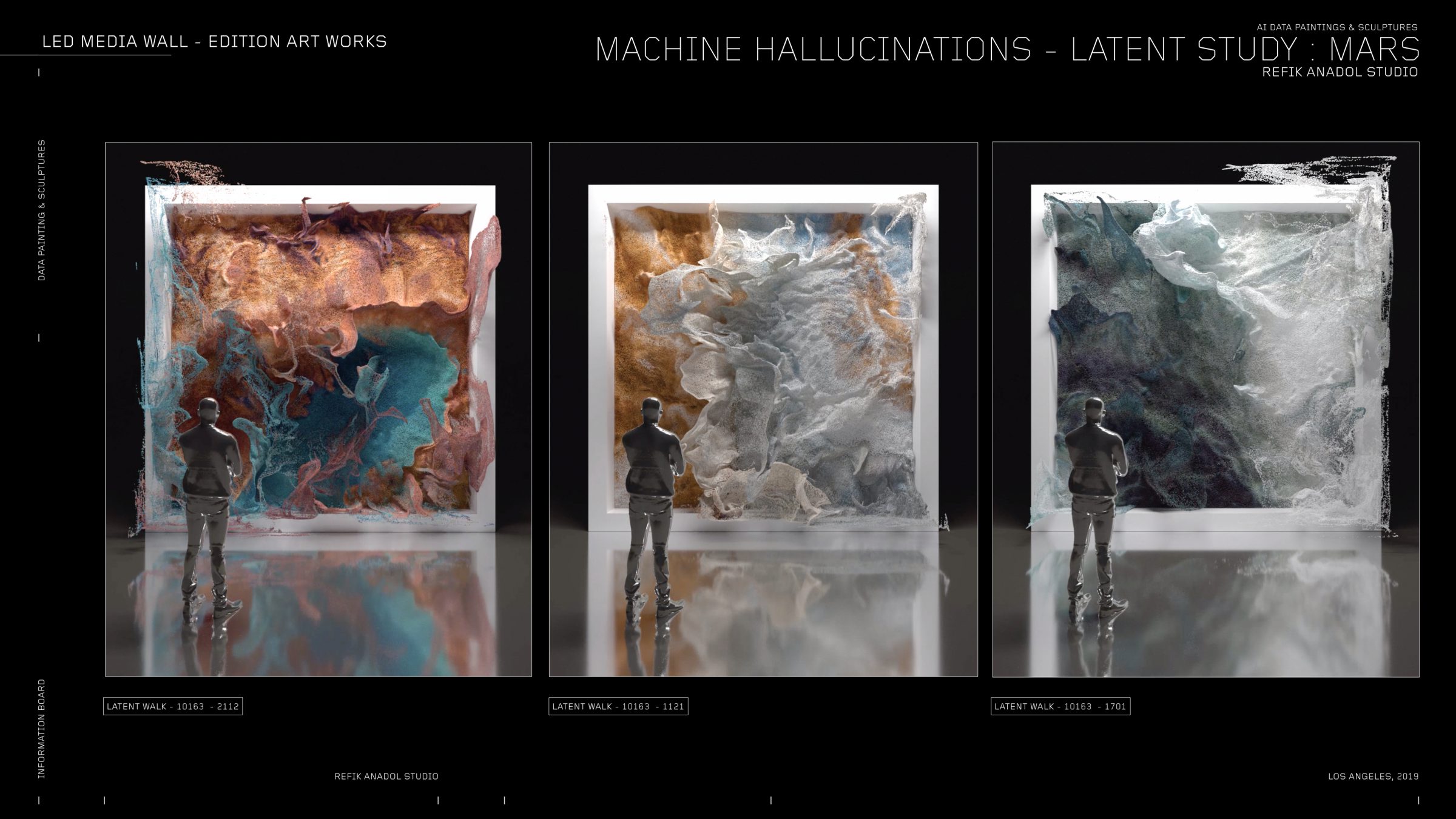 AI Data Sculpture - LED Media Wall
AI Data Sculpture - LED Media Wall
AI Data Sculpture - LED Media Wall
AI Data Paintings - 65'' OLED TV
AI Data Paintings - 65'' OLED TV
AI Data Paintings - Square Installation
AI Data Sculpture - 3D LED Media Wall
AI Data Sculpture - 3D LED Media Wall
AI Data Sculpture - LED Media Wall
AI Data Sculpture - LED Media Wall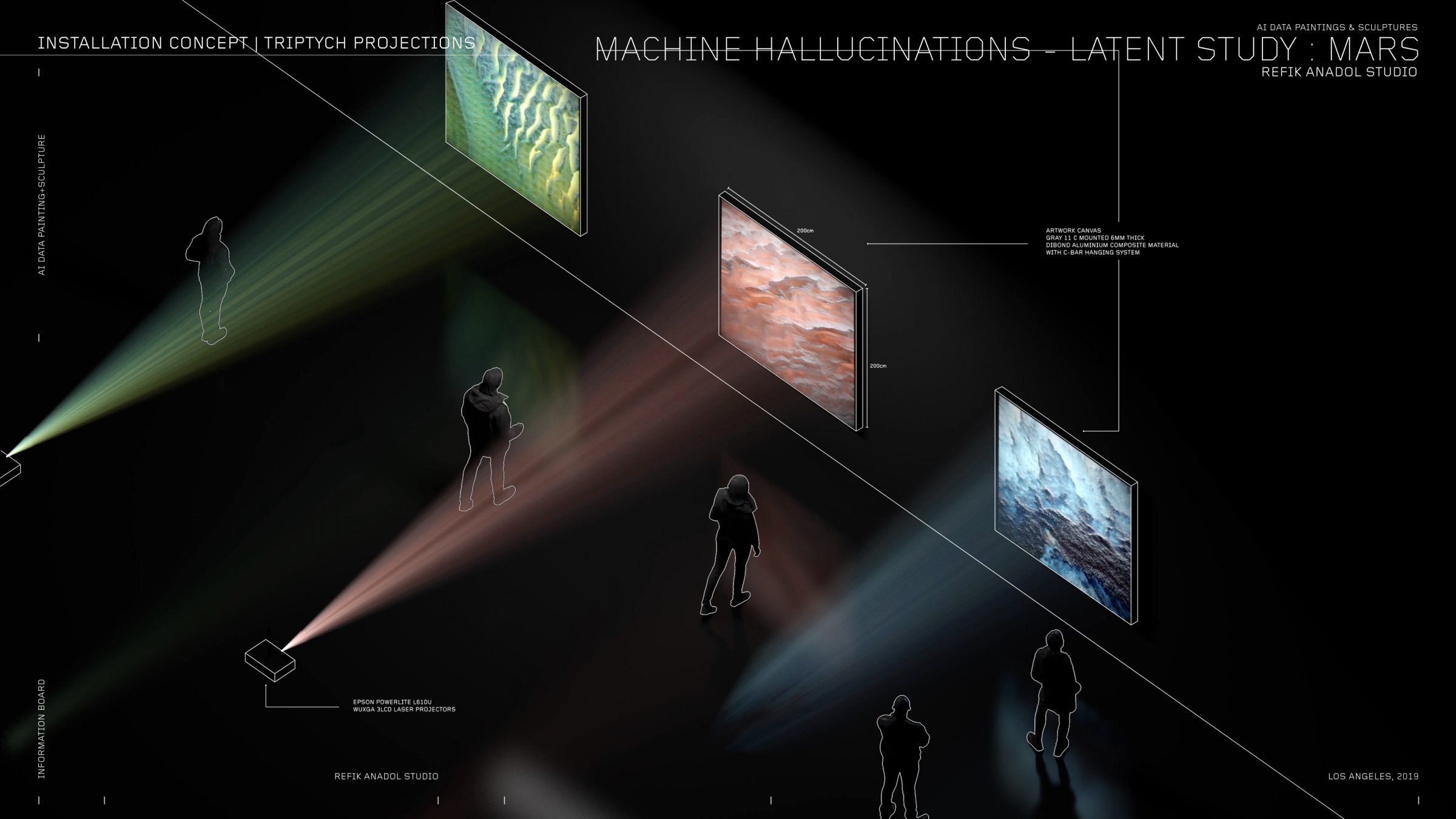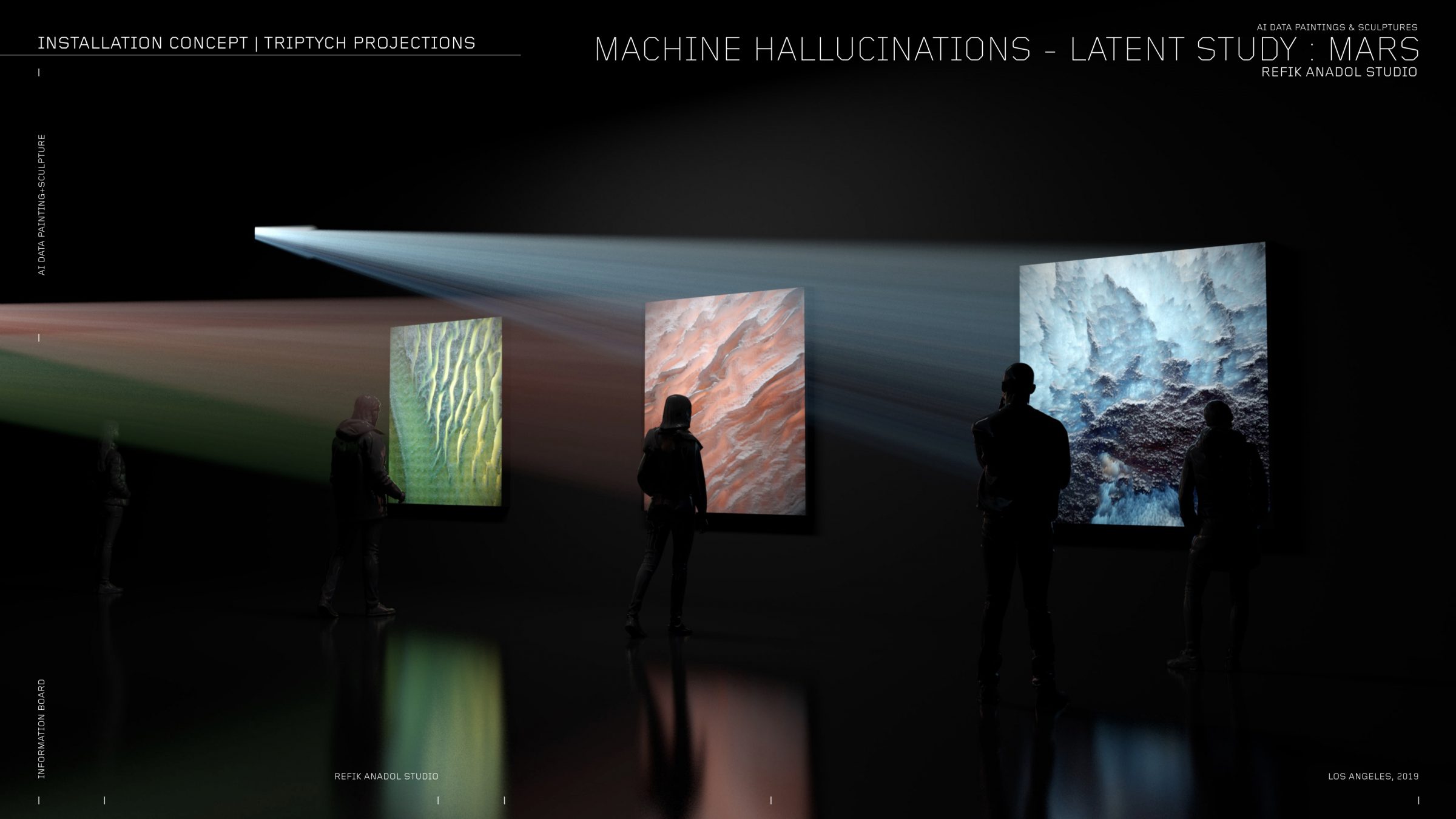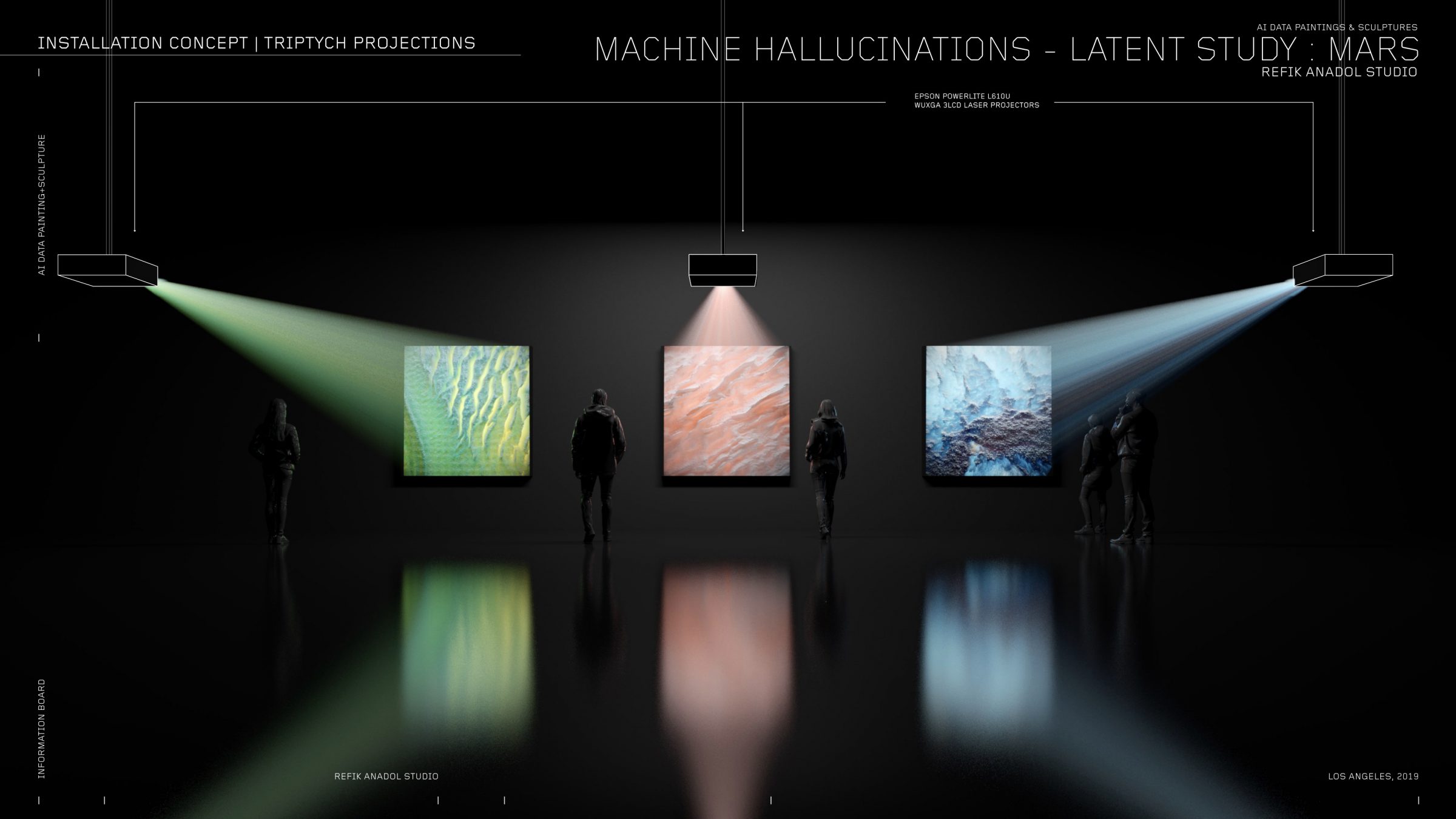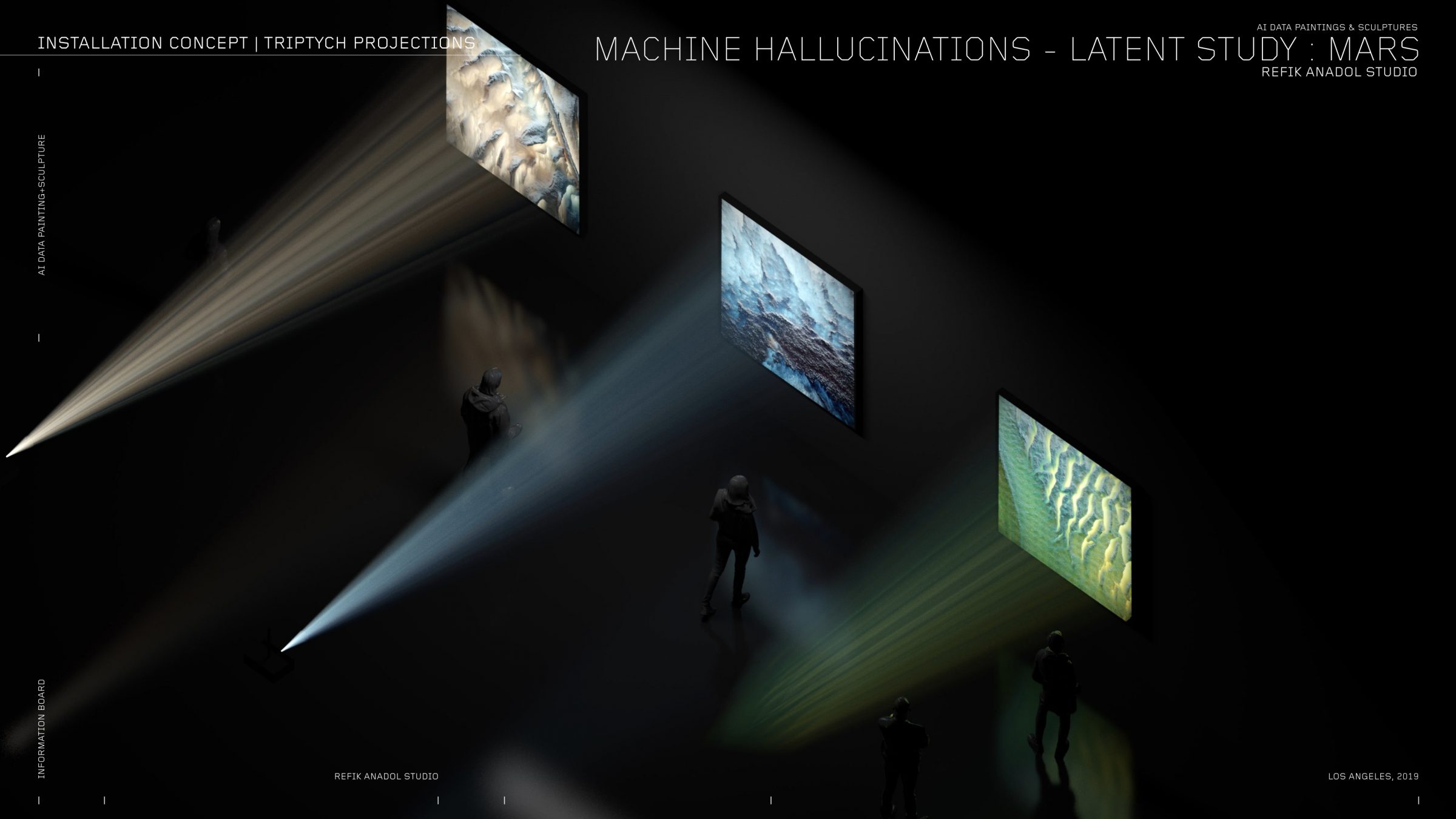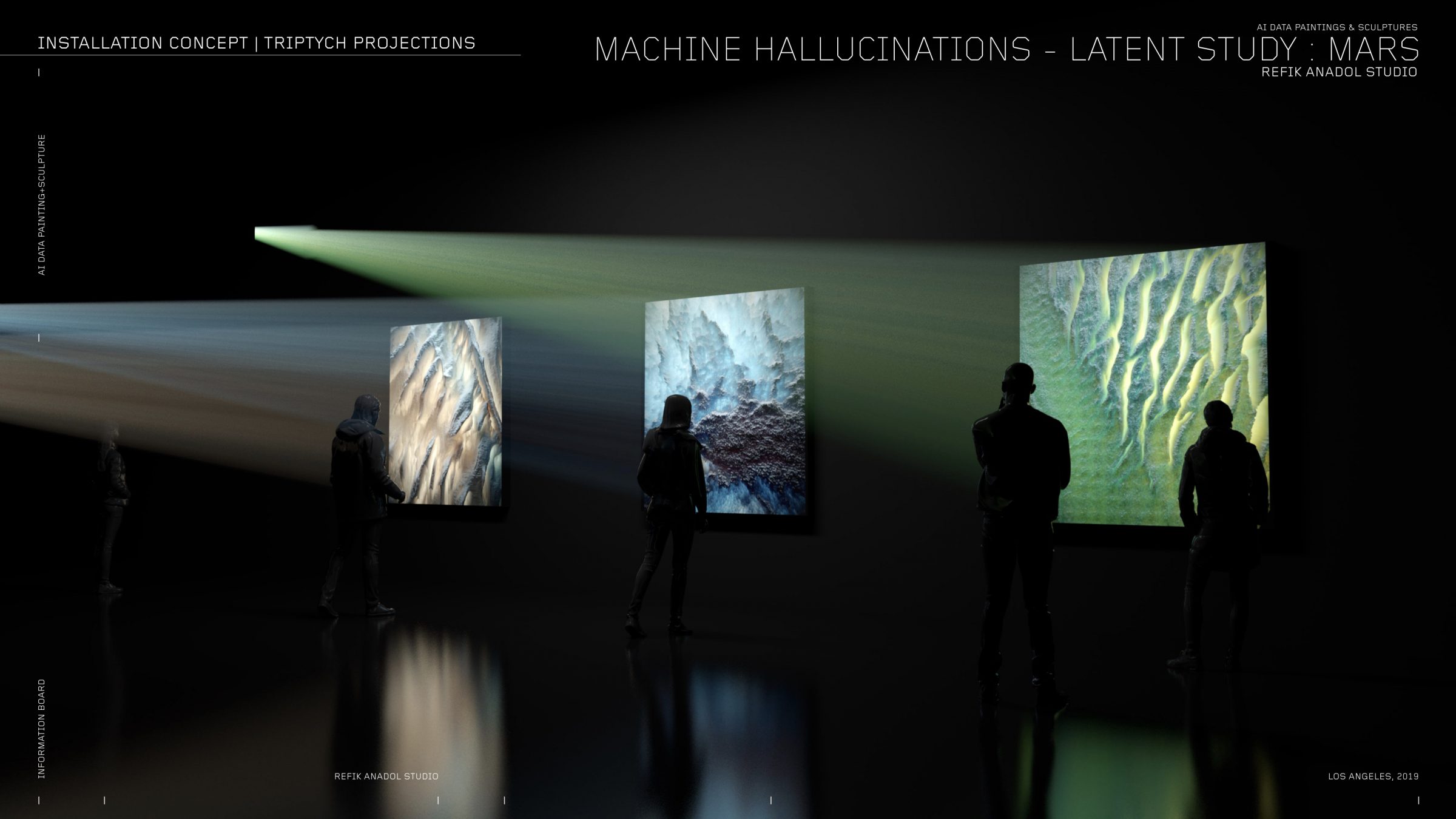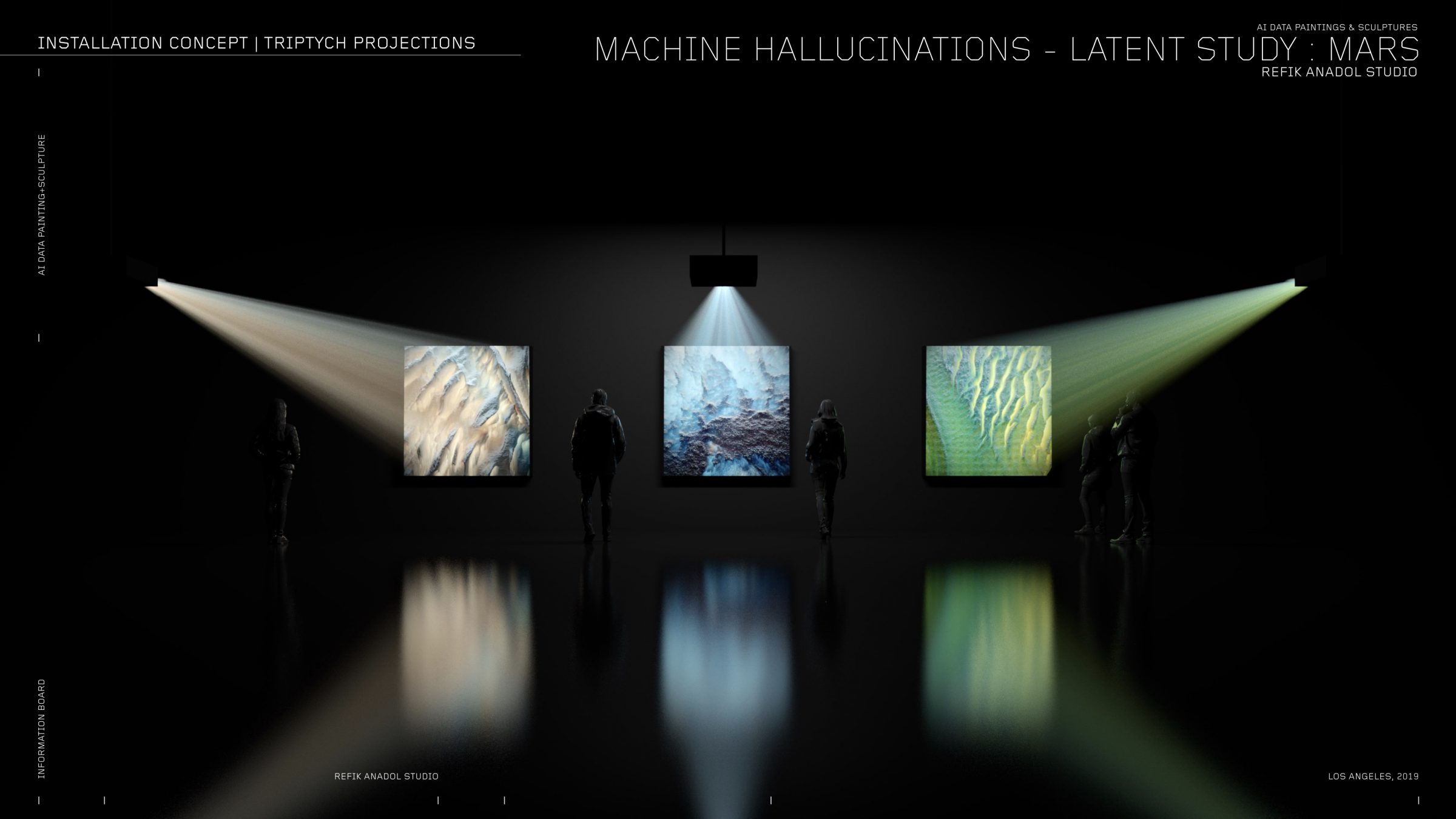 AI Data Paintings - Triptych Projection
AI Data Paintings - Triptych Projection
AI Data Paintings - Triptych Projection
AI Data Paintings - Triptych Projection
AI Data Paintings - Triptych Projection
AI Data Paintings - Triptych Projection