Title
Machine Hallucinations — Sphere
Categories
Data Architecture, Installation, Public Art
Locations
The Sphere, Las Vegas
Internationally renowned media artist Refik Anadol's groundbreaking approach to AI-based immersive
data narratives takes the audience on a mesmerizing journey of light, movement, and color in Machine Hallucinations: The Sphere at The Sphere. The artwork presents a series of AI Data Sculptures that incorporates vivid pigments, shapes, and patterns, aiming to create a collective, meditative, and multisensory experience. This immersive experience simulates the rhythms of various environments and invites the visitors to imagine alternative realities constructed by invisible data movements around them.
Machine Hallucinations is an ongoing exploration of data aesthetics based on collective visual memories of space, nature, and urban environments. Since the inception of the project during his 2016 during Google AMI Residency, Anadol has been utilizing machine intelligence as a collaborator to human consciousness, specifically DCGAN, PGAN, StyleGAN and Generative AI algorithms trained on these vast datasets to reveal unrecognized layers of our external realities.
Machine Hallucination: The Sphere features dynamic visualizations of data that are based on vast archives containing visual imageries of space and nature while celebrating the unique architecture of The Sphere. For this project, Anadol and his team used these themed datasets as the building blocks for the three distinct chapters of the artwork and trained a unique AI model with subsets of the collected image archives. After the training, when idle and unsupervised, the "machine mind" generates new aesthetic visuals and color combinations through unique lines drawn by algorithmic connections.
Machine Hallucinations: The Sphere reveals a spectacular series of synesthetic reality experiments based on Generative AI algorithms and turn these datasets into latent multi-sensory experiences to highlight the beauty of The Sphere's architecture. The fluidity of the visual patterns not only performs a digital synthesis of data, but also represents the many interlocking layers of nature, humanity, and technology in our age of global mobility and machine intelligence.
Refik Anadol Studio
Alex Morozov
Christian Burke
Daniel Seungmin Lee
Dave Hunt
Efsun Erkilic
Laney Kough
Laura Cohen
Ho Man Leung
Mert Cobanov
Nidhi Parsana
Pelin Kivrak
Toby Heinemann
Yufan Xie
Sound Design
Kerim Karaoglu
Location:
The Sphere – Las Vegas
Exosphere
AI Data Sculpture
Dimensions : 366 feet (112 m) High
and 516 feet (157 m) Wide
Duration:
16 Minutes
Custom Software and Video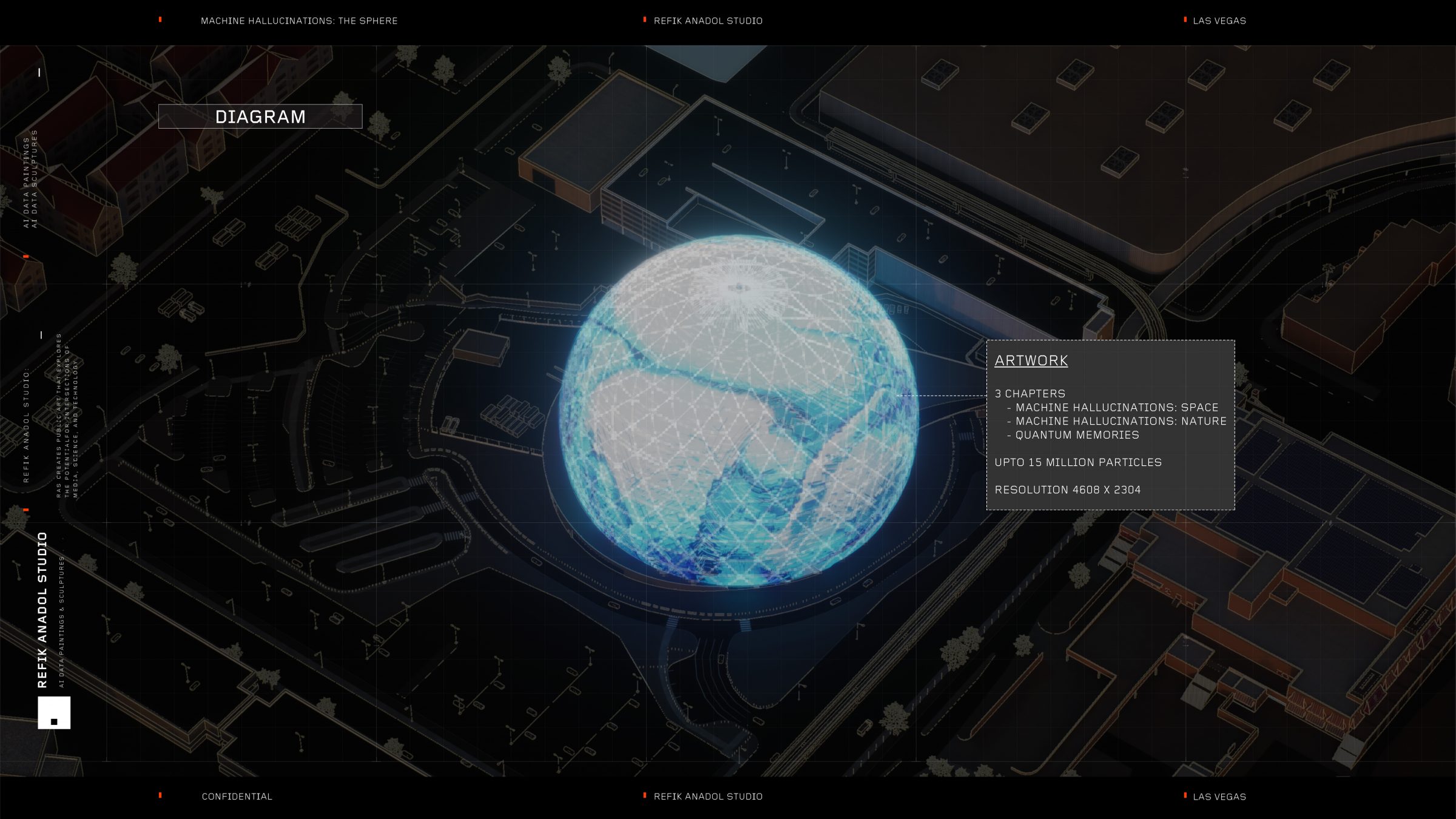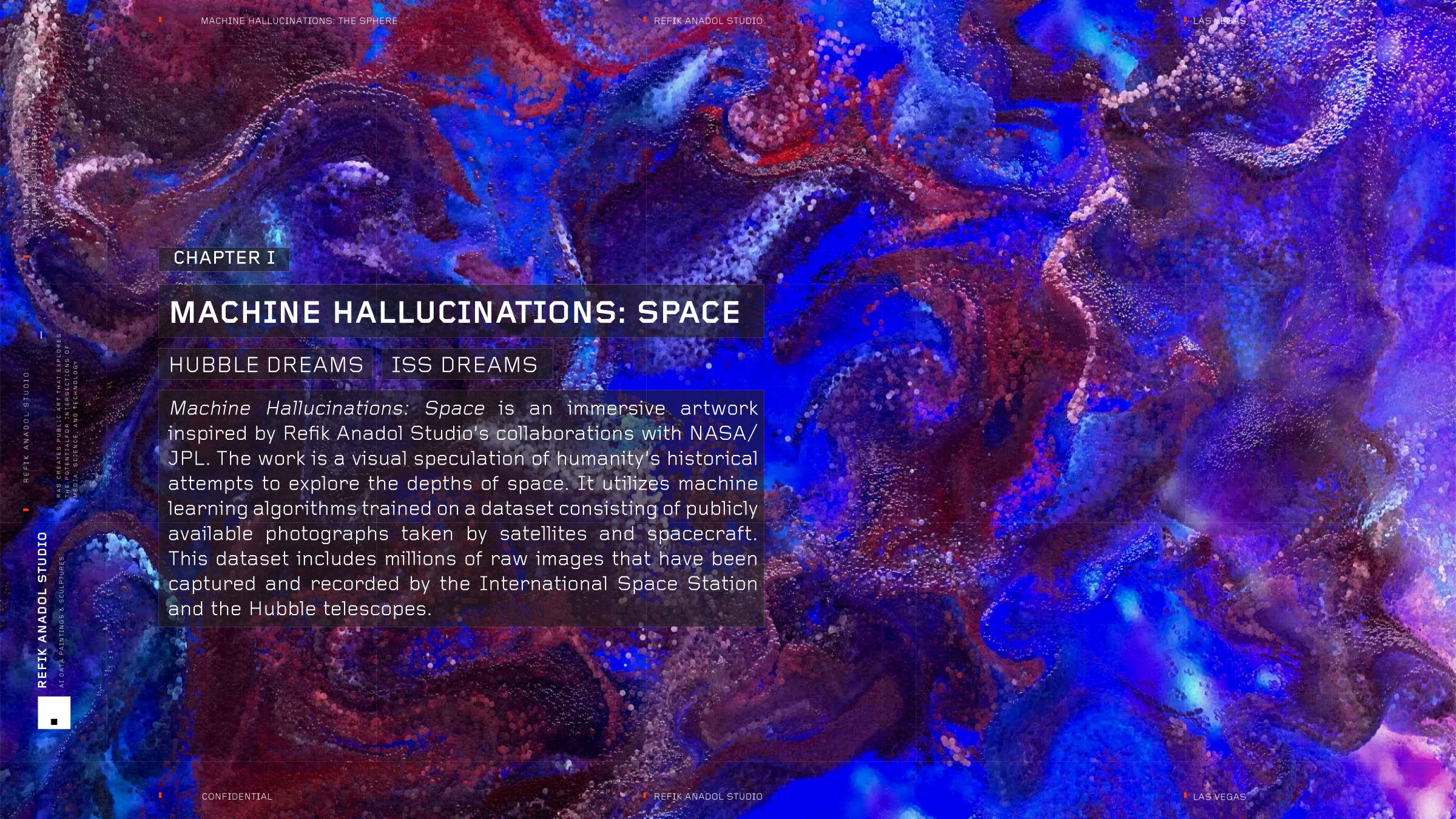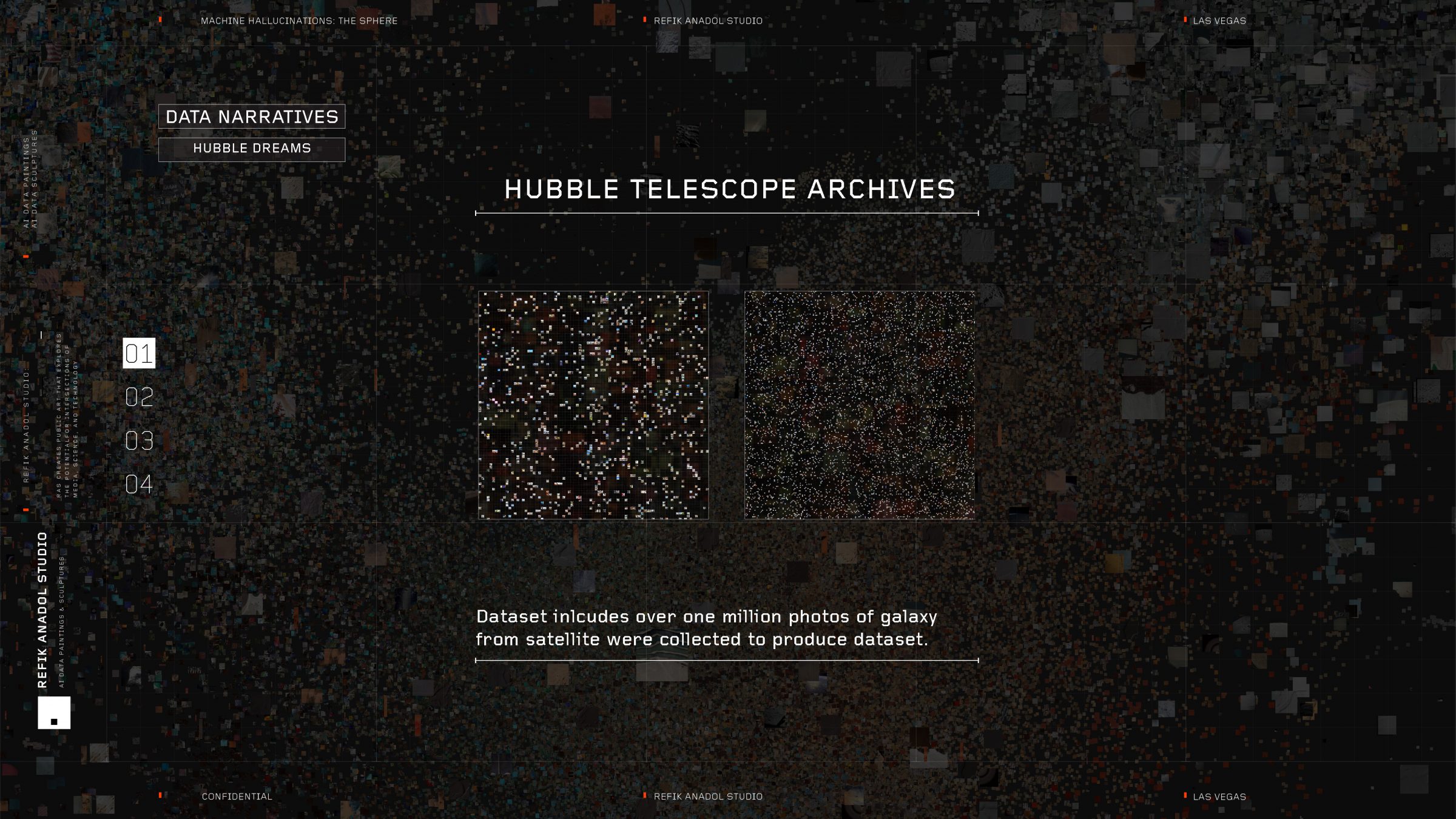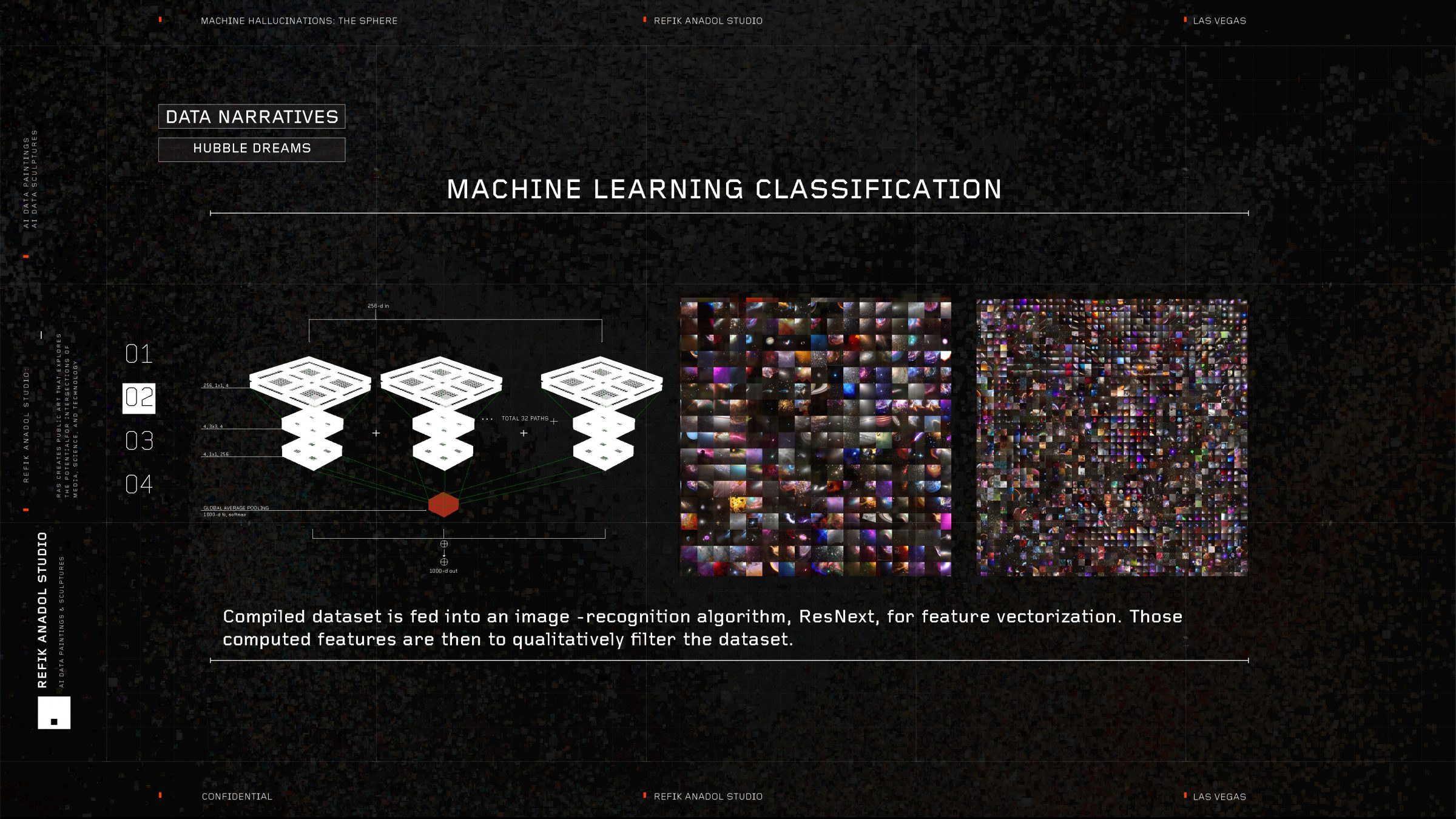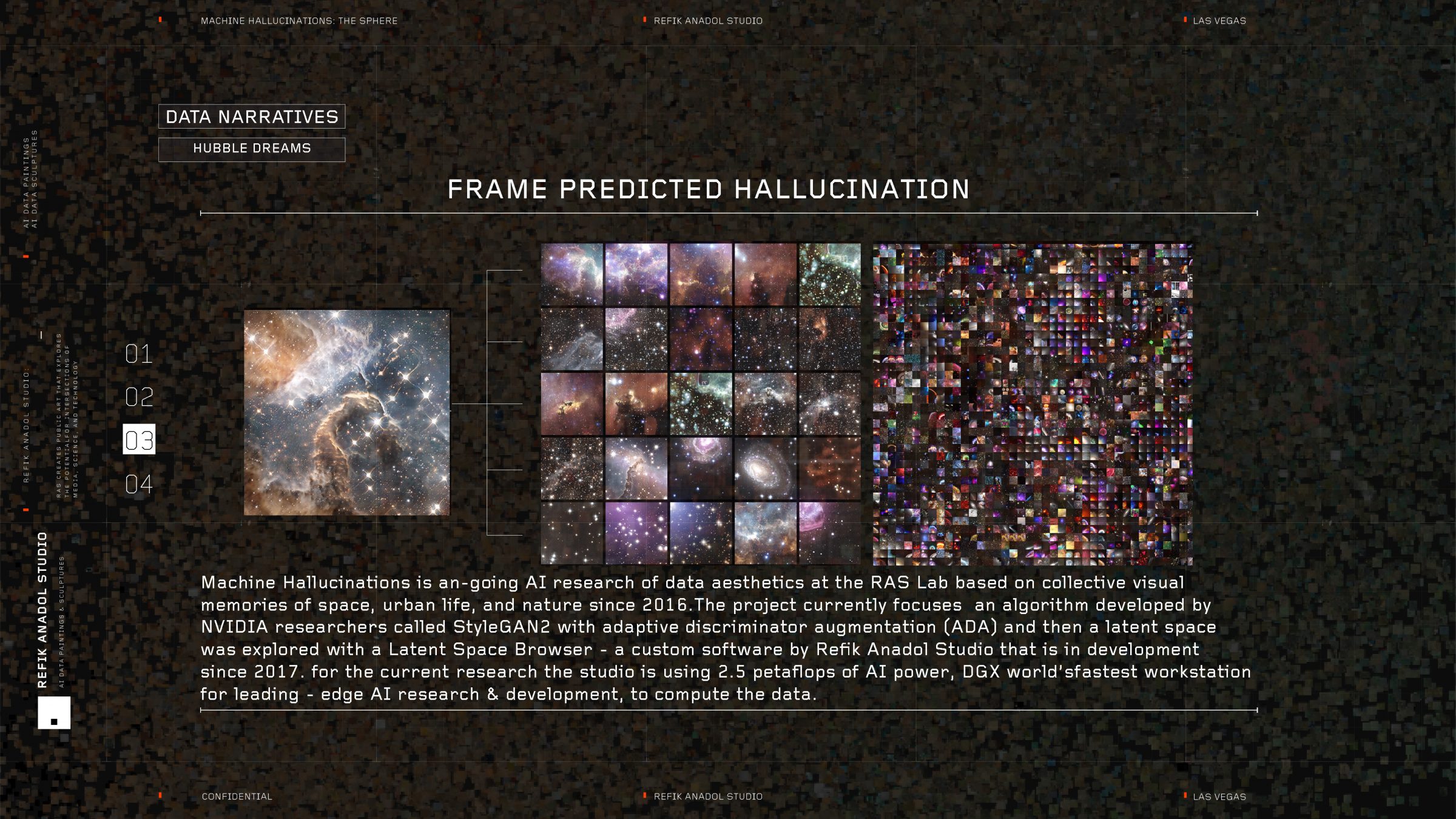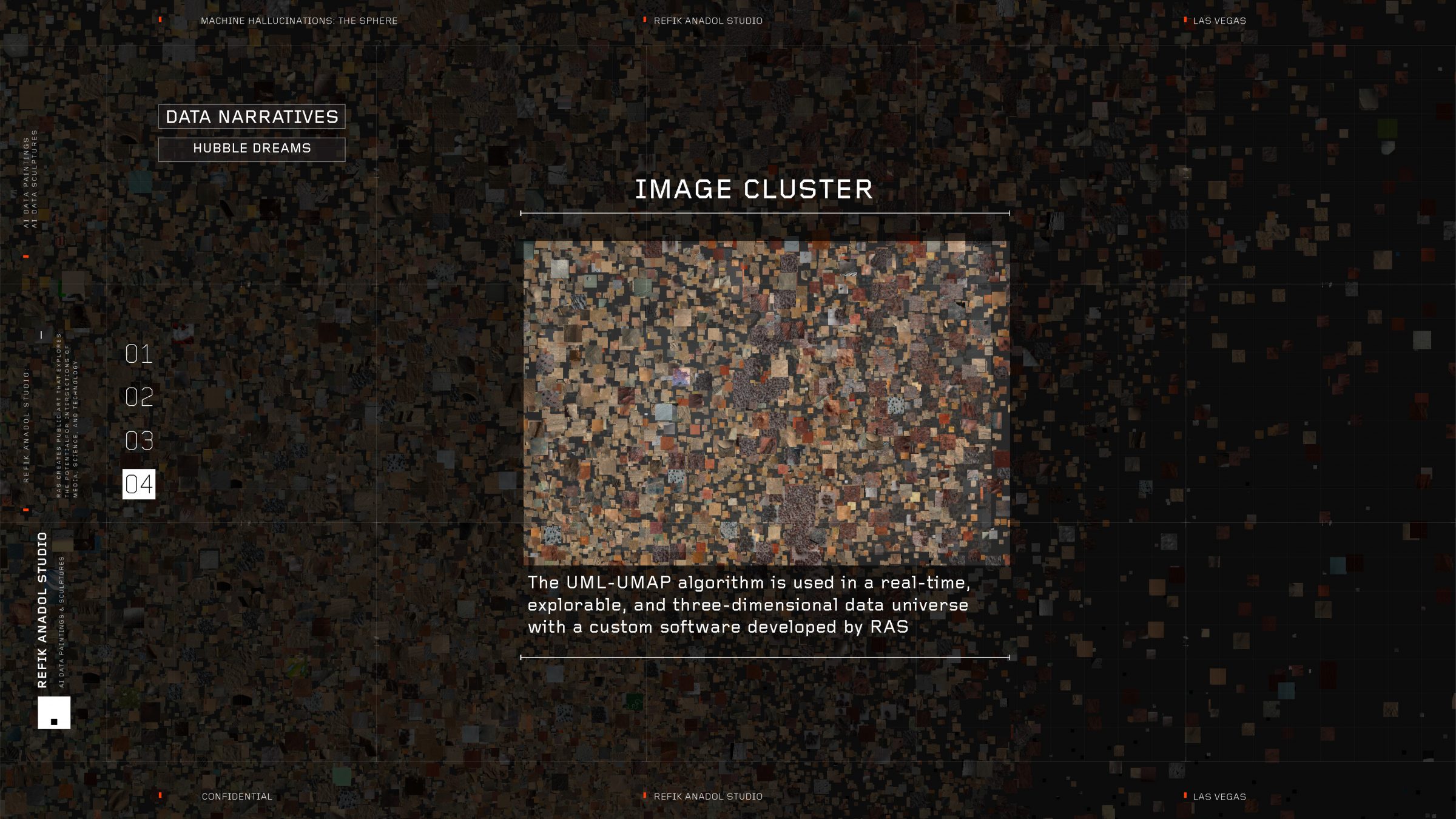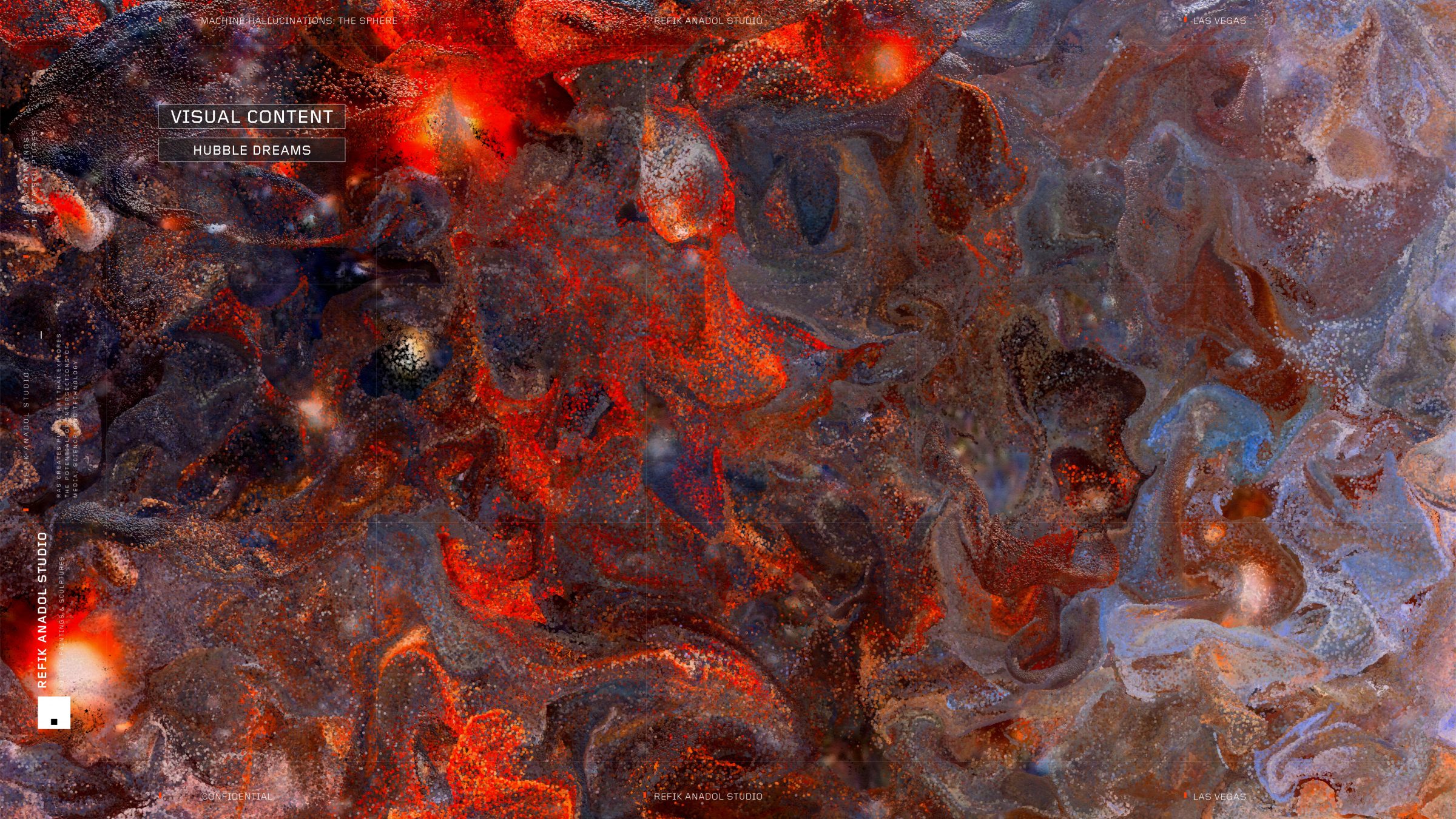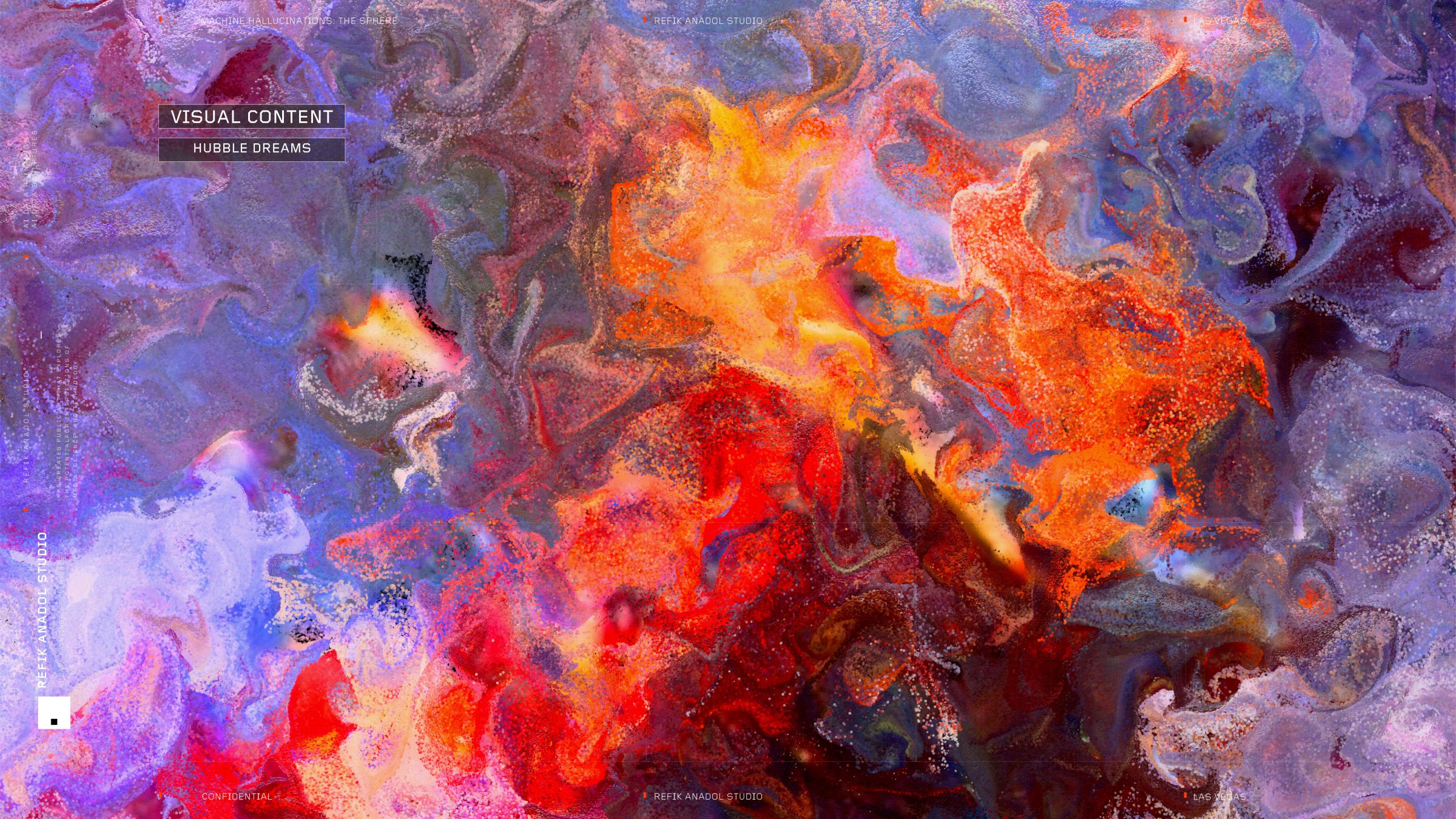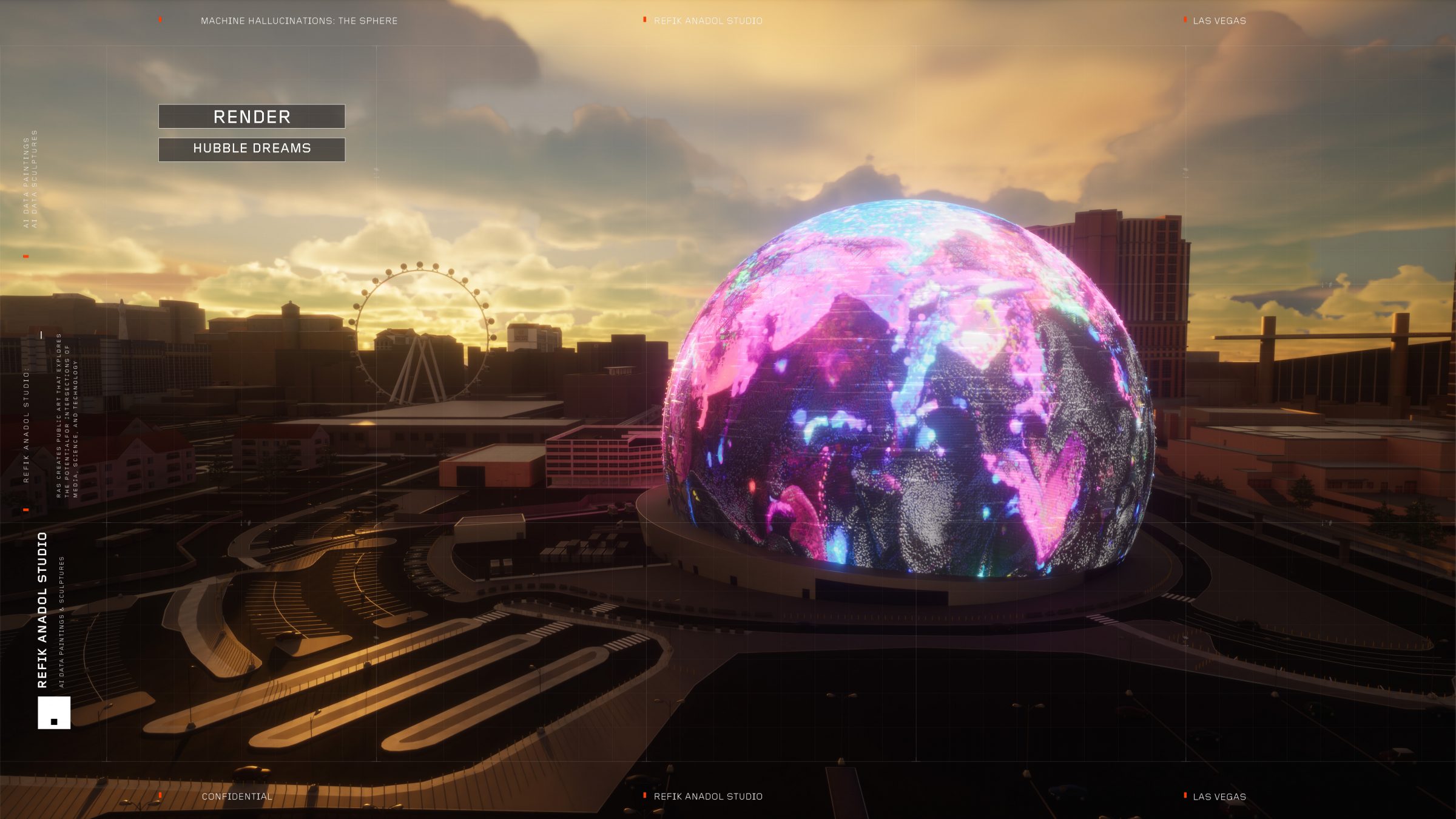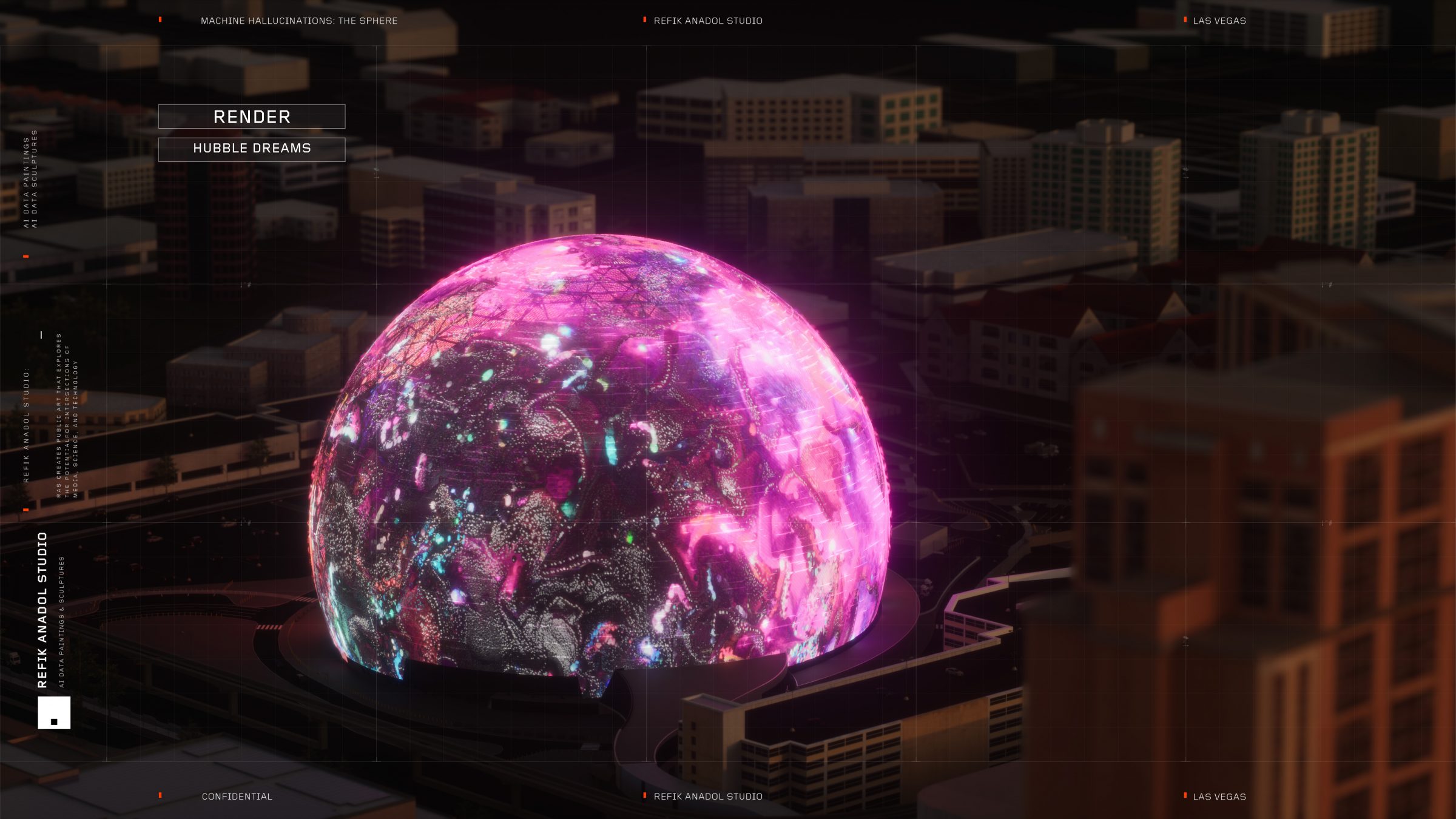 Machine Hallucinations — Sphere — Hubble Dreams
Machine Hallucinations — Sphere — Hubble Dreams
Machine Hallucinations — Sphere — Hubble Dreams
Machine Hallucinations — Sphere — Hubble Dreams
Machine Hallucinations — Sphere — Hubble Dreams
Machine Hallucinations — Sphere — Hubble Dreams
Machine Hallucinations — Sphere — Hubble Dreams
Machine Hallucinations — Sphere — Hubble Dreams
Machine Hallucinations — Sphere — Hubble Dreams